A new Ethereum-based platform called TakeProfit wants to make reliable cryptocurrency trading signals available to everybody. The same platform will give traders the ability to cash in on market signals.
---
"TakeProfit provides professional traders with an opportunity to monetize their skills; by directly selling them to their subscribers," the company announced, "Subscribers can earn income using the skills and recommendations of traders."
"TakeProfit is the first aggregating platform of the most up-to-date information on trading and investment," the company revealed. "The platform provides an opportunity for traders to publish their investment advice and receive money from each of their subscribers. In their turn, subscribers get access to a huge base of investment advice (market signals); which will bring them a consistently high income, that doesn't have to be shared with portfolio managers."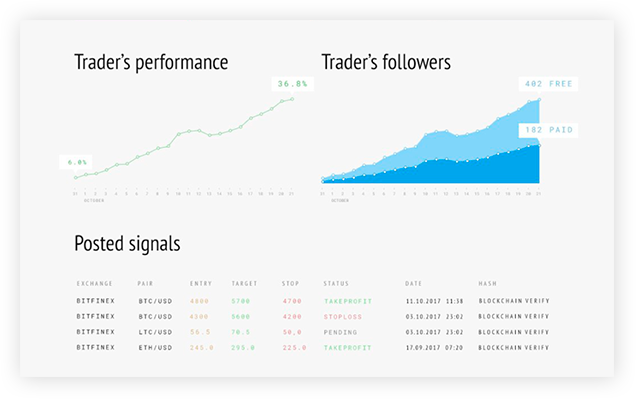 More Reliable Trading Signals
Blockchain will be used to verify all signals transmitted through TakeProfit. This will make it possible for all users to easily verify all signals.
"All the published signals become part of the blockchain circuit; which allows them (investors) to check their consistency at any time," TakeProfit revealed. Among other attributes, TakeProfit's blockchain should prevent traders from altering or erasing mistakes or bad predictions they made in the past.
TakeProfit's signals are supposed to be more transparent, as opposed to Telegram channels, in particular. Users will be able to see where a signal came from, when it originated, and compare the predictions to market outcomes.
"All signals are verified on the blockchain," TakeProfit announced. "It's impossible to change or delete them without disturbing the overall integrity of the chain."
Investors will have an opportunity to evaluate traders by their past performance. An investor can see how good a trader is – by comparing his or her signals to historic market outcomes. Dishonest traders will have no opportunity to alter old signals to match market outcomes.
How TakeProfit intends to Monetize Trading Signals
TakeProfit intends to monetize trading signals through its XTP Ethereum-based (ERC20) token. The XTP Token would be used to pay traders for signals and to pay subscriptions in the platform.
Users of the TakeProfit platform will get the opportunity to earn bonuses in XTP for providing useful services to the platform. Those services include bounties paid for spotting bugs and other problems and referring new users. Around 15% of the XTP issued will be set aside to use as rewards for the best authors.
The TakeProfit team has already collected 2,000 Ethereum (ETH) ($2.206 million) in a presale of XTP. That information will be used to create a minimum viable product to test TakeProfit's technology.
The minimal viable product is capable of managing the personal accounts of traders and subscribers, registering subscriptions, managing the trader's account, sorting traders by rating, automatically updating signals, updating the exchange rates, and publishing signals and paid subscriptions. TakeProfit's minimal viable product can be downloaded here: https://app.takeprofit.io/
Testing will be followed by a token generation event (TGE) designed to generate eight million XTP tokens. Those tokens will be used to finance the building of a large scale TakeProfit platform. The XTP token generation event is scheduled for February 21 through March 7, 2018.
A Huge Unserved Market
TakeProfit's creators believe that there is a huge unserved market for cryptocurrency trading signals out there. That conclusion was based on a study of the cryptocurrency trading communities and the signals available to it today.
The main source of cryptocurrency trading signals; the messaging app Telegram, is not serving the market demand for signals, TakeProfit's researchers discovered. Telegram currently offers subscriptions for cryptocurrency trading signals but its market is limited because there is no outside advertising of the signals.
Some cryptocurrency traders are paying between 0.02 and 0.06 Bitcoin (BTC) a month for signals, TakeProfit's research indicates. The TakeProfit team found that most of the traders and investors that would pay for such signals simply do not know they exist.
"Potential demand exceeds supply more than 13 times," TakeProfit announced. The team thinks the market for signals can be increased by an effective advertising and marketing campaign. Such a campaign is part of TakeProfit's long-term business strategy.
Many investors refuse to subscribe to Telegram signals because of their poor quality; questionable origins, lack of transparency, and inaccuracy. TakeProfit hopes to correct that by offering high-quality signals in a transparent manner.
Created by a Professional Trader
TakeProfit is the creation of a self-described "professional coder and trader" Ivan Tumanov. Tumanov believes strong in TakeProfit and is willing to invest his money in it, saying:
I understand that the best investment of my money is my own project. […] My goal is to create a better platform for traders, which would be useful for both professionals and beginners.
To make TakeProfit a reality, Tumanov has recruited a highly-experienced team – that includes the head of product Pavel Rubakhin. Rubakhin previously worked for the international consulting firm McKinsey and Company. He also helped manage the app-based solutions Gett and TruckerPath.
Rubakhin notes:
I joined TakeProfit to change the trading market and I'm sure that our team will simplify trading for beginner; and make it even more profitable for professionals.
If you want to take part in TakeProfit's alpha testing you can register at this address: https://app.takeprofit.io/.
For more information about TakeProfit visit the website at https://takeprofit.io/ or read the white available in PDF format here: https://takeprofit.io/takeprofit-whitepaper.pdf.
Are you a beginner or professional trader? How do you feel the TakeProfit platform will benefit you the most? Let us know in the comments below.
---
Images courtesy of TakeProfit