Bitcoin has finally started to press higher after weeks of consolidation.
Though prices have since retraced to $9,550, the cryptocurrency reached a local high of $9,800 on Monday. This was a more than 5% jump from the weekly baseline price of approximately $9,200.
With the recent strength, analysts have been postulating what will happen when BTC moves above $10,000. One trader, for instance, said that Bitcoin could "rip" higher once it establishes a decisive foothold above that level.
Bitcoin Breaking Past $10,000 on a Two-Day Time Frame Will Lead to Surge
Blockroots founder Josh Rager thinks that Bitcoin could "rip to $11,000 and beyond" if $10,000 is reclaimed. The prominent technical analysis wrote in reference to the chart below:
"The 2-day Bitcoin chart just seems so clear $10k has been the holding ground with BTC price being held below (outside one week in Feb) Next time the 2-day chart closes above $10k – I see price continue to rip up to $11ks and beyond."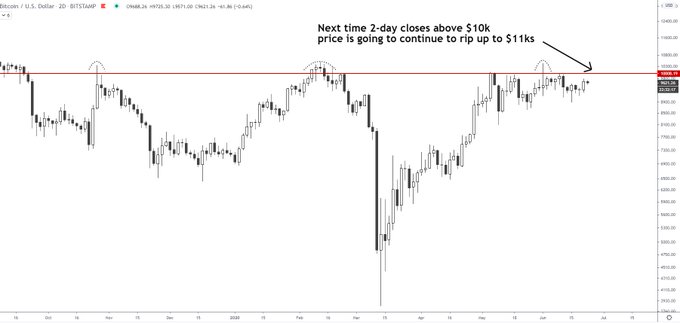 Rager's analysis is in line with other analysts.
Other commentators have said that if Bitcoin breaks past $10,500 on a daily/weekly time frame, a strong move higher will follow.
The lead technical analyst at crypto research firm Blockfyre wrote in May:
"If Bitcoin gets over this. There isn't much standing in the way of new all-time highs. They'd be on the horizon. Way less resistance than anything BTC overcame going from 3.7k to here. Would be a macro higher high confirmed. Don't underestimate the implications!"
Another suggested that "all bets are off" once the cryptocurrency moves above $10,500. That commentator attributed this optimism to the fact that a macro trend indicator suggests the macro resistance is at $10,500.
When Bitcoin moved above the macro resistance signaled by the indicator in 2015, it proceeded to rally by thousands of percent.
It's Poised to Happen
Bitcoin stalling as Ethereum shoots higher may be a cause for concern for some. However, there is a confluence of signs suggesting that BTC is on the verge of breaking past $10,000.
As reported by Bitcoinist previously, technical analyst Adam Li observed that users of OKEx are building a buy wall. Traders on that platform have purportedly stacked hundreds of BTC worth of buy orders around the $9,500.
Supporting Bitcoin is also the expectation that capital will flow out of relatively overvalued altcoins and into BTC. Kelvin "Spartan Black" Koh, a partner at The Spartan Group, said on the matter:
"We have seen a major re-rating in many of the smaller altcoins (esp DeFi ones) in the past 4-5 weeks while BTC has been range bound. At some point, the valuation of these alts will start to look frothy and the capital will flow back to BTC."
Featured Image from Shutterstock
Price tags: xbtusd, btcusd, btcusdt
Charts from TradingView.com
This Technical Sign Will Allow Bitcoin to "Rip" to $11k and Beyond: Analyst