Bitcoin is in no man's land. Just look at the chart below from analyst Josh Rager, which shows that BTC hasn't even moved out of the $8,500-10,000 range for eight weeks:
"BTC's range is clear. Current support that has been holding the past three weeks is the mid-range Break down here and price likely to see $8900 followed by $8500 range bottom."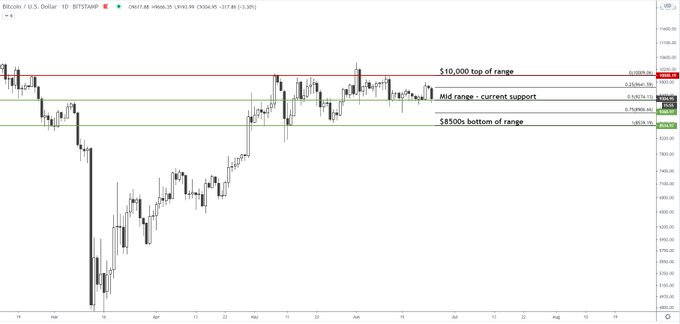 The longer this consolidation has gone on, the more bullish analysts have become.
Yet, one trader recently explained an unexpected factor that indicates Bitcoin may actually fall from the $9,000s.
Bitcoin's Consolidation Doesn't Scream a Market Top
Because Bitcoin has held the $9,000s for so long, many analysts have turned bullish. Eric Thies noted that Bitcoin's price action over the past two months looks nothing like any of the market tops seen over the past two years:
"BTC stucturally looking less like a local top and more like a launchpad as of now. Naturally speaking, things may need to go down before they really go up but this time looks promisingly different."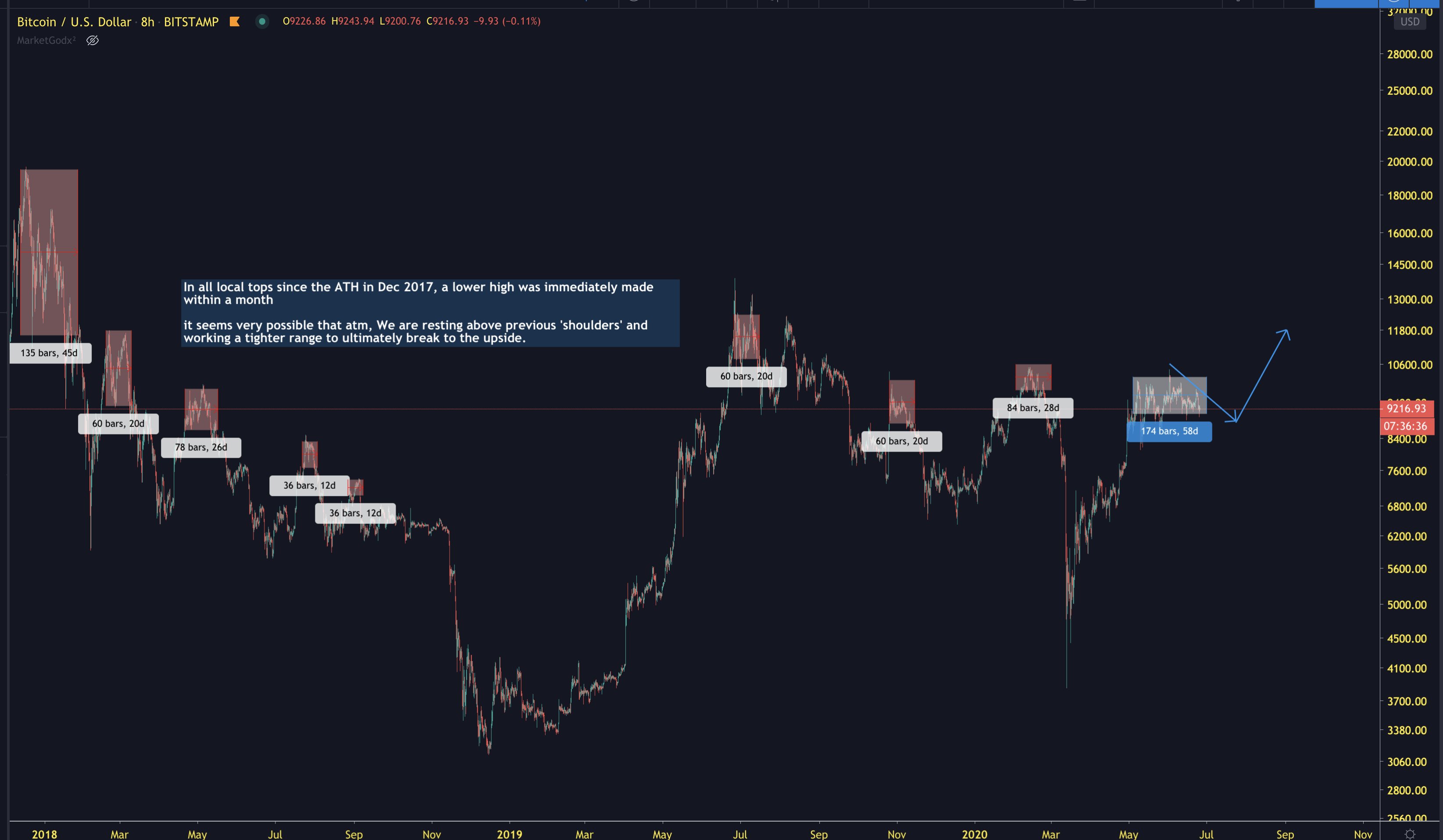 The idea goes that since Bitcoin has yet to break down from the current range, this is more likely a pitstop in a bull market rather than a bearish reversal.
Not everyone is convinced this is the case, though.
There's a Chance BTC "Breaks Down" From Here: Analyst
There may be strong arguments that this range is bullish, yet there remain signals and sentiment indicating Bitcoin will drop:
The aforementioned unexpected factor was explained by a trader as follows:
"It is possible that since this Bitcoin structure was very spot driven, that we can all be right at the same time in thinking this breaks down. The spot drive was from the same retail Robinhood types that were indiscriminately buying risk assets across the board."
That's to say, Bitcoin is currently being propped up by "retail" buyers also bidding the S&P 500 higher. These investors are seemingly disregarding macroeconomic and market factors imply an underlying bear trend in markets.
Once they run out of money or they begin to acknowledge risks, the market will begin to roll over, his comment seemingly suggested.
Another trader has echoed the expectations of a move to the downside.
Referencing the chart below, an analyst claimed that sellers likely remain in control of the Bitcoin market and could take the cryptocurrency under $7,000:
"A couple more clues developing that lend themselves to HTF distribution. 1. Rising Demand on the verge of failing. 2. Side by side, ascent vs descent with selling the dominant pressure from volume."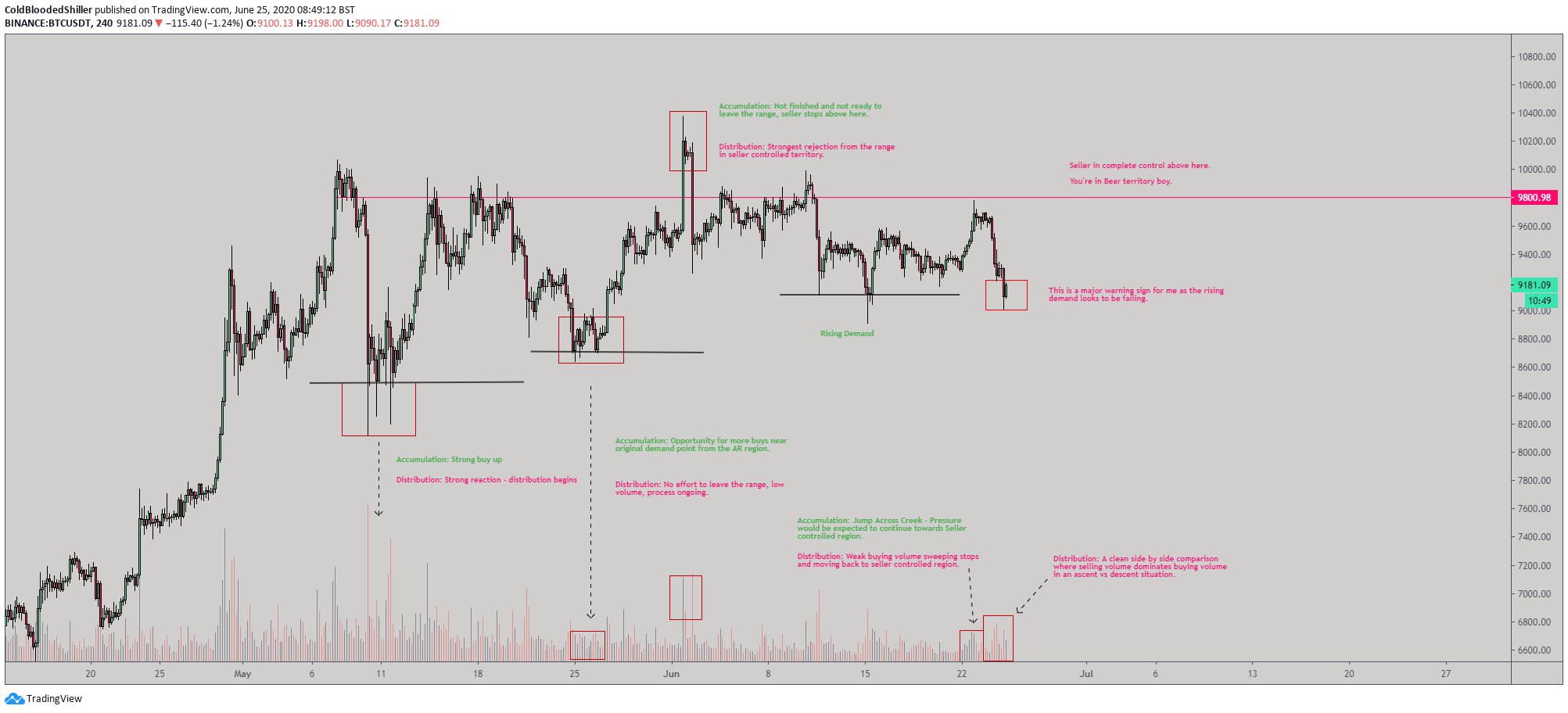 Featured Image from Shutterstock
Price tags: xbtusd, btcusd, btcusdt
Charts from TradingView.com
This Unexpected Factor Suggests Bitcoin May Crash From $9,000s, Not Rally