Bitcoin, Ethereum, along with many other cryptocurrencies have done well in 2020. Yet the same cannot be said for XRP, which is down by approximately 10% since the start of the year.
The fourth-largest cryptocurrency started the year third, but XRP has performed so relatively poorly that it has slid down a slot. Its market capitalization now sits below that of Tether's USDT, which has been benefiting from its own influx of adoption from many corners of cryptocurrency.
Some traders, however, have postulated that the asset's fate is set to change. They cite technical factors, which show an uptrend is possible.
This sentiment, though, hasn't convinced all investors.
XRP Just Broke Out and Is Starting to Flash Bullish Signs, But Not Everyone Is Convinced 
On July 4th, a trader shared the image below, showing that XRP has just printed a bullish technical sign.
Per the chart, after trending lower for five weeks, the leading altcoin just broke above a crucial downtrend that has led the asset 20% lower.
It is now peaking out from above the trendline, suggesting a relief rally of sorts is possible.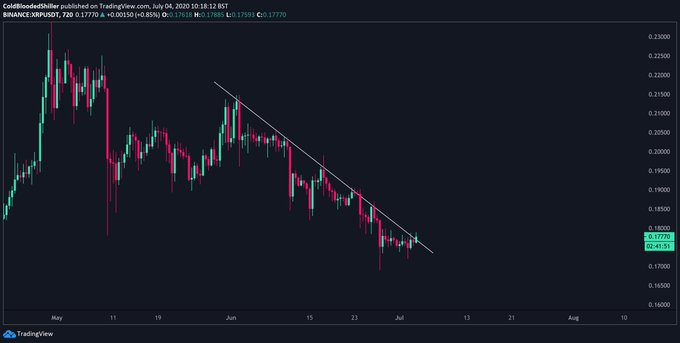 Other traders have echoed the optimism.
Another trader shared the chart below around the same time. Attached is the following comment: "With high timeframe divs present I've got the fizz for this setup. Let's see if XRP has any life in it." The chart shows XRP looking poised to bouncing off a crucial level of horizontal support, also suggesting a relief rally.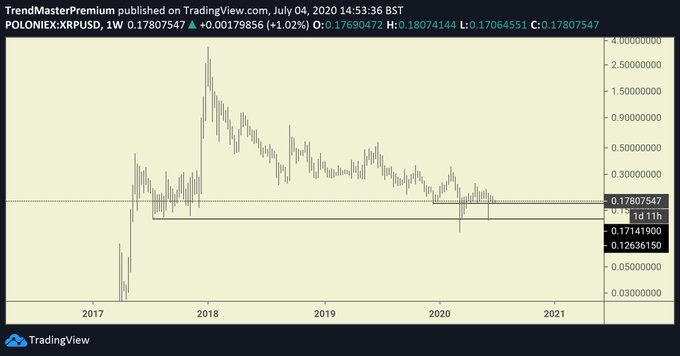 Yet not everyone is convinced that a rally will follow.
A few weeks after saying that he doesn't think XRP will ever cross $1.00 again, a trader remarked that he has been "opening a new short on XRP every day."
This skepticism has been echoed by other market participants, like prominent technical analyst Peter Brandt, who recently speculated:
"Looks like Ripple Labs has blown the wad allocated to support XRPBTC at .00002060 to .0002075 levels. If ice-line cannot be reclaimed, look for new support at .0000194 on way to .0000145."
Fate Tied to That of Bitcoin
Fortunately (or unfortunately), XRP's fate is somewhat tied to that of Bitcoin.
This sentiment is confirmed by correlation data shared by blockchain analytics firm Coin Metrics. Although not as strong as other altcoins, the Bitcoin-XRP 180-day correlation is at a healthy 0.8.
That's to say, should BTC enter a full-blown bull market, the altcoin is likely to see a recovery. The opposite is also true, meaning Bitcoin retracing from here could spell disaster for the altcoin.
Featured Image from Shutterstock
Price tags: xrpusd, xrpbtc
Charts from TradingView.com
XRP Has Just Broken Past a Crucial Downtrend, But Don't Bet on a Rally