There was some hope earlier this year that this wasn't going to be a bearish year for XRP. Ripple Labs, the fintech company that leverages the asset, saw a flurry of positive developments while altcoins as a whole outperformed.
Yet stepping back, it's clear that XRP is still caught in a downtrend. CNN-featured crypto analyst Luke Martin shared the chart below with the following caption:
"The last few months have been pretty wild for large groups of altcoins with a rise in interest, narratives, and volume. One altcoin that usually gives at least 1 pump during a time like that is XRP. But not this year…it's been dropping all of 2020."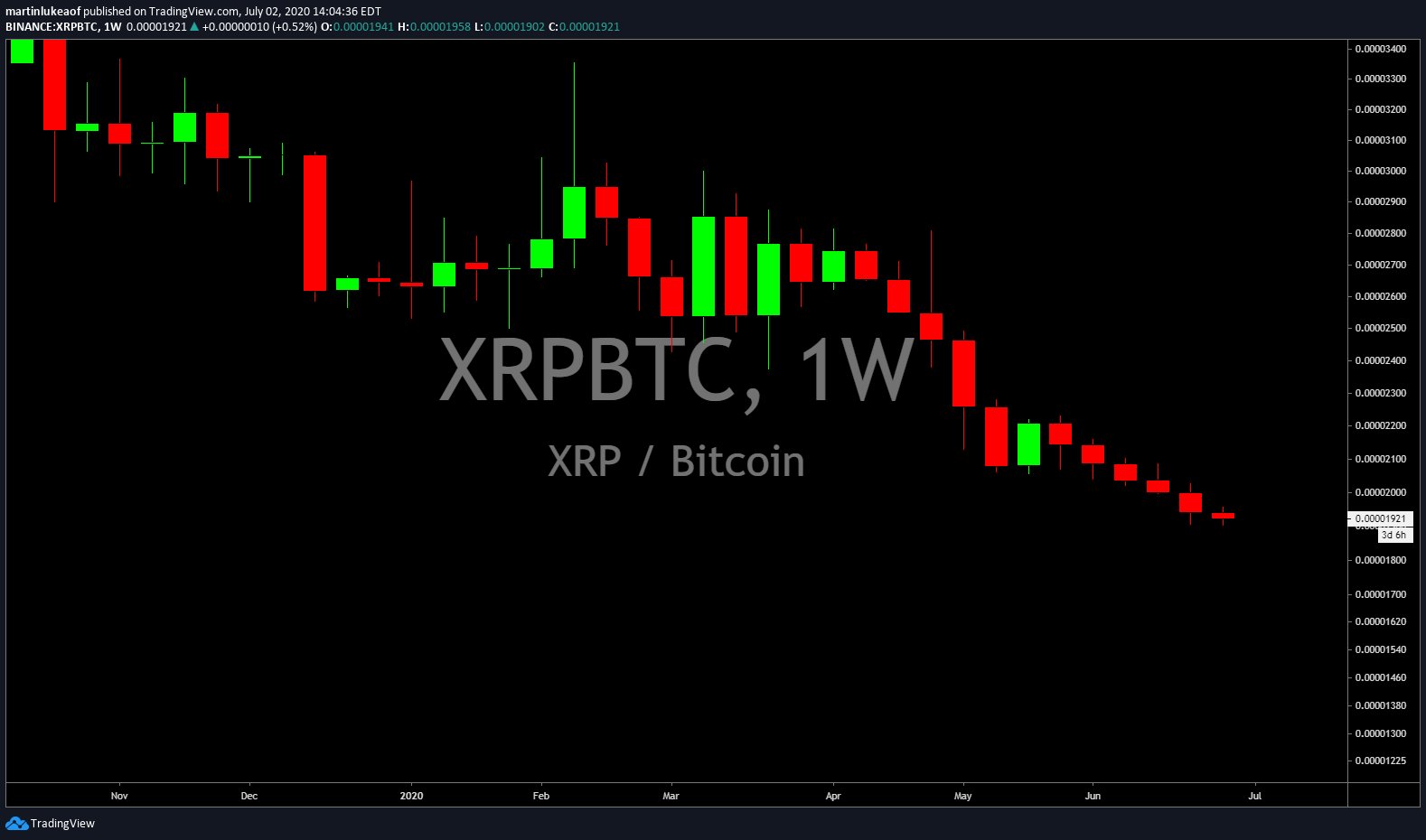 While there are still ardent XRP bulls expecting upside, many respected analysts expect the altcoin to slide further.
XRP Likely to Slide Further, Analysts Say
Responding to Martin's tweet, a pseudonymous cryptocurrency trader postulated that XRP has approximately 30% left to fall before it bottoms. Responding to the question of "where's the bottom?" posed by the analyst, the trader said, "at 1,500 sats."
That has been a pivotal level for XRP over recent years.
Long-time technical analyst Peter Brandt has echoed the bearish sentiment, going as far as to suggest that a 90% drop is possible:
"Looks like Ripple Labs has blown the wad allocated to support XRPBTC at .00002060 to .0002075 levels. If ice-line cannot be reclaimed, look for new support at .0000194 on way to .0000145."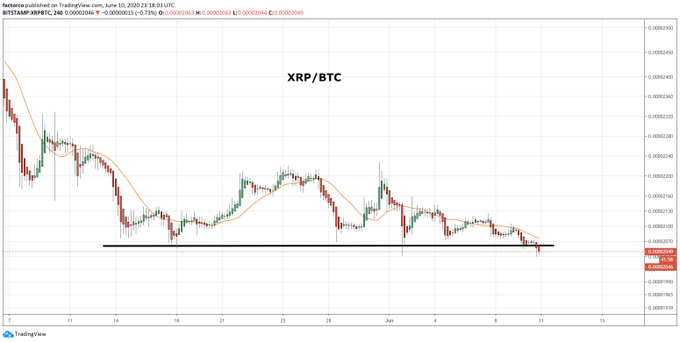 While not predicting an exact price point, Simon Dedic, the co-founder of crypto research firm Blockfyre, has recently said:
"$XRP, $BCH, $BSV, $LTC and $EOS absolutely do NOT deserve belonging to the TOP 10 cryptocurrencies. Actually can't wait until they vanish and clear the way for solid candidates."
In saying this, the fund manager/researcher is saying he expects XRP to plunge even further than it already has.
It Could Be Crushed Alongside Other Altcoins
XRP is likely to be crushed alongside all altcoins should they fall.
And some are saying that's possible.
Per previous reports from Bitcoinist, Max Keiser said that zero altcoins have any value proposition over Bitcoin at all: "There is no coin out there that can do something that Bitcoin doesn't do already or will be able to do shortly."
He thus added that BTC is likely to absorb all of the crypto market's capital as time goes on:
"Alt-coin and hard fork supporters are fact-resistant. I just let the market do my talking for me #Bitcoin's market cap, hash rate, and volume all heading to 99% of 'crypto' market," Keiser explained.
Featured Image from Shutterstock
Price tags: xrpusd, xrpbtc
Charts from TradingView.com
XRP Has Been Dropping All of 2020 — and Analysts Still Expect Downside