Interested in trading bitcoin, but you've never done it before? Worried that the process is too complicated? Well, fear not — trading bitcoin couldn't be any easier. Here's a step-by-step guide on how to make your first bitcoin trade using SimpleFX.
---
Getting Registered
First and foremost, you will need an account to start trading on SimpleFX — and creating one is a simple process.
Simply head on over to SimpleFX.com and click the green "CREATE ACCOUNT" button on the top right-hand side of the screen.
You may create a SimpleFX account using your Facebook or Google accounts, or use an existing email. Afterward, you will need to check your email address to complete the steps required for verification and the transfer of funds.
Once you've completed these initial registration steps, you'll be ready to start trading!
Make Your Move
First, you will need to select your desired market from the left-hand side. For this guide, let's assume you would like to start by trading Bitcoin.
After clicking BTCUSD, you will need to choose a side — buy or sell. If you've already deposited bitcoin or another cryptocurrency into your wallet, you will be able to open buy or sell position (hopefully for a profit).
However, let's assume this is your first ever bitcoin trade. In this case, we're obviously looking to buy
You will also want to choose between a market order — an order which is filled immediately at the current market price — or a pending order. With the latter order type, you choose the price you'd like to buy-in at, and the order will fill if and when that price is met.
For example, if the current buy price is 9399.04 USD, and you think the price of bitcoin will drop to 9200 USD, you may place a pending order at 9200 USD — which will fill if bitcoin market price will reach that level.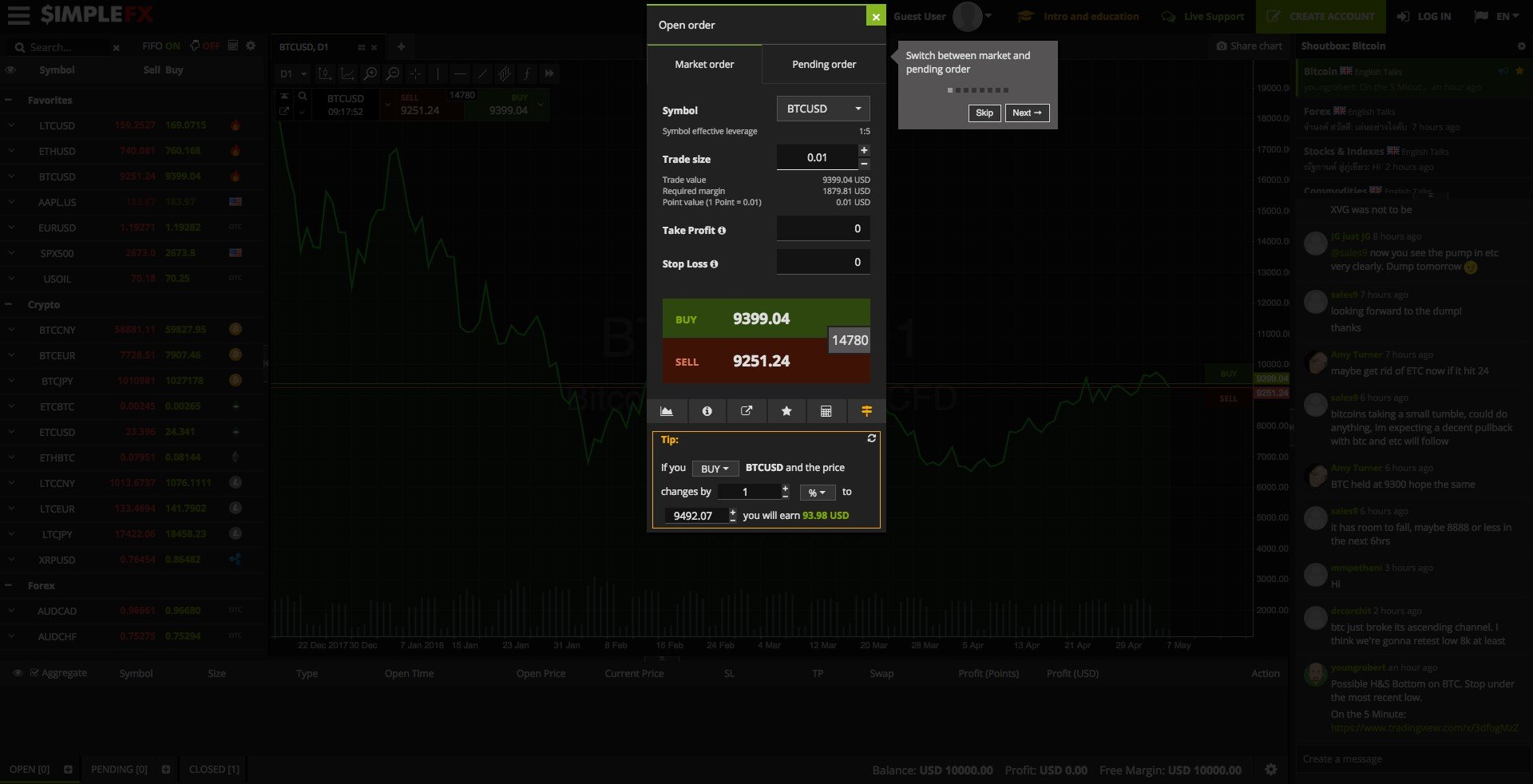 Next, you simply need to choose the size of your order. You may purchase position worth whole bitcoins or fractions of bitcoins.
The trade value, required margin, and point value are all displayed for your convenience below the trade side box. Simply click the plus or minus buttons to increase or decrease your desired purchase amount.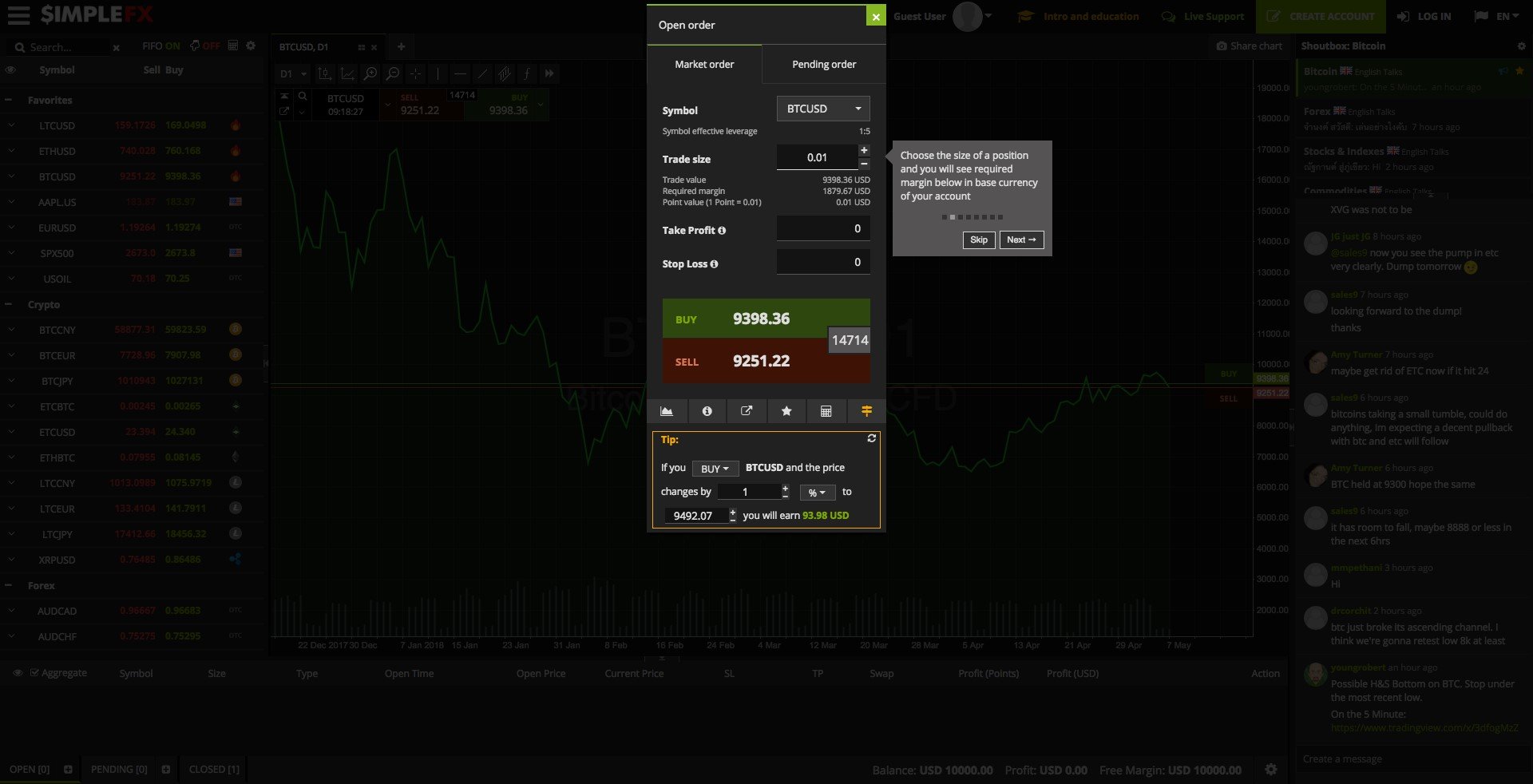 Once you've selected how big position you would like to open, you may set prices for both profit taking and loss prevention.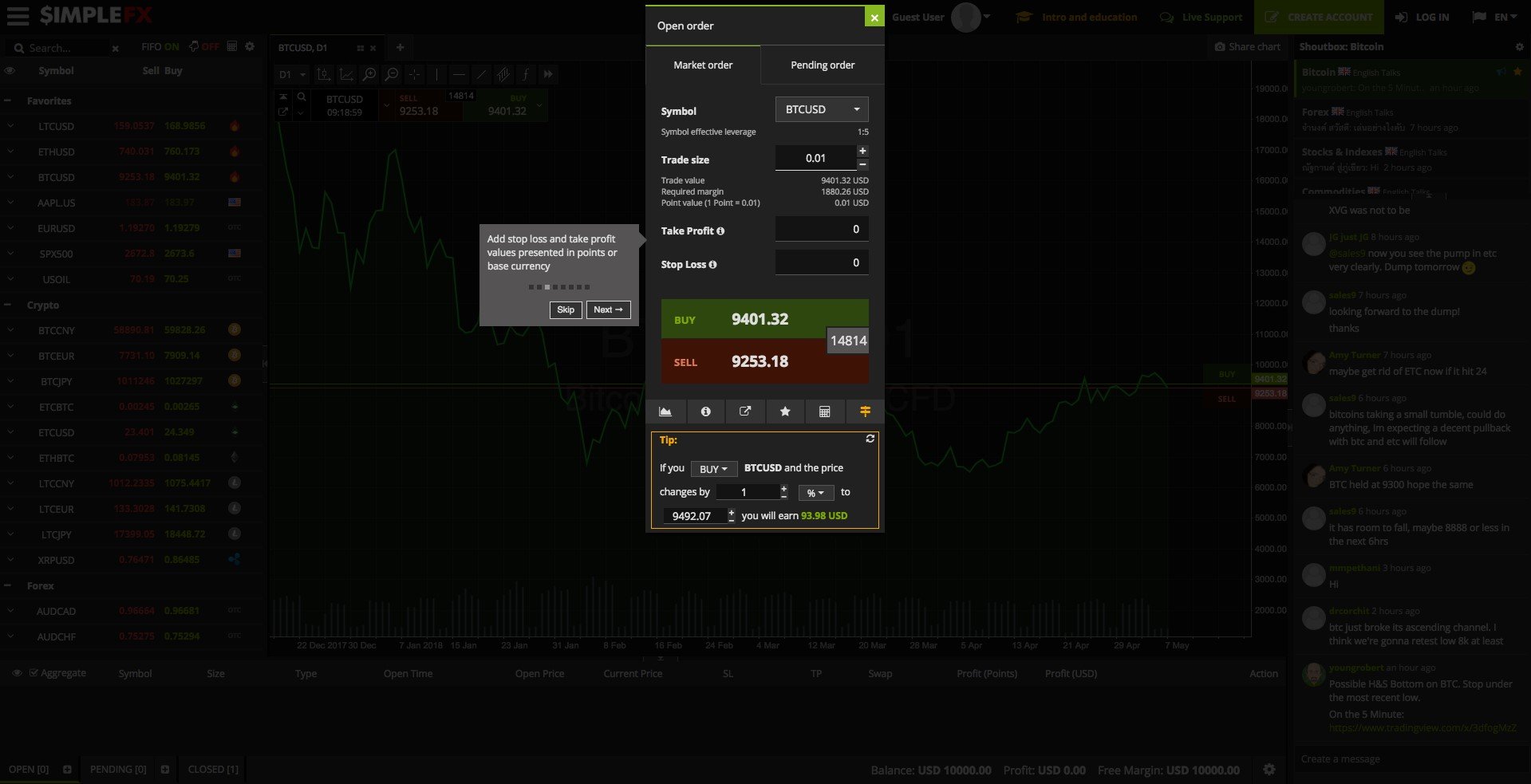 "Take Profit" is the price at which you would like to sell your bitcoin for a profit. For example, if you think Bitcoin will meet strong resistance at 10,000 USD, you may set an order to take profit at that price — in the hopes of possibly buying back in when it retraces.
Stop losses, on the other hand, may be set to minimize losses if the market should suddenly take an unexpected downturn. Many traders find these crucial, as it helps prevent large-scale losses in times of volatility and uncertainty.
Finally, all that's left to do is click buy!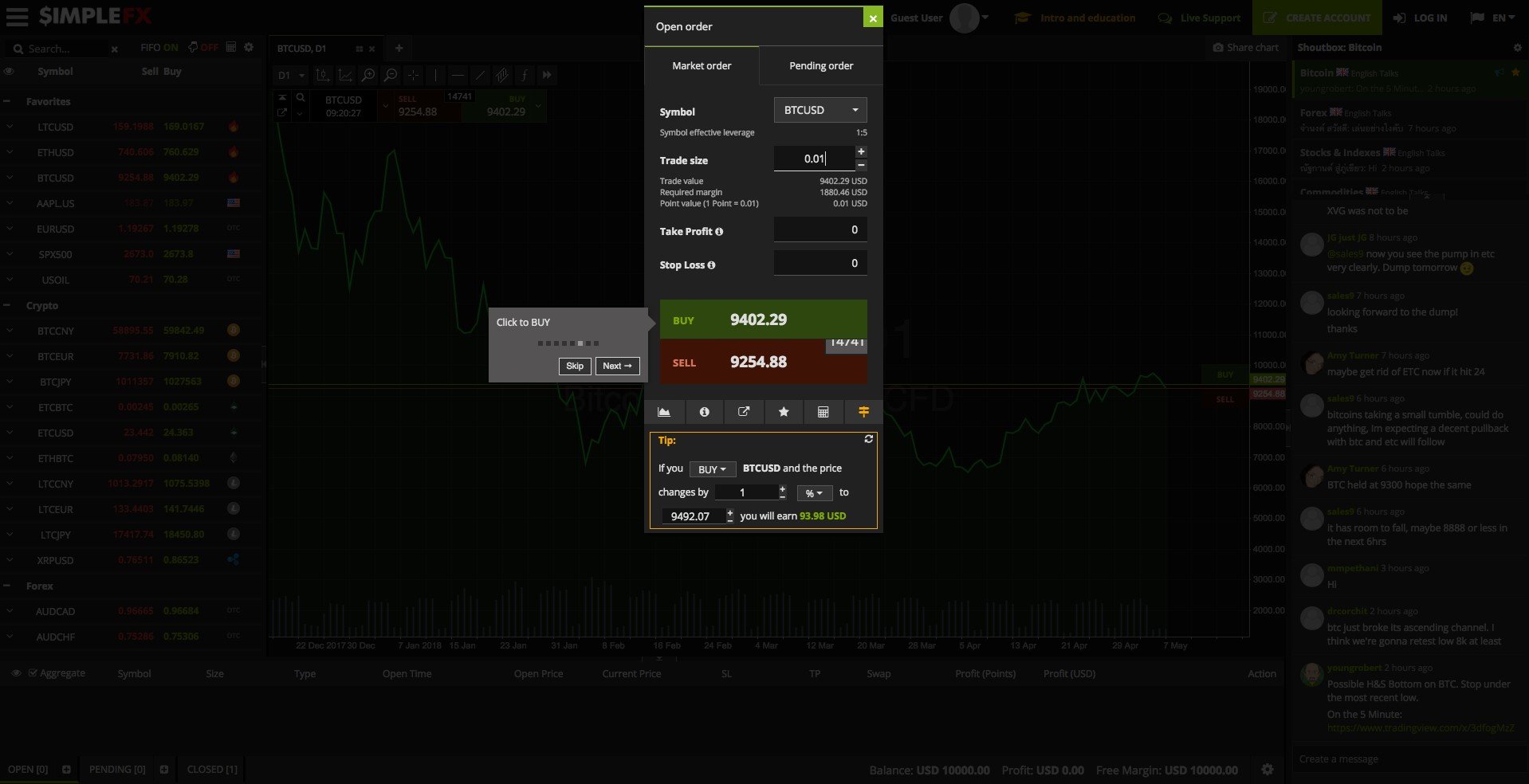 Of course, the process works exactly the same in reverse, should you be looking to sell.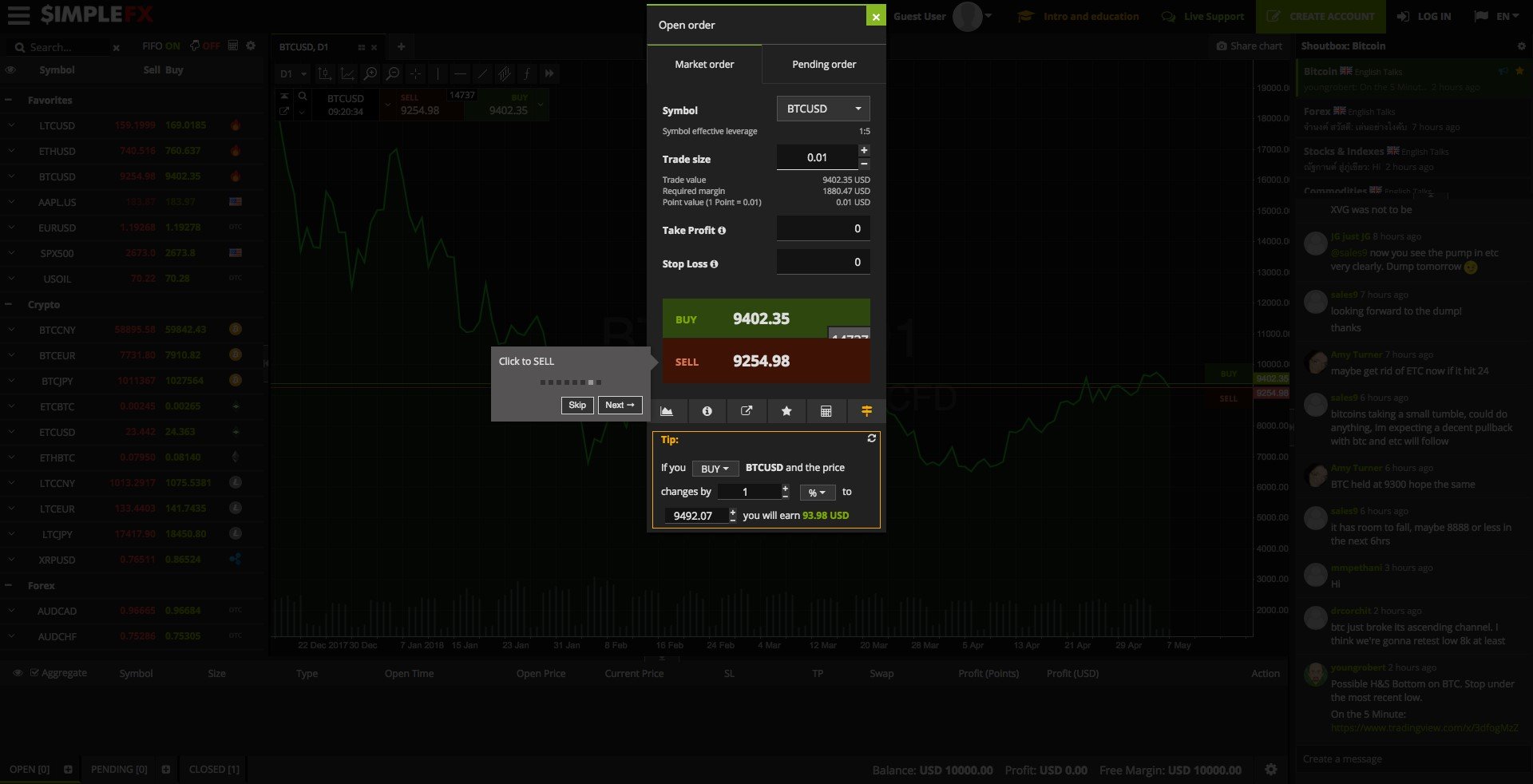 That's all there is to it. Now get out there and start making some money!
What do you think of SimpleFX's easy platform for bitcoin trading? Do you use SimpleFX? Be sure to let us know in the comments below!
---
Images courtesy of SimpleFX, AdobeStock