Bitcoin has mounted a strong 6% comeback over the past 24 hours, but this hasn't stopped XRP from underperforming, posting a gain of 1% in the same time frame.
While a small difference, analysts think that this underperformance is a precursor to a strong drop in the price of the altcoin. Two analysts, in fact, expect for XRP to head towards the $0.125-0.13 moving forward.
XRP Still Has a Harrowing Outlook
In reference to the chart below, a top crypto trader recently said he expects XRP to trend towards $0.13 in the coming weeks, noting how the cryptocurrency recently fell below a key uptrend and was rejected at two key moving averages.
XRP falling to $0.13 from here would mark a more than 30% from the current price of $0.20.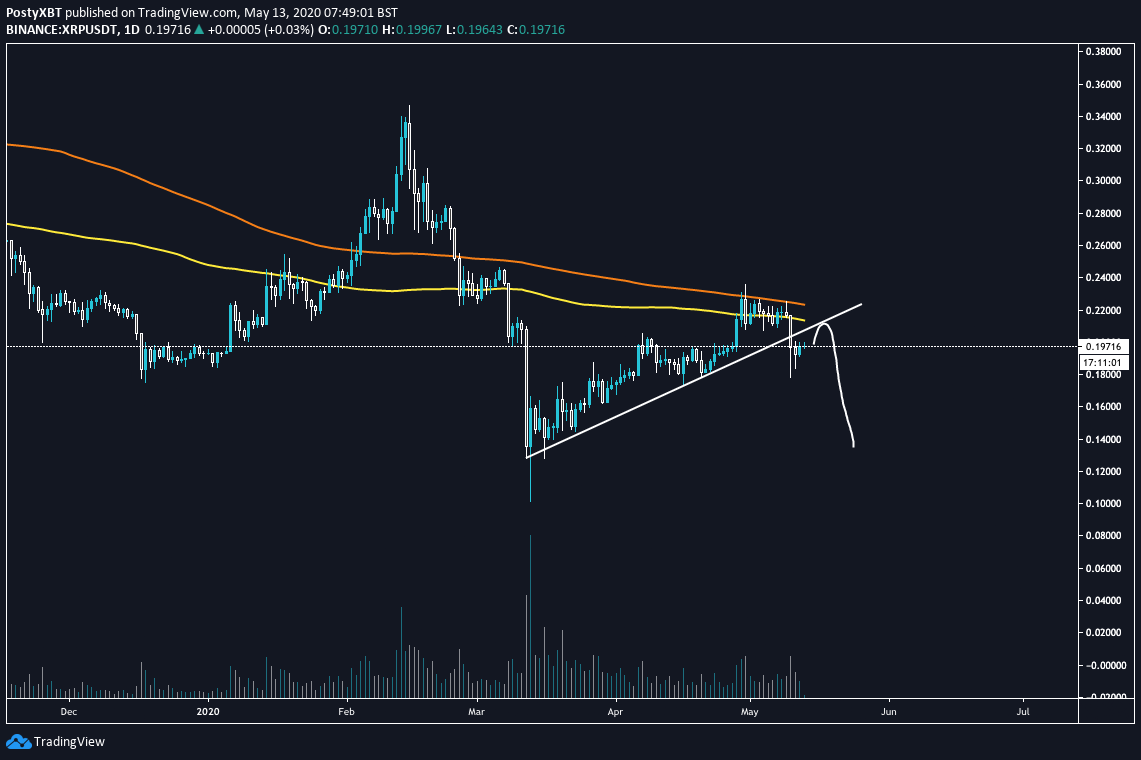 The trader's outlook was recently shared by Nik Patel — a prominent cryptocurrency trader and author — who wrote in a recent analysis that XRP could see a "swift move below $0.175″ and eventual retest of the $0.125 range lows in the coming weeks.
Altcoins Poised to Underperform
Adding to the bearish technical case for XRP, analysts expect altcoins, in general, to underperform BTC moving forward due to fundamental factors.
Kelvin "SpartanBlack" Koh — a partner at crypto investment fund The Spartan Group — recently shared to Twitter that he expects "most alts [to] underperform" in the coming months.
Most alts will underperform. Selective few will outperform and I mentioned some of them that we like incl. $KNC, $BAND, maybe $LINK and $ETH. I am sure there are others that we will find along the way with specific catalysts that will outperform other certain time periods.

— SpartanBlack (@SpartanBlack_1) May 14, 2020
Koh isn't alone in sharing this belief.
As reported by Bitcoinist previously, the lead technical analyst at crypto research firm Blockfyre recently remarked that as Bitcoin slows down, "altcoins are really going to struggle," adding this market segment has "max pain" ahead of itself.
Along with citing a technical analysis case for this sentiment, he further backed it up with fundamentals. On why altcoins are largely unconvincing investments, he wrote in April:
"The reason the alt pumps are unconvincing is because they have followed the same patterns. IEO's, Interoperability, privacy coins moving together. It's coordinated as it has been the last 3 years instead of all ships rising together."
Bitcoin Rally Could Change XRP's Downtrend
A confluence of analysts may be bearish on XRP, but a strong rally in the price of Bitcoin could counteract the harrowing outlook. After all, when BTC rallies strongly, altcoins normally follow suit.
Analysts are currently divided over Bitcoin's short-term future, making a drop in the price of XRP that much more likely.
For instance, the same analyst that called Bitcoin would retrace to $6,400 months before it did in 2020 recently noted that a previous rally in BTC's history is structurally similar to the one we just saw.
This so-called "fractal" predicts that the cryptocurrency will fall to $6,400 in the coming weeks, which would be a 0.5 Fibonacci Retracement of the rally from the $3,700 lows. A move to $6,400 would mark another 25% worth of losses from the current price point.
Photo by Bradley Dunn on Unsplash