During October 2018, Bitcoin trading volumes on the peer-to-peer (P2P) platform LocalBitcoins reached peak levels in Argentina, Venezuela, and Egypt. Elsewhere, places like Croatia and Switzerland are at their lowest levels since the start of 2018.
---
Bitcoin is a Haven Asset in Argentina
With the continuing economic crisis in Argentina, it is perhaps unsurprising to see people flocking to Bitcoin (BTC) [coin_price] as a haven for their wealth. Since April 2018, the peso – Argentina's fiat currency has undergone a significant decline against the dollar, severely weakening the spending power of residents.
In response, BTC has become a more viable proposition with even the nation's apex bank, recently relaxing regulations which allow for more BTC ATMs in the country. Many merchants across the country are already accepting BTC payments.
Despite the best efforts of the government, the country's economy appears mired in a tailspin. Recently, the government struck an accord with the International Monetary Fund (IMF) to receive additional financial support.
In October, the adoption of BTC in Argentina has reached new heights setting a record of almost $9 million in BTC trading volume of the LocalBitcoins platform.
Bitcoin: A Thing of Necessity in Venezuela
Every day it appears that a new BTC trading volume record is set in Venezuela. Such is the extent of the country's troubles, that people of necessity must embrace Bitcoin.
Data from Coin Dance shows that, despite the BTC price decline, Venezuelans have increasingly been involved in trading the top-ranked cryptocurrency. So far, total p2p BTC trading volume for October 2018 stands at almost 900 million bolivars (approximately $14.4 million).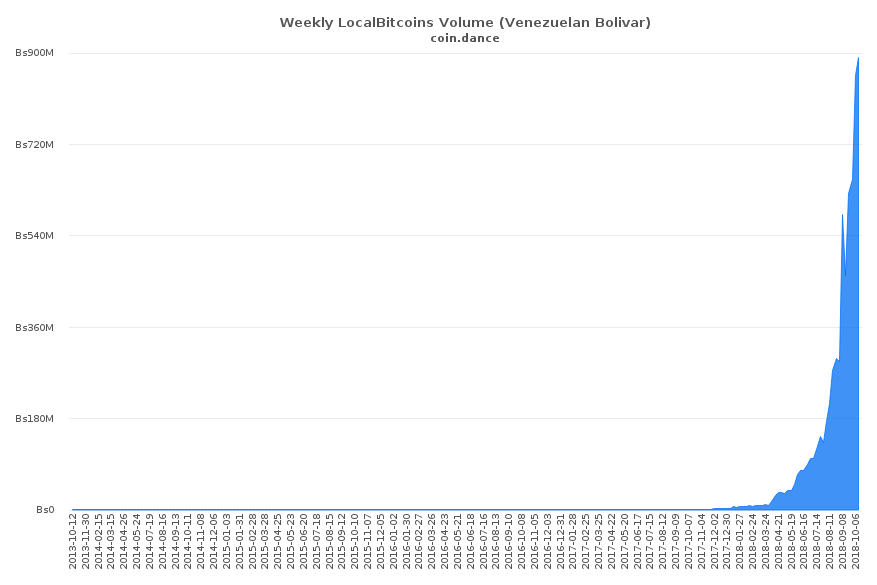 The popularity of BTC trading in the Venezuela flies in the face of the government's attempts to float the state-issued Petro cryptocurrency. Reports suggest there is little indication of the Petro's existence in the country. Recently, the government mandated that payments for travel passports be made in the national cryptocurrency.
Unlike the other two countries with record BTC trading volumes, Egypt isn't in the midst of an economic downturn. The country appears to be benefitting from economic reforms which began in 2016. According to Coin Dance, Egyptians have traded more than one million Egyptian Pounds worth of BTC.
Rest of the World
In the rest of the world, p2p BTC trading continues to increase throughout South and Central America. Chile, Colombia, and Mexico all show October BTC trading volumes well above the 2018 average.
In Europe, volumes have declined significantly since peaking in Q1 of 2018. Croatia and Switzerland both recorded their lowest 2018 trading levels in October.
Is Bitcoin a viable substitute for people living in countries facing economic turmoil? Let us know your thoughts in the comment section below.
---
Images courtesy of Coin Dance, Shutterstock.