If you want to understand the financial markets, you need to watch the central banks. As the largest players in the market, everything they say or do can have a resounding impact on prices. 
---
When central banks have a loose monetary policy, as they have over the last decade, markets tend to rise. When they start to tighten policy, as they did in 2018, volatility usually sets in.
At a highly anticipated meeting yesterday the US Federal Reserve Bank gave the markets exactly what they wanted but not necessarily what they needed.
Not only did they confirm that they'll be taking it slow with interest rates going forward but they also indicated that they're willing to slow down the pace at which they're winding down their massive balance sheet.
What does this mean?
A year ago, it seemed as if the economy was finally strong enough to stand on its own without the help of the central banks. Today, it seems that the United States, Europe, China, and of course Japan may need to continue providing financial support to the markets for some time to come.
Upon the hearing the news that they're not strong enough to survive on their own, the markets are flying today!
@MatiGreenspan
eToro, Senior Market Analyst
Today's Highlights
Days to next Shutdown: 15 | Days to Brexit: 57
Facebook Crushes Earnings
XRP Pops the Crypto Market
Please note: All data, figures & graphs are valid as of January 31st. All trading carries risk. Only risk capital you can afford to lose.
Traditional Markets
As the clock continues to wind down on Brexit, it seems the EU says they're not willing to renegotiate. Somehow, it seems that the odds of a time extension on the March 29th deadline, a no deal Brexit, and no Brexit at all are all increasing simultaneously.
According to a report this morning from UBS, it seems that large financial institutions are taking a risk-averse approach and are hedging their positions in case Brexit goes pear-shaped.
On the chart, we can see a pretty clear and familiar range for the GBPUSD from 1.25 to 1.3250.
Earnings Continue
Another 40 or so companies will report their quarterly earnings today. For dessert, Amazon will report after the closing bell.
If some companies are able to get away blaming their poor profits on China, Amazon cannot. So this should give us a pretty good picture of how the market is looking. As did Facebook, by the way, who despite all the #deleteFacebook drama managed to deliver an outstanding report.
Not only did they show that advertising dollars continue to roll in, but they managed to surpass expectations in just about every category and region. The stock is up approximately 12% in after-hours trading.
XRP Pops Crypto
In a single hour of trading yesterday, XRP managed to erase an entire week's worth of losses. The pop of roughly 10% in Ripple's token seems to have buoyed the entire crypto market and sentiment is once again optimistic… for now.
Here we can see how the action played out. XRP (in green) started its massive surge about 5 minutes before the rest of the market. Also, notice the build-up to the surge (yellow circle) that happened independently of the rest of the market.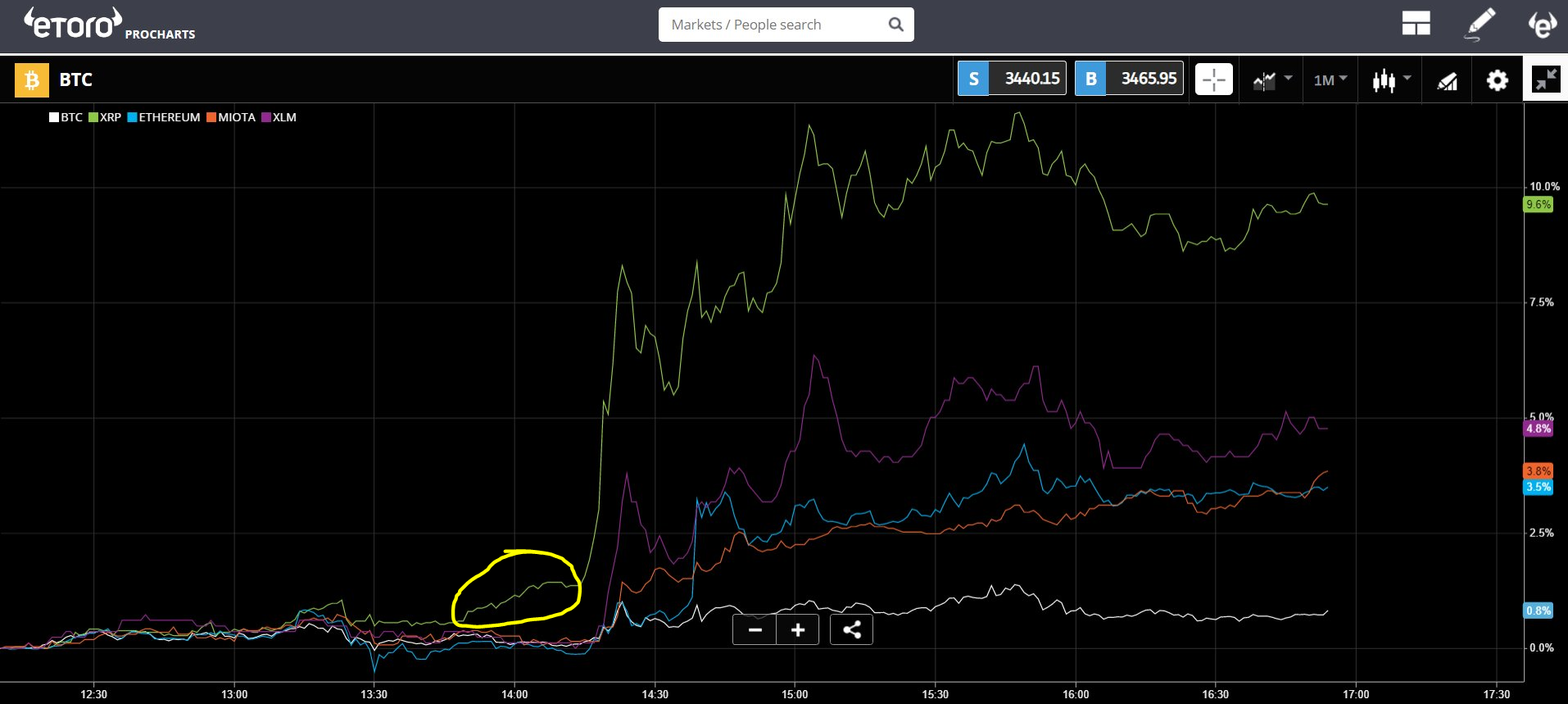 At the Paris Fintech Forum yesterday, what was supposed to be a hot debate between Ripple and SWIFT may have turned into something more.
While onstage with Ripple Labs CEO Brad Garlinghouse, the CEO of SWIFT Gottfried Leibbrandt announced a brand new partnership with payments provider R3.
You can watch the beginning of the "debate" at this link but what I want you to notice is that the two men seemed to spend more time agreeing with each other than debating.
Where things get really exciting is that R3 has very recently entered into a partnership with Ripple Labs. This entire story instantly brings to mind the news we covered in a market update last month (Titled: Goodbye to the Year of Uncertainty) where Visa made a monumental purchase of a payments company called Earthport, a long term partner of Ripple Labs.
So it seems, what we've been referring to as a "battle" in the payments space may actually be more of a giant network under construction, which includes all the major players in the industry and implements cutting edge technology,  with Ripple increasingly growing as part of this network.
On the stage, Garlinghouse very suddenly and unexpectedly shifted the discussion to that of interoperability between different blockchains (Timestamp 5:04). In fact, in this battle between crypto/classical and crypto/crypto what we very well may end up seeing is more like a mesh of networks that are all connected, all working together to bring value to the consumer through the power of technology.
---
eToro (UK) Ltd is authorized and regulated by the Financial Conduct Authority. eToro (Europe) Ltd is authorized and regulated by the Cyprus Securities and Exchange Commission.
This is a marketing communication and should not be taken as investment advice, personal recommendation, or an offer of, or solicitation to buy or sell, any financial instruments. This material has been prepared without having regard to any particular investment objectives or financial situation and has not been prepared in accordance with the legal and regulatory requirements to promote independent research. Any references to past performance of a financial instrument, index or a packaged investment product are not, and should not be taken as, a reliable indicator of future results. eToro makes no representation and assumes no liability as to the accuracy or completeness of the content of this publication, which has been prepared to utilize publicly-available information.
eToro is a multi-asset platform which offers both investing in stocks and cryptoassets, as well as trading CFDs.
CFDs are complex instruments and come with a high risk of losing money rapidly due to leverage. 76% of retail investor accounts lose money when trading CFDs with this provider. You should consider whether you understand how CFDs work and whether you can afford to take the high risk of losing your money.
Cryptoassets are volatile instruments which can fluctuate widely in a very short timeframe and therefore are not appropriate for all investors. Other than via CFDs, trading cryptoassets is unregulated and therefore is not supervised by any EU regulatory framework. Your capital is at risk.