Throughout history, the banking industry has always been vulnerable to a range of risks, but somehow, it has been able to survive for over three thousand years. But now, traditional banking is increasingly under threat from geopolitical uncertainty and, most significantly, from the advent of new technologies, including artificial intelligence and Bitcoin. As a result, behemoths like Deutsche Bank are now undergoing efforts to radically transform their business model.
---
Deutsche Bank To Invest Deeply in Tech by 2022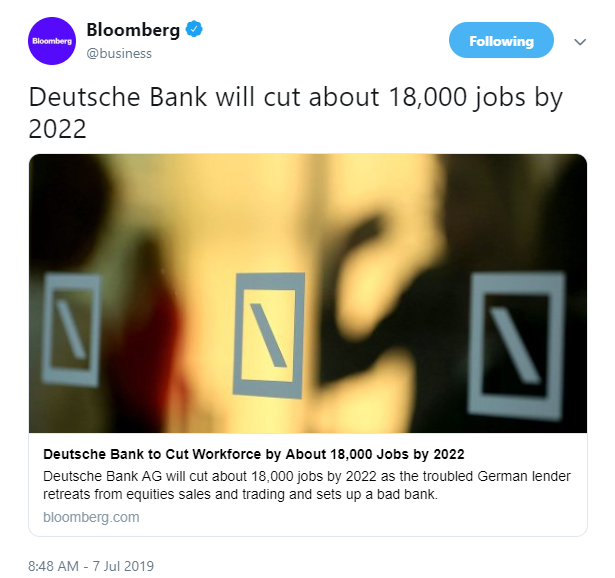 New technologies, may have already profoundly disrupted existing banking and financial systems. Some banks are taking drastic steps to ensure that they survive by trying to catch up on innovation.
The most recent example comes from Deutsche Bank. Its management is aware that "Digital is on the rise. No getting away from it."
Thus, on July 7, 2019, Deutsche Bank CEO Christian Sewing admitted that 150 years after its founding, the bank now has to be rebuilt in order to survive. Sewing stated,
"The rebuilding will, however, only be successful if we fundamentally reshape our infrastructure – all of the cross-divisional functions supporting the businesses."
To achieve this transformation, among other things, Deutsche Bank plans to invest 13 billion euros in technology by 2022, while cutting 18,000 jobs.
Christine Lagarde: Bitcoin and crypto "clearly shaking" the banking system
Banks have always faced risks, such as credit risk, liquidity risk, and interest rate risk. Problems can also be triggered if a bank faces too many liabilities and lacks enough cash to satisfy those liabilities when they come due, etc.
Moreover, geopolitical uncertainties can also trigger an enormous financial crisis. Deutsche Bank estimates that the impact of the U.S.-China trade wars has already obliterated over USD 5 trillion from the financial market.
Usually, governments have been willing to rescue banks during the crisis, especially if they were big. The "too big to fail" systematic policy was highlighted during the 2008 financial crisis.
But now, perhaps, the biggest threat to the banking industry is posed by the fact that your Bitcoin wallet is your bank.
In this regard, Christine Lagarde, Managing Director of the International Monetary Fund, has already sounded the alarm. In April 2019, Lagarde told CNBC that cryptocurrencies and financial technology developments are "clearly shaking" the banking system. And, she added,
"We do not want innovation that would shake the system so much that we would lose the stability that is needed."
Lagarde will continue to have a position of leadership in the world banking system. As reported by Bitcoinist, She has just been nominated as the new president of the European Central Bank.
Most likely, many other banks will start reengineering their processes and reducing their large workforces, as Deutsche Bank is doing. However, unlike during other financial or banking crises, this time, Bitcoin is around to deftly handle the ensuing global economic slowdown.
Moreover, folks who have been shown pink slips in the traditional financial services industry will find an opportunity to start again with jobs paying in BTC, which they can hold as a real robust store of value and also use for payments.
How do you think Bitcoin technology will continue to disrupt the traditional banking system? Let us know in the comments below!
---
Images via Shutterstock, Official Bloomberg Twitter Handle