Bitcoin's price action over the past few weeks has not been impressive by the standards of altcoins. While BTC has stagnated in the low-$9,000s, certain cryptocurrencies have literally gone parabolic.
No coin shows this trend as well as Chainlink (LINK), which is now one of the top-10 cryptocurrencies. The popular altcoin, one of the most popular on Crypto Twitter by far, is up by around 400-500% since the lows of March. And it's up by thousands of percent since the December 2018 lows.
This recent price action has pushed Bitcoin dominance to a breaking point, but many are certain that an altseason may not arrive.
Bitcoin Dominance Is At a Breaking Point
The best way to measure the performance of altcoins versus Bitcoin is through BTC dominance. BTC dominance is the percentage of the cryptocurrency market made up of BTC; the higher the percentage, the less the value altcoins have relative to the market leader.
With the recent rally in the altcoin market, a trader has noted that the metric has reached a critical level of macro importance:
"Critical level here: high from late 2018-mid 2019, now acting as the bottom for 2020. A break below 62 would signify to me further downside aka more pumps for #altcoins against BTC."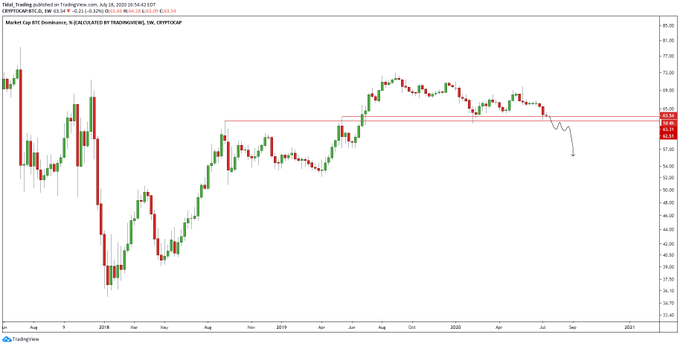 This has been echoed by another trader, the one who predicted in the middle of 2018 that Bitcoin would bottom at $3,200.
He also noted that BTC dominance is at a point where it is likely to see a strong breakdown, meaning altcoins will rally.
Fortunately for Bitcoin bulls, not everyone is convinced that this scenario will play out as most traders and market participants expect.
What Altseason?
While some altcoins may outperform, by and large, prominent investors expect most non-BTC cryptocurrencies to trend towards $0.  Jason Calacanis, a prominent angel investor well known for investing in Uber and Robinhood commented in June:
"Historically, 99% of crypto projects are garbage run by unqualified idiots, delusional but below average founders or grifters… the 1% that are not, could change the world. I'm waiting for that 1% to deliver their product so I can talk to their customers. you got customers?"
There's also been analysis by an accurate trader that Bitcoin dominance could hit 76% in 2020.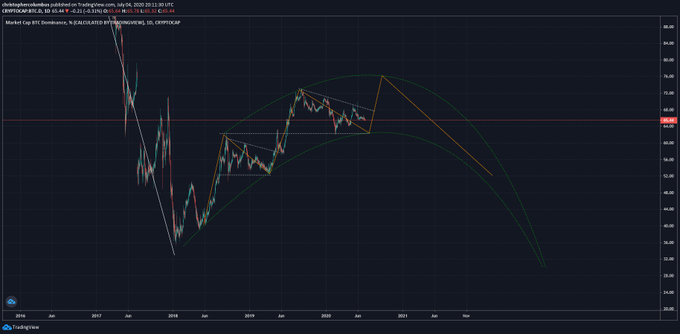 Even if there is a rally, investors have reminded the community that investing in altcoins is risky. Jason Williams, a partner at Morgan Creek Digital, recently said:
"People sell BTC to buy alt coins and straight s**t coins. I think that is super risky. I am sure, if real honest historical analysis was done, it would show holding is a superior strategy. Just as single stock pickers are losers over those that use an index. IMHO."
His sentiment is predicated on the idea that holding Bitcoin, dollar coast averaging into the leading crypto asset, is safer and more predictable.
Featured Image from Shutterstock
Price tags: xbtusd, btcusd, btcusdt
Charts from TradingView.com
Bitcoin Dominance Is Breaking Down, But Don't Expect an "Altseason"