Bitcoin price has broken through key resistance reaching $5,600, a new 2019 high. This new level also adds further weight to the increasingly prevalent sentiment that the market is turning bullish.
---
Bitcoin Price Hits Fresh 2019 Highs
Bitcoin price (BTC) [coin_price] has hit fresh 2019 high breaking key resistance at the previous high of $5450. Bitcoin now truly appears to be climbing out of a bear market that began in January 2018 when the cryptocurrency saw its all time high of nearly $20,000.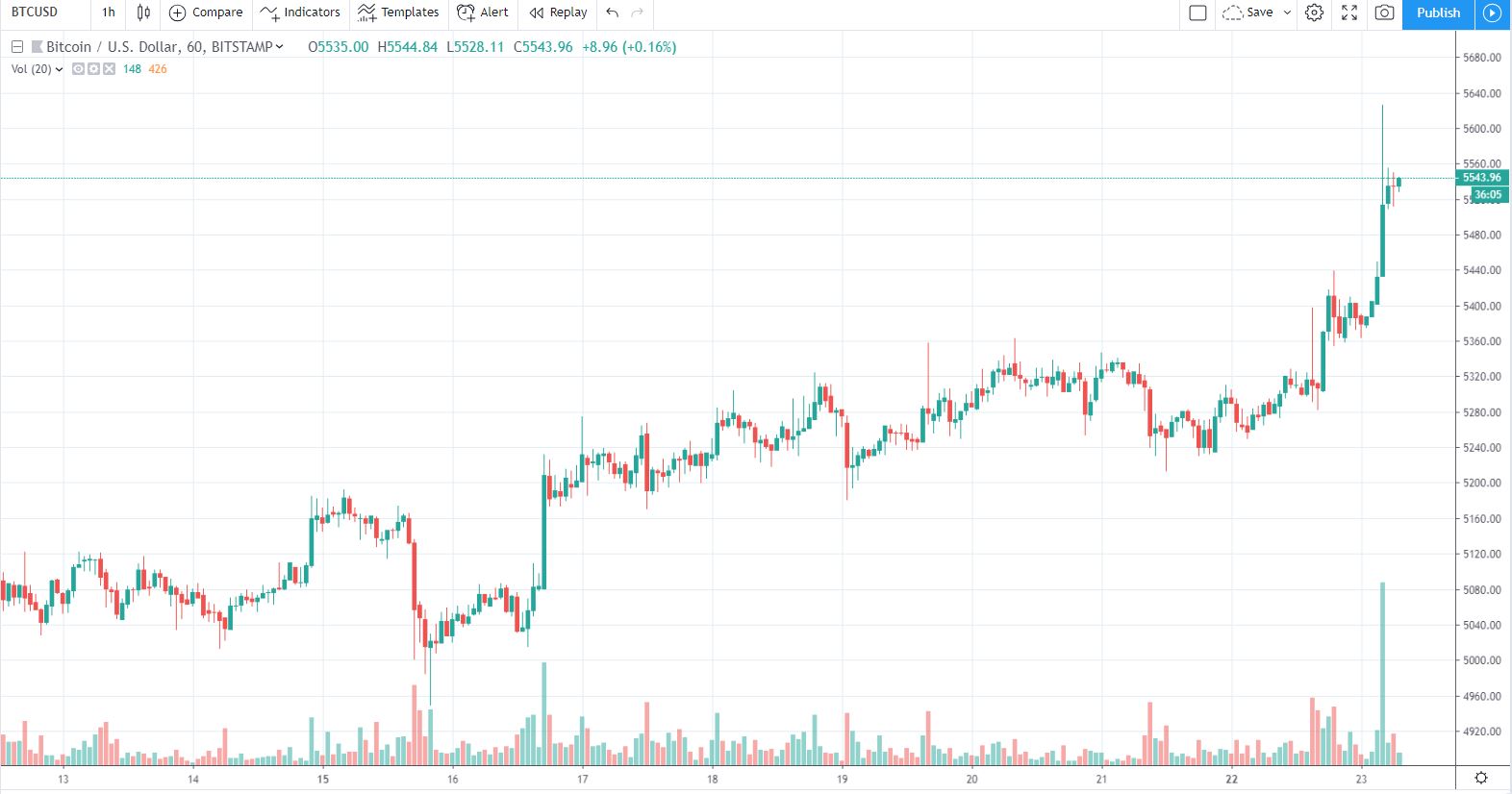 As Bitcoinist market analyst FilbFilb noted yesterday,
…[A]ll indicators suggest that Bitcoin wants to continue higher and all that is required is more of the same buying pressure over the next couple of weeks, which would potentially lead to a retest of the old support at $6000. Failing that, the $4000 level is now likely to act as strong support if it is tested.
This bullish scenario appears to be playing out. Now, bitcoin price is eyeing the $6,000 level, which will likely determine where the market is ultimately headed this year.
Breaking $6k could be the final nail in the coffin for the bears too. This level is critical. It was the $6,000 range that served as support for nearly four months from August to November 2018.
Today, Bitcoin is up over 60 percent from the lows record during the first week in February and 58% from last year's low. These gains also mean that BTC is now outperforming most traditional stocks, commodities, NASDAQ, and the S&P 500 so far this year.
Incoming Golden Cross?
Additional fuel for Bitcoin may come from a 'golden cross' or when the 50-day moving average moves above the 200-day MA, a very bullish signal.
Overall, market sentiment is clearly shifting. As Bitcoinist reported yesterday, even bearish traders are starting to flip.
Up until recently, prominent Bitcoin market analyst Murad Mahmudov, for example, was bearish on BTC/USD, saying he doesn't expect a new bull-run until Q2 2020. Today, he is 75 percent sure the bottom is in.
Additionally, analyst Tone Vays has also lessened the chances of his predicted $1k bottom to 40 percent. Meanwhile, Willy Woo, says that he's 95 percent certain the bitcoin price bottom occurred in mid-December 2018.
While earlier this month, veteran trader, Peter Brandt, who called Bitcoin's $20K top," says it wouldn't surprise him if Bitcoin price enters a new parabolic phase.
Numerous Indicators Suggest the Market Has Turned
More good news for the bulls are also coming from numerous indicators. The Mayer Mutliple (MM), for example, has risen above 1.0 signaling the establishment of a long-term bottom for bitcoin price.
Rising institutional interest, return of Korea's 'Kimchi premium' and Chinese traders paying a markup for Tethers, allowing easier access to crypto markets, are among the other signs pointing to a Bitcoin uptrend.
Meanwhile, Bitcoin's fundamentals are stronger than ever while the halving, which is expected to reduce sell-pressure on the market, is now less than 400 days away.
It's still too early to definitively say that Bitcoin is now in a bull market. However, the number of positive signals is certainly increasing with each day.
Is the Bitcoin bear market finally over? Share your thoughts below!
---
Images courtesy of Shutterstock, Tradingview.com