Bitcoin has continued to push higher after Wednesday's rally. The asset trades around $9,650 as of this article's writing.
Bulls expect the asset to continue to gain strength as Ethereum, which leads the crypto market, and other markets like precious metals rally.
There are technicals, fundamentals, and on-chain metrics backing this optimism, say multiple analysts.
It seems that Bitcoin bulls are finally back. In the past few minutes, the cryptocurrency has shot higher once again to a multi-week high of $9,690. From the weekend lows around $9,250, BTC has gained approximately 5%.
Dozens of Millions Liquidated
This latest rally has been marked by strong liquidations on BitMEX. According to Skew.com, approximately $55 million worth of Bitcoin long and short positions on BitMEX have been liquidated over the past 72 hours.
Over that same time frame, over a dozen million more worth of BitMEX positions were liquidated for the exchange's Ethereum market. The leading altcoin trades at $280 as of this article's writing, having rallied over 13% in the past day.
Bitcoin Has Room to Rally
Top commentators say that Bitcoin has room to rally from here. Kyle Bass recently said that BTC will soon see an "explosive" move against the dollar, citing money printing by central banks:
"Silver, Gold, Bitcoin, etc all look to be ready to make explosive moves higher given the sheer amount of money printing going on around the world. Here is a chart or front-month silver going back 10 years."
Kyle Bass is the chief investment officer of Hayman Capital Management and has long been critical of central bank money printing. Bass is the latest prominent investor/strategist to have flipped bullish on Bitcoin. He joins Raoul Pal, Dan Tapiero, Lyn Alden, and Paul Tudor Jones.
From a pure correlation standpoint, Bitcoin is actually falling behind gold. If you look at the charts of the two assets, both have extremely similar price action, up until last month, when gold broke out as BTC flatlined. BTC catching up to the precious metal will see it trade above $10,000 in the near future.
One crypto analyst noted that Bitcoin's recent price action has allowed it to maintain crucial supports while breaking the bearish market structure:
"Multiple failed attempts to send price lower soaked up at daily demand & the monthly open for BTC. Yesterday's 1D close posted a higher high breaking MS on the daily. Metals, equities, alts, all ripping higher… may be time for the best asset of the past decade to now."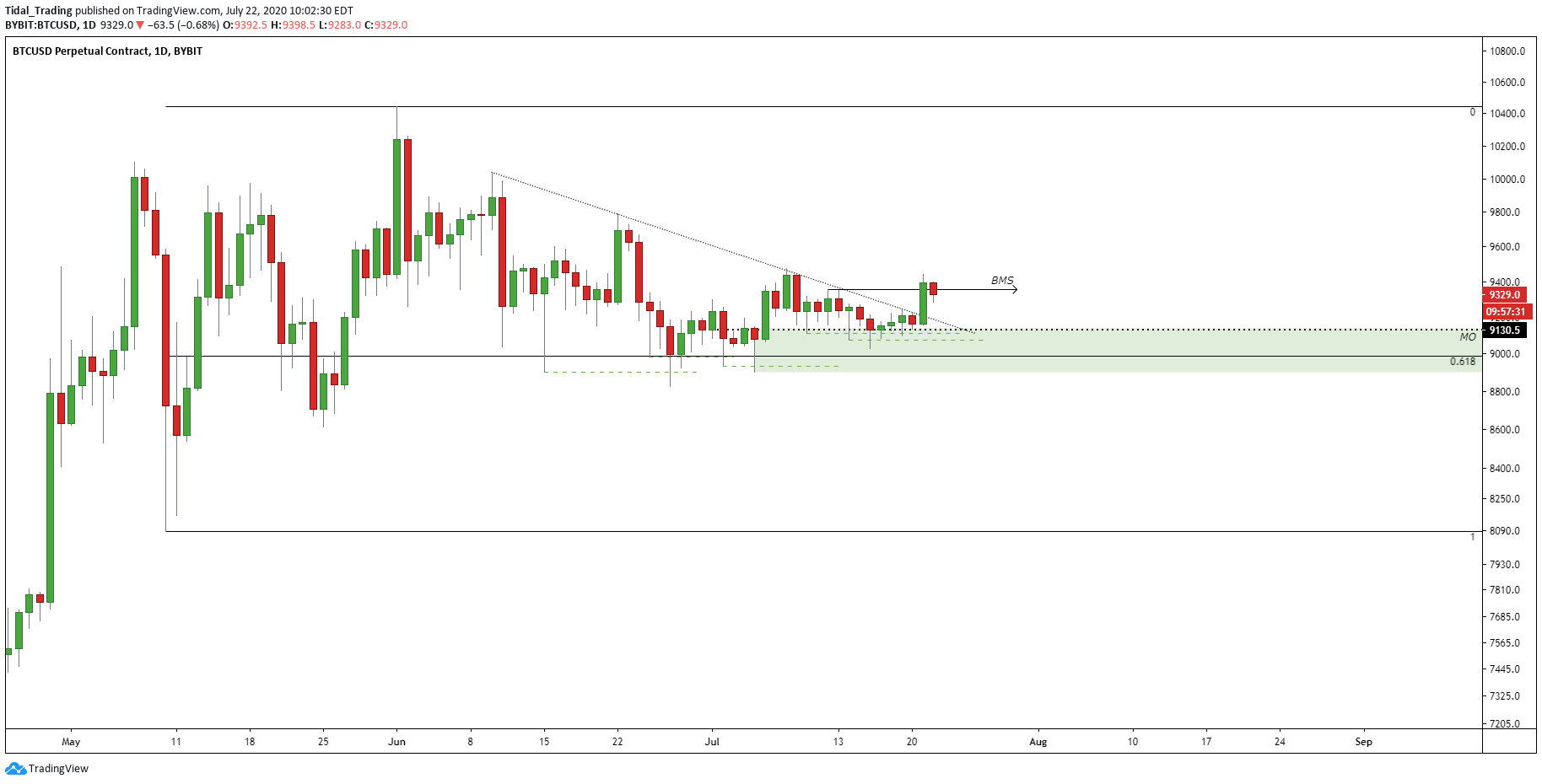 Featured Image from Shutterstock
Price tags: xbtusd, btcusd, btcusdt
Charts from TradingView.com
Bitcoin Rips Past $9,600 as Bulls Assert Control: What's Next for BTC?