The cryptocurrency sector has seen an influx of people from all walks of the earth. People from far and wide constantly flood the market, looking for the next best cryptocurrency. As this has become a herculean task, many have fallen victim to the volatility that exists in the market. However, tokens like Cardano (ADA) and EOS (EOS) have been seen to bring profits to their investors.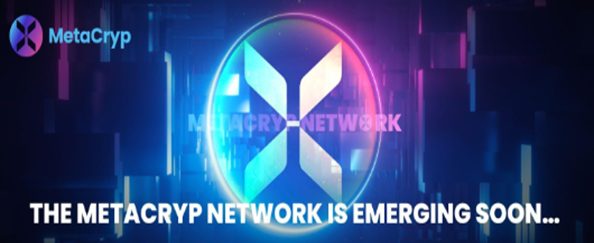 There is also the newbie in the Cryptoverse, Metacryp (MTCR), which is already warming hearts to it with its applaudable efforts at fully integrating the Play to Earn concept into the Web3 gaming ecosystem. So let's take a look at these three coins.
Metacryp (MTCR) – The metaverse shaking up the cryptoverse
Metacryp, although new, isn't pulling its punches. It gives users many reasons to be excited. The gaming industry in Web3 hasn't been up to par with the level users want it to be, so it's understandable why they're excited about the new entrant. Metacryp is solving multiple problems for users in gaming. For one, there is the problem of trust, which many Web3 games haven't been able to solve. Metacryp solves this in a pretty simple way; the use of Smart Contracts, which ensures that gamers receive their rewards transparently.
There is also the problem of an overcomplicated onboarding process. Metacryp solves this in one go by taking out all the extra and unnecessary information required by other gaming companies when signing up. Thus, you do not need anything but your wallet address to sign up. This also gives users a high level of anonymity and makes it easy for them to relax, knowing that no one can discover their identity. Metacryp is projected to be a hit with all of these features and more.
Metacryp is currently on presale, and there are lots of juicy bonuses on offer, e.g., a 13% bonus when purchased with BNB and a 30% bonus when you purchase Metacryp (MTCR) worth $1000. So if you want to buy some Metacryp (MTCR), there's no better time than the present.
EOS is sneaking up on the other blockchains in a bid to rule
EOS (EOS) is quickly becoming the blockchain to turn to when other blockchains disappoint you. It has many features that help it accept dApps that most blockchains cannot accept. Thus when these users come, and they're able to launch their projects on the blockchain, they're most likely to remain on the blockchain, thus increasing its user base.
EOS operates a Proof of Stake Consensus Mechanism, albeit differently from the way other blockchains traditionally operate theirs, allowing users to approve nodes. It is thus easy to see why EOS has retained its green candlesticks.
Cardano – ADA seeks superiority amongst compatriots and competitors
Cardano (ADA) is one of the most used blockchains in the world right now, out surpassed by the likes of Ethereum (ETH) and Binance Smart Chain (BSC). However, it is fully determined to become number one, and it keeps optimizing its technology to achieve that feat. It has thus become faster, cleaner, and cheaper than most of the other blockchains. It also ranks high on scalability, one of its most significant selling points.
The Bottom Line
While looking for the right cryptocurrency to splurge your money on, you must avoid scam coins and focus only on Gemcoins. Carry out proper market research and technical analysis, and you'll be alright.
For more info on Metacryp (MTCR), go to:
Presale: https://presale.metacryptoken.io/register
Website: https://metacryptoken.io/
Telegram: https://t.me/MetaCrypOfficial
Disclaimer: This is a paid release. The statements, views and opinions expressed in this column are solely those of the content provider and do not necessarily represent those of Bitcoinist. Bitcoinist does not guarantee the accuracy or timeliness of information available in such content. Do your research and invest at your own risk.