As you may have seen or guessed, on the main stage at Consensus 2018 yesterday, our co-founder and CEO Yoni Assia revealed the next country that will be able to download the eToro app to invest their money in a user-friendly and social way.
---
"If everybody had a broker, across the USA
Then everybody'd be trading, like they do in UK
You'd see em checkin' their balance, and copying traders too
China Russia and Europe, eToro USA!!"
Just before the big announcement, Yoni also starred on a panel with the founders of Kik, Washman, and Indigogo, which is definitely worth watching.
For today's daily update, we're gonna use a bit of surfing slang where appropriate. Feel free to play along, with your legend at this link brah.
Today's Highlights
Inside Outside
Dinged but not Licked (Gold)
EOS Registration
Please note: All data, figures & graphs are valid as of May 16th. All trading carries risk. Only risk capital you're prepared to lose.
Traditional Market
It looks like Kim Jong Un pulled a 180 yesterday as he announced that North Korea is pulling out of talks with their southern neighbors.

We knew the upcoming negotiations were a long shot, but just in case people were thinking that we were on a straight path to a peace deal, this is a firm reminder that Donald Trump is not the only one who can play hardball.
The stocks were already dumping when the news broke, but it seems this update may have hampered any recovery.
Diligent onlookers also noticed a blow out in the bond markets, as the selling was not confined to stocks. Here we can see the yield on the 10-year treasury went airborne, reaching its highest level since 2011.
A few months ago, everyone was freaking out about this particular yield coming close to 3%, which we've passed now.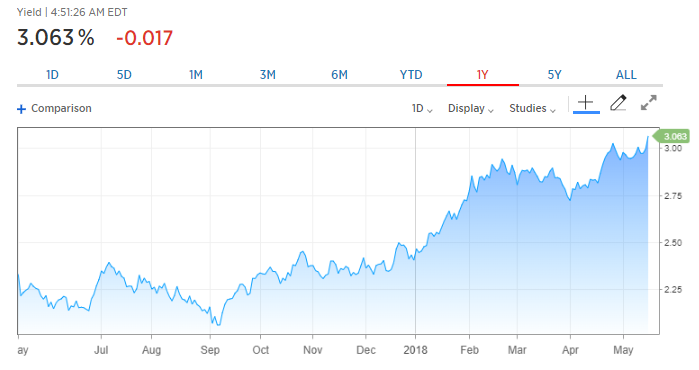 (Remember: Bond yields trade opposite to price)
Gold: Dinged but not Licked
Oddly enough, there is no flight to safety by investors. This orderly selling pressure in the stocks and bonds has led to a stronger Dollar but gold must have missed the memo.
Here's the channel we've been watching on gold for a few months now. It should be noted that the break below $1,300 was not at all a surprise.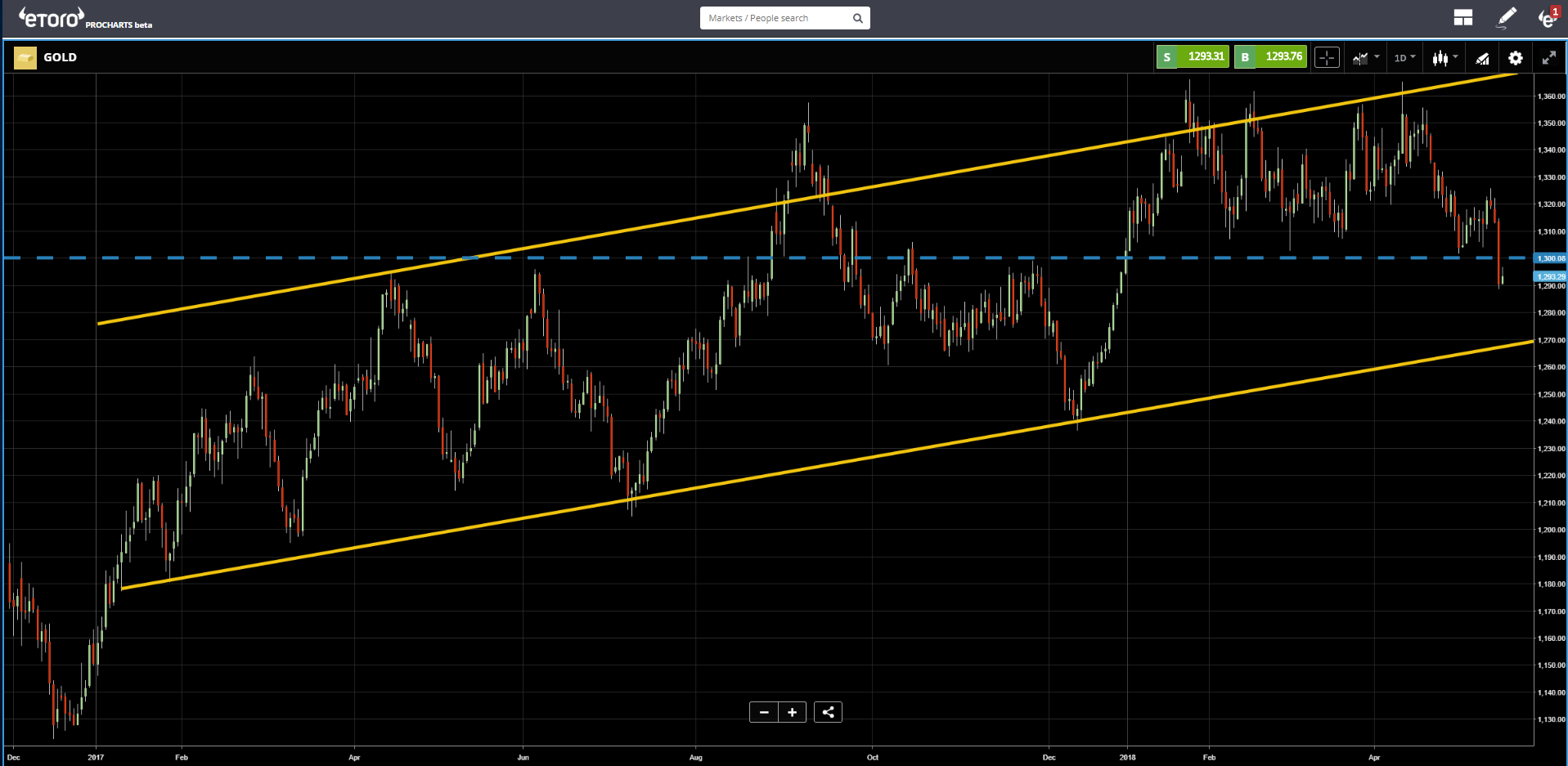 Oil, on the other hand, is getting rag-dolled without any particular direction.
EOS Registration
Several of our clients have recently asked about this, so I wanted to give a brief explanation.
The EOS ICO is ending in two weeks from Friday on June 1st. As you may know, the ICO is being held on the Ethereum network. So anyone who has bought EOS tokens is currently holding an Ethereum based (ERC20) token.
On the official launch date, all of the ERC20 tokens will be swapped out for actual EOS on the newly created blockchain. But in order to do this, users are compelled to register their tokens or lose them.
For those of you outside eToro, you might want to figure out what this means ASAP as unregistered tokens will be lost. There are a few good tutorials out there, but the process is notably complicated.
For our clients here in eToro, hang loose. Just sit back and relax as our skilled team will take care of the registration on your behalf and the positions you have in your account will be seamlessly transferred over to the EOS blockchain at the end of the month.
Have a radical day!
This content is provided for information and educational purposes only and should not be considered to be investment advice or recommendation. The outlook presented is a personal opinion of the analyst and does not represent an official position of eToro. Past performance is not an indication of future results. All trading involves risk; only risk capital you are prepared to lose.
Cryptocurrencies can widely fluctuate in prices and are not appropriate for all investors. Trading cryptocurrencies is not supervised by any EU regulatory framework.
---
Images courtesy of eToro