For the umpteenth time in weeks, Bitcoin has bounced after almost breaking below the trading range of the past eight weeks. As of the time of this article's writing, the leading cryptocurrency trades at $9,500.
The bounce has been deemed bullish by analysts as the cryptocurrency held firm in the current consolidation range.
Bitcoin recovering to $9,500 hasn't stopped "cracks" from forming in BTC's uptrend, though, a popular trader has said.
Related Reading: The Ethereum Investment Case Has This Unexpected Achilles' Heel
There Are Cracks Starting to Form in the Bitcoin Uptrend: Analyst
A trader says that there are "cracks starting to show" in Bitcoin's uptrend.
He shared the chart below illustrating his point. It indicates that the flagship cryptocurrency is starting to form a bearish trend, as indicated by the red price band atop of the current price action.
"While I am anticipating some upside intra-day, I have reasons to be cautious here. Cracks are starting to show and if we see a shift in the tide, I am not going to get caught offsides here," he commented on the matter.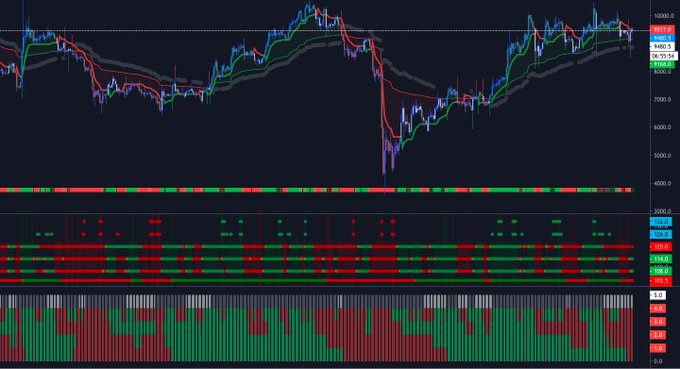 Investors Aren't Worried 
Bitcoin investors seem to be anything but worried, despite the expectations of a retracement as the bull trend formed after March loses its direction.
Blockchain analytics upstart Glassnode reported that the number of BTC addresses holding more than 0.1 coins (~$1,000) has recently passed its old all-time high, reaching 3,054,282 addresses.
This indicates strong retail accumulation and the distribution of coins amongst the crypto diaspora.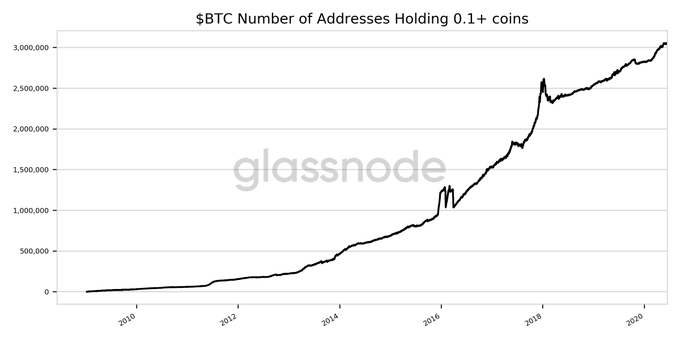 The growth in small Bitcoin holders come as more than 61% of the total BTC supply hasn't moved over the past year and more, signaling a strong belief amongst investors that the cryptocurrency is poised to head higher.
Altana Digital Currency Fund's Alistair Milne recently said on the matter:
"What if I told you that the amount of Bitcoin held without moving for >12 months is on course to make new ATHs (>61%) and barely changed in the March COVID panic …"
Institutions Are Accumulating Bitcoin Too
Institutions seem to be accumulating as well.
Last week, I compiled data from Grayscale's SEC filings and on-chain data to create the chart below. It shows that over the past 12 weeks, Grayscale's Bitcoin Trust has accumulated half as many coins as those mined.
The Grayscale Bitcoin Trust is a BTC investment vehicle largely focused on allowing institutions to safely acquire exposure to the cryptocurrency for longer holding periods.
This is important as it shows that there is such strong institutional demand for BTC that a single entity is accumulating a large amount of the supply.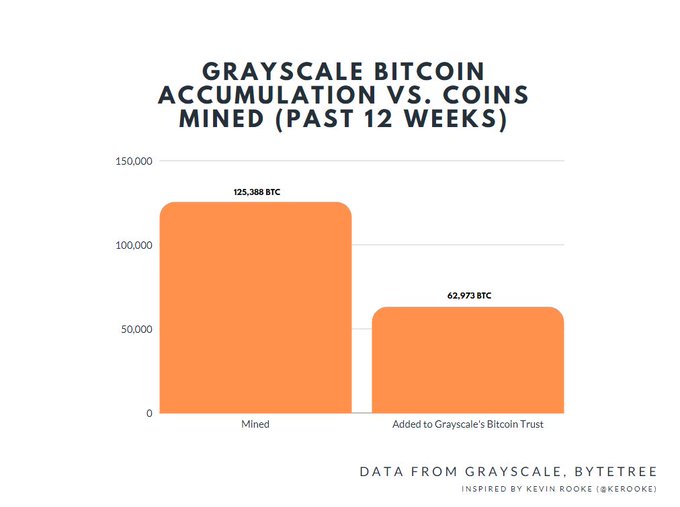 Featured Image from Shutterstock
Price tags: xbtusd, btcusd, btcusdt
"Cracks" Are Showing In the Bitcoin Uptrend Yet Bulls Aren't Worried