Despite the interest of major cryptocurrency exchanges in pursuing the DEX model, decentralized exchanges have hit an all-time low in terms of USD traded value.
---
Trading Volume at All-Time Low
According to a new research by Diar, decentralized exchanges (DEX) have now hit their all-time low in terms of USD traded value.
The report outlines that since June 2017 – when DEX started to appear, their total trading volume is $8.9 billion.
During the month of January this year, however, decentralized exchanges have seen a combined trading volume of $49 million.
To put things into perspective, that's about 10 percent of the monthly trading volume of Binance alone.
Diar also reveals that the declining trend is observed in the number of unique users.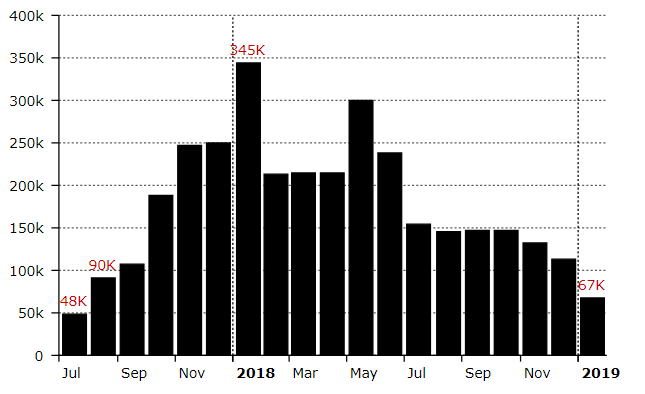 In October 2018, Bitcoinist reported that decentralized Bitcoin exchange Bisq marked a record month in terms of trading volumes, transacting over $3 million. According to data from Coin.Dance, however, its volumes have been decreasing ever since reflecting the BTC price decrease over the period.
Build It But Will They Come?
Most recently, Binance revealed its 'pre-alpha' demo version of its decentralized exchange dubbed Binance Chain, while also making it clear that it will support hardware wallets from the beginning.
Industry proponents such as John McAfee have gone so far as to say that decentralized exchanges will trigger the "largest economic boom in history."
Meanwhile, in late 2018, the SEC filed charges in the first case involving a decentralized Ethereum-based exchange EtherDelta.
Commenting on the matter was Robert Cohen, Chief of the SEC Division of Enforcement Cyber Unit, who said:
The focus is on the function, and what the platform is doing. Whether it's decentralized or not, whether it's on a smart contract or not, what matters is it's an exchange.
In any case, it appears that at the current time, users are just not drawn to the idea of trading cryptocurrencies on a decentralized exchange. This is likely due to DEX's kludgy user-experience, lack of liquidity and features in general compared to centralized exchanges.
What do you think about decentralized exchanges? Have you ever used one? Don't hesitate to share your experience in the comments below!
---
Images courtesy of Shutterstock