While XRP is one of the most popular projects in the space, it has been one of the worst performing large-cap cryptocurrencies since the 2018's highs.
Even after the recent rally in this nascent market that saw most digital assets double in the span of six weeks, XRP is down by over 94% from its all-time high established on Bitstamp in early 2018. And in March, the asset was trading at three-year lows.
While some have argued that this crash is indicative of an impending rally back to the highs, analysts remain largely bearish on a long-term time frame on the altcoin.
XRP Could Soon See An Even Greater Crash, Some Analysts Fear
A prominent trader recently shared the chart below, indicating that XRP's macro price chart looks eerily similar to that of another altcoin, Waves.
Like XRP (seen right), Waves saw a vertical rally, a blow-off top marked by a large wick, then a large decline lower in the months that followed. According to the trader's chart, the fractal playing out will mean that the cryptocurrency will plunge well under $0.10, potentially back under a penny, where XRP spent much of its earlier life.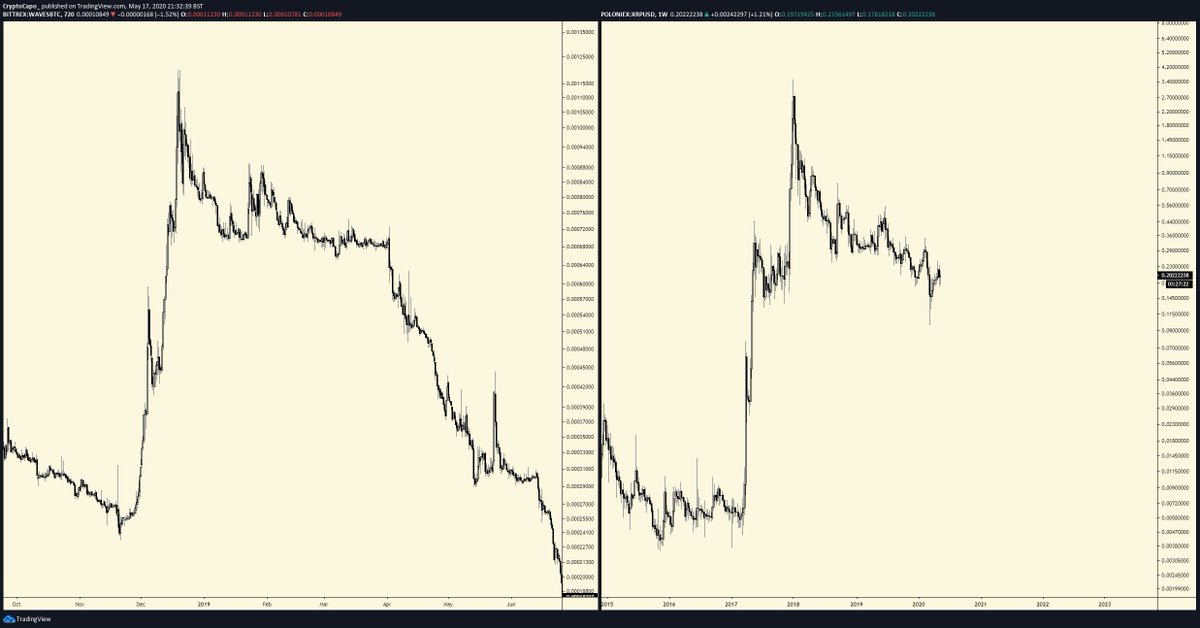 The trader that shared this chart has a solid track record that should not go unnoted. Early this year, for instance, he called for XRP to fall to the $0.13 range and for Bitcoin to enter the $3,000s months before it happened during March's crash.
Adding to the bearish confluence, one full-time crypto trader shared the chart below, saying that not only has XRP been "down-trending" for 851 days, but it also just fell below a crucial monthly support zone:
"Looking at it from an investor perspective, [fundamentals are] not an excuse to invest in an asset that has been down-trending for 851 days and lost key monthly support/resistance level," the trader explained.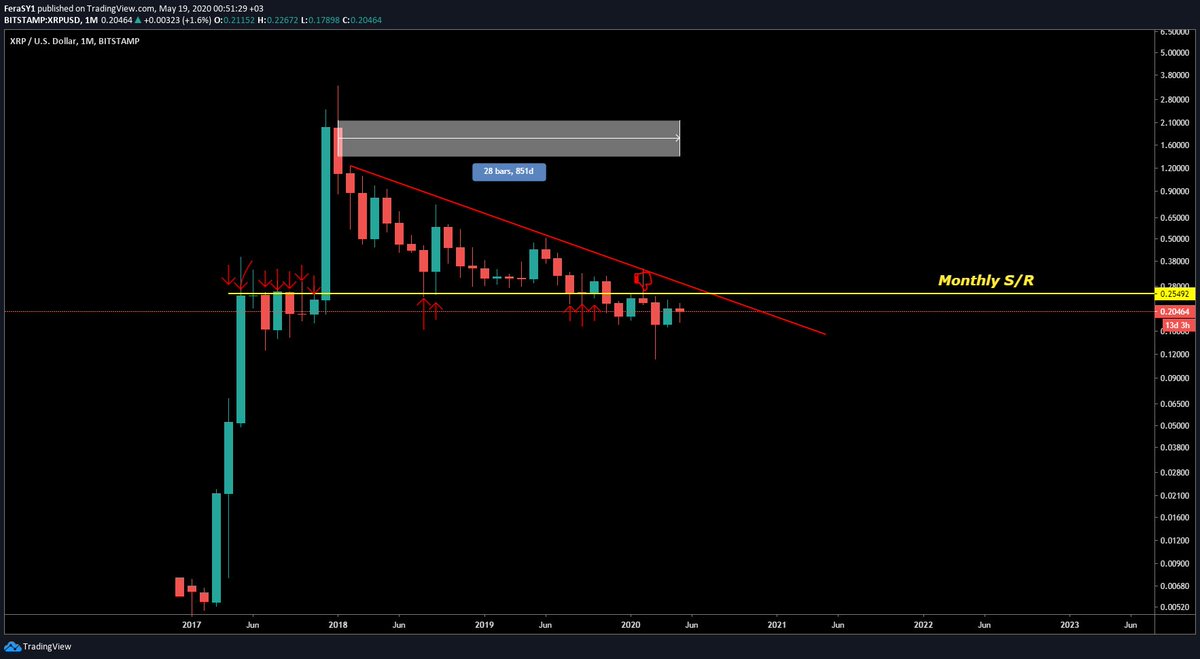 All Altcoins Are Poised to Suffer
It may feel like XRP is being singled out, but this isn't the case: prominent analysts are growing bearish on all altcoins.
Per previous reports from Bitcoinist, prominent stock commentator Steve Burns recently asserted that "99.9% of altcoins are going to $0 [… over a] buy and hold timeframe." Burns, backing this strong opinion, cited the fact that most leading altcoins, including XRP, are down dramatically from their all-time highs. He added that "they have zero value," in reference to the intrinsic value of altcoins.
This was echoed by Kevin Rose, co-founder of Digg and a general partner of investment firm True Ventures. Rose, who led Google Ventures' investment in Ripple in 2013, told TechCrunch in a recent interview that he thinks most crypto projects are "garbage":
"The problem is that 99% of the projects out there and a lot of the people who are behind them are just in this for the pure financial gain. And there's a lot of garbage out there. And that's unfortunate because it really drags down the high-quality projects, and it muddies the space quite a bit."
Featured Image from Shutterstock