In 2017 and 2018, non-Bitcoin crypto assets — that's to say, altcoins — were in vogue. Not a day would go by during the previous bull run without some no-name project, maybe with a market capitalization of a few million, rallying hundreds of percent.
At the time, mom and pop investors from around the globe were flooding into the cryptocurrency space, trying to turn $50 worth of pocket change into a nice vacation, a downpayment on a car, or what have you.
Since the peak of the bull market, though, many of these crypto-assets have crashed spectacularly. As Matt Casto, an analyst at crypto asset trading firm CMT Digital, observed, most 2017-2018 ICOs are down dramatically from their all-time highs.
But don't hold your breath waiting for another rally, as a growing number of analysts expect altcoins to crumble even further, even if Bitcoin enters a bull market.
99.9% of Crypto Assets Are Going to $0
Stock trader and analyst Steve Burns recently said that he thinks "99.9% of altcoins are going to $0 [… over a] buy and hold timeframe," adding that he thinks so because "they have zero value."
Spoiler alert ?: 99.9% of Altcoins are going to $0.

— Steve Burns (@SJosephBurns) May 19, 2020
This comes as some optimistic cryptocurrency traders have expected an "altseason," which theoretically would see altcoins outperform as they did in 2017 and early-2018.
Burns is far from the first commentator to have shared such an opinion recently.
Per previous reports from Bitcoinist, Kevin Rose, co-founder of Digg and a general partner at True Ventures, to talk crypto, recently told TechCrunch:
The problem is that 99% of the projects out there and a lot of the people who are behind them are just in this for the pure financial gain. And there's a lot of garbage out there. And that's unfortunate because it really drags down the high-quality projects, and it muddies the space quite a bit."
Rose did admit that he sees a future in blockchain and crypto, but made it clear that many projects in this space aren't exactly above board.
Crypto-native analysts have echoed this point of view. The lead technical analyst at crypto research firm Blockfyre recently shared the following statement, dismissing rallies in a majority of altcoins as more-or-less speculation, not strong fundamental trends:
"The reason the alt pumps are unconvincing is because they have followed the same patterns. IEO's, Interoperability, privacy coins moving together. It's coordinated as it has been the last 3 years instead of all ships rising together."
Technicals Corroborate This Sentiment
Technical analysis corroborates the sentiment that altcoins are poised to collapse, at least against the price of Bitcoin.
Brave New Coin analyst Josh Olszewicz recently observed on May 15th that Bitcoin's dominance chart — the percent of the crypto market made up of BTC — printed a textbook golden cross signal.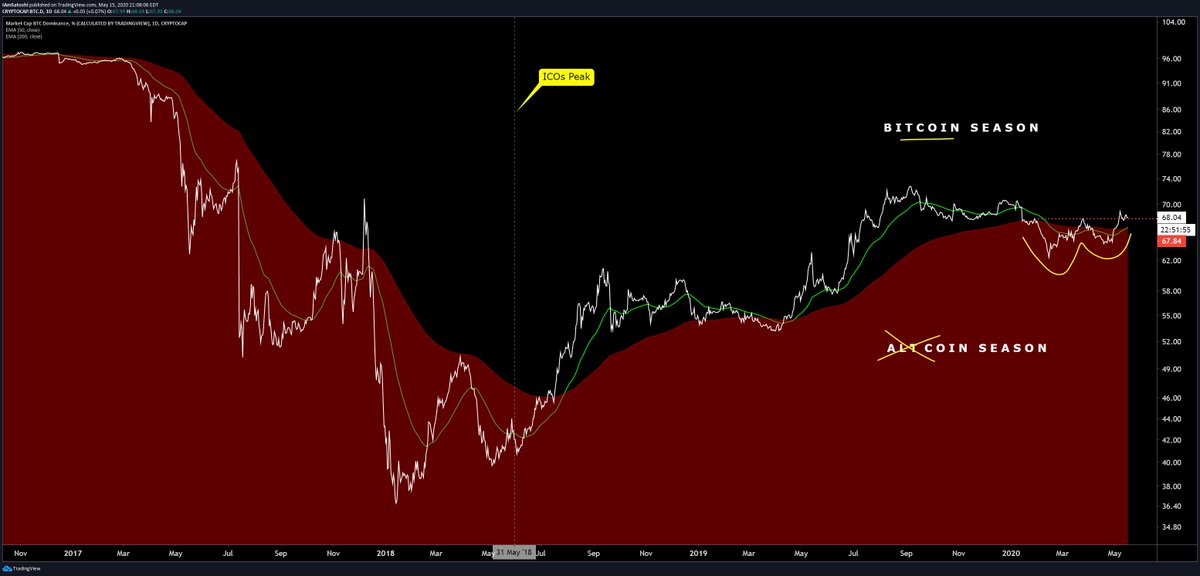 As Investopedia notes, a golden cross occurs when a "relatively short-term moving average crosses above a long-term moving average," and is often followed by a "bullish breakout."
Photo by Rita Vicari on Unsplash