Altcoins are cryptocurrencies inspired by Bitcoin. Because they oft offer little in terms of innovation, most altcoins are of little interest to serious investors. One notable difference between Bitcoin and other cryptocurrencies is the way in which coins are mined. While Proof of Work SHA2 runs bitcoin, different altcoins use scrypt or other solutions to solve this problem. Altcoins, although most often obscure, can make mainstream press headlines. When they do, they are oftentimes quickly forgotten. Below there are some examples of such coins, like Coinye and Dogecoin. On the other hand, as is the case of Litecoin's solution to bitcoin's block size, some altcoins enjoy success thanks to their innovation. 
Also read: Bitcoinist Giveaways: 50 WageCan Bitcoin Debit Cards Up For Grabs
Five Ridiculous Cryptocurrencies

Coinye
Coinye, a much hyped scrypt-based cryptocurrency, became the target of a trademark infringement lawsuit brought forth by the representatives of Kanye West. On January 7, 2014, David P McEnery Jr. and the development team behind Coinye released the source code and mining software, ahead of schedule, due to legal pressure by West's representatives.
Coinye creators claimed to remove all references to Kanye West in their marketing. The team changed the coin's image "to a half-man-half-fish hybrid," referencing a South Park knock at West. Unconvinced, West's legal team pursued a lawsuit. Now open-source, the community took over Coinye.
However, Coinye quickly fizzled out after developers abandoned the project. The official site, now offline, read at one point: "Coinye is dead. You win, Kanye."
Dogecoin
The creators of Dogecoin derived the idea for the cryptocurrency from the "Doge" internet meme. Originally a "joke currency" in late 2013, Dogecoin soon reached a market capitalization of $60 million USD thanks to favorable press and an enthusiastic community. At the time of writing, the USD capitalization is about $22.2 million.
Dogecoin, with few practical applications, did enjoy a healthy online creation community for a period of time . This led to the raising of well in-excess of  $80,000 to get the Jamaica bobsled team to the Sochi Olympics. The team had qualified, but could not afford the trip. Thanks to the Dogecoin donors, and probably the Disney movie about the bobsled team, the team made the competition after all.
Monacoin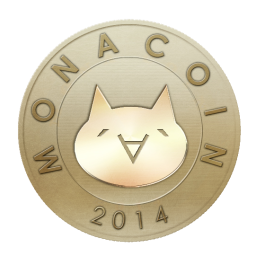 This cryptocurrency gained attention in Japan when a man bought a plot of land Nagano with Monacoin.
"This piece of land was recently purchased for 32,001 MONA. 'Mona' is an internet-based 'virtual currency' unit started in Japan," read a news report by CoinDesk. "Virtual currencies have been on the wane due to bitcoin's scandals, but now the next trend is starting to appear from Japan. Report from our Economic Case Files."
Heavy on allusions to Japanese culture, Monacoin managed to gain traction on the island nation.
Launched in December 2013 by pseudonymous user, "Mr Watanabe", who users often claim is Japanese,  Mr Watanabe suggested the coin was a game. The mission of the game? To find its hashes." 'Mona' is derived from a cat-like ASCII art character used on 2channel, a Japanese textboard.
Titcoin
"The Bitcoin for porn." That's how Titcoin's branding markets this altcoin. Titcoin derives its source code from the Bitcoin source code. Increased transaction speeds are designed to keep up with porn demand.
Titcoin is designed with the adult entertainment industry in mind. The purpose is to enable Titcoin holders to use the digital currency to pay for adult products and services online with a degree of pseudonymity.  Titcoin received in 2015 an XBIZ Award, which honors firms paying a part in the growth of the adult entertainment industry. At the 2016 XBIZ Awards, Titcoin received a nomination as Alternative Payment Services Company of the Year.
Trump Coin
So this is no official Trump Coin. But, at the very least, it's got a Github page. The unfinished Trumpcoin.rocks page has little information and broken links aplenty. Nonetheless, in the spirit of the election cycle, anything having to do with Trump had to make a "ridiculous" list. Maybe we will soon see TRUMP listed on CoinMarketCap, but likely that would shortly thereafter be followed by a trademark suit a la Coinye. 
Are we forgetting any ridiculous cryptocurrencies? Let us know in the comments below!
---
Images courtesy of Bitverse, Coinye, Dogecoin, Monacoin.