Data gathered by some large financial institutions indicates that…

As such, football (or soccer where I'm from) has a very real impact on financial markets and it's easy to see why. The phrase "it's coming home" has literally become a greeting on the streets of England as the excitement gathers.
In an update earlier this week we showed how England's victories on the pitch have had a clear impact on the Pound Sterling despite the very messy Brexit playing out in Parliament.
As the final game of the World Cup will be on Sunday when the markets are closed, tonight's game will likely provide the best opportunity I've ever seen to actually trade the financial markets during a sporting event.
#TradeTheWorldCup
@MatiGreenspan
eToro, Senior Market Analyst
Today's Highlights
Trade War is Back on
Bank of Canada
Litecoin is Up
Please note: All data, figures & graphs are valid as of July 11th. All trading carries risk. Only risk capital you can afford to lose.
Traditional Markets
The stock markets fell pretty abruptly last night when this news broke…
The Trump administration was courteous enough to make the announcement during the market downtime, after the closing bell on Wall Street and before the opening in Australia, when most financial markets are closed.
Nevertheless, the stock indices were open and we can see the impact pretty clearly on the graph (purple circle).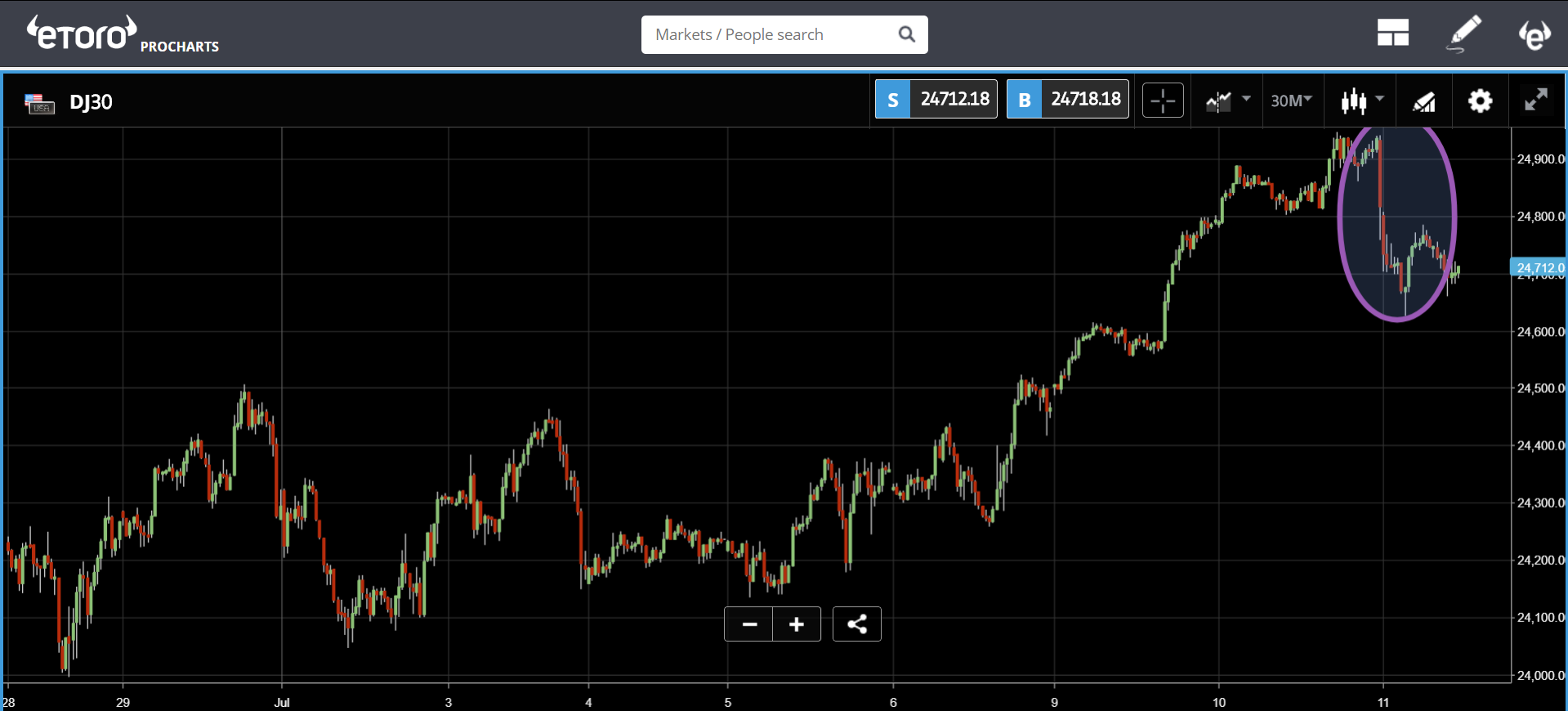 In addition, president Trump is currently causing some massive waves in the geopolitical world just before his European Tour.
Several analysts have pointed out that Trump could be paving the way to dismantle NATO completely and with it decades of strategic defense partnerships. We can only hope that he's bluffing but there are certainly no guarantees on this.
Rates Going Up
The Bank of Canada is set to raise their key interest rate this afternoon from 1.25% to 1.5%.
The economy there is doing alright but fears around the trade war are creeping in. With that in mind, bearish bets on the Loony (Canadian Dollar) are piling up.
Usually, the prospect of higher interest rates causes a currency to go up as more people will invest in that country to take advantage of the higher rate. However, the US Dollar has been gaining against her Canadian counterpart ever since the market turmoil began in early February (blue circle) pre-trade war.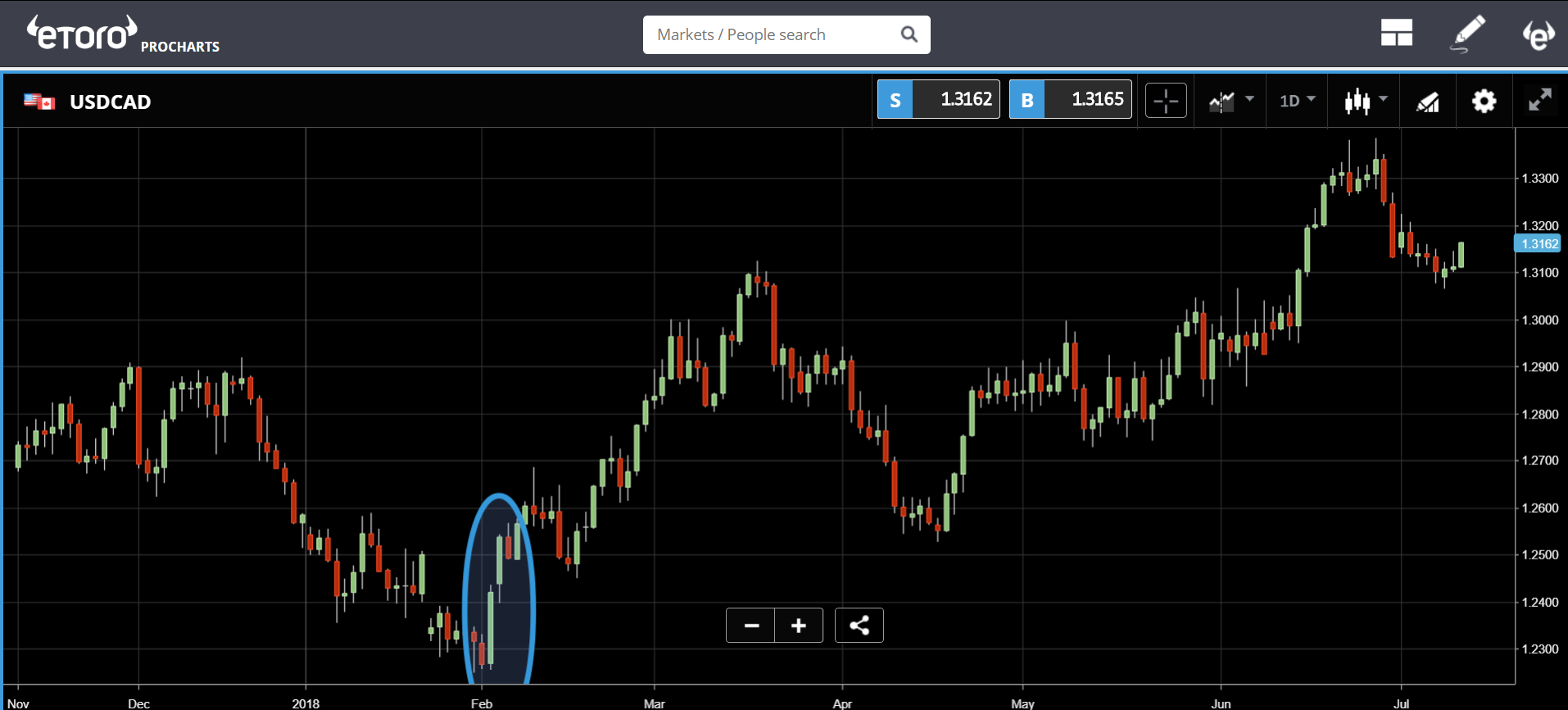 Hodling On
The good news is that whatever caused the slide yesterday seems to have gone away by now. We may not be out of the woods yet just though.
Bitcoin has found itself a comfortable support level at $6,250.
Meanwhile, the number of transactions happening on the Bitcoin network also seems to be stabilizing. Even though we're not near the levels seen during the December hype, it's clear that a steady TPS (transactions per second) rate of around 2.25 has ensued since early February.
This is really great for the network as it gives time for the lightening solution, which is still officially in beta mode, to be perfected.
LTC In the Green
One crypto is bucking the bog though. While all the other cryptos are down today, only Litecoin is in the green.
This could be due to the recent announcement that

After all, why not?
Peer-to-peer transactions are gaining prominence on the street and integration with traditional financial firms is the logical next step.
Their choice to participate in the German banking services makes complete sense, especially given the crypto-friendly regulation there.
The price of Litecoin saw a few really great days in early December, but since then has been beaten down more than the rest. Certainly, it might go lower, but at $76 per coin, it's definitely not at the highs.
Let's have an amazing day ahead!
This content is provided for information and educational purposes only and should not be considered to be investment advice or recommendation. 
The outlook presented is a personal opinion of the analyst and does not represent an official position of eToro.
Past performance is not an indication of future results. All trading involves risk; only risk capital you are prepared to lose.
Cryptocurrencies can widely fluctuate in prices and are not appropriate for all investors. Trading cryptocurrencies is not supervised by any EU regulatory framework.
Best regards,
Mati Greenspan
Senior Market Analyst
Connect with me on….
eToro: http://etoro.tw/Mati
Twitter: https://twitter.com/matigreenspan
LinkedIn: https://www.linkedin.com/in/matisyahu/
Telegram: https://t.me/MatiGreenspan
---
Images courtesy of eToro