Top cryptocurrencies, XRP included, have been on a remarkable rally over the past few weeks.
Bitcoin, whose trajectory dictates the direction of the rest of the cryptocurrency market, printed its seventh week of gains in a row on Monday morning. This is a rare feat that some say signals the start of a full-blown bull rally.
Yet an analyst working for a top crypto research firm is fearing that XRP may soon see a sharp drop. He noted that the asset's chart is rather bearish from a macro point of view.
XRP Preparing for Sharp Drop: Analyst
Save for the recent rally, it's been a past few months and years for XRP.
Since the highs of 2018, the cryptocurrency has been on a consistent downtrend, both against the U.S. dollar and against Bitcoin.
It may get worse for the altcoin, with the head of technical analysis as crypto research firm Blockfyre noting that XRP is currently below a key range low. This range low marked the bottom of every drop for the past year.
Should XRP/BTC fail to "quickly reclaim" that level, where "it has spent the last 274 days," a 40% drop to 1,500 satoshis could transpire, he warned.
The trader added that XRP's performance against the dollar is bearish because the asset has seen 850 days of consecutive macro lower highs.
Per previous reports from Bitcoinist, a trader wrote that XRP's price action is "looking super weak" despite the recent recovery:
"Price action can't even close back inside this marked range […]. Still have a little while until the weekly close but right now, I would not be taking a fresh long position. […] A pullback to $0.18 next?" The analyst wrote, referencing the chart below.
It's All About Bitcoin Right Now
While altcoins were all the rage just three weeks ago, Bitcoin has once again asserted that it is the leading cryptocurrency.
As a prominent trader noted, the past week has seen a "marked decoupling between Bitcoin and altcoins" as we move into the halving.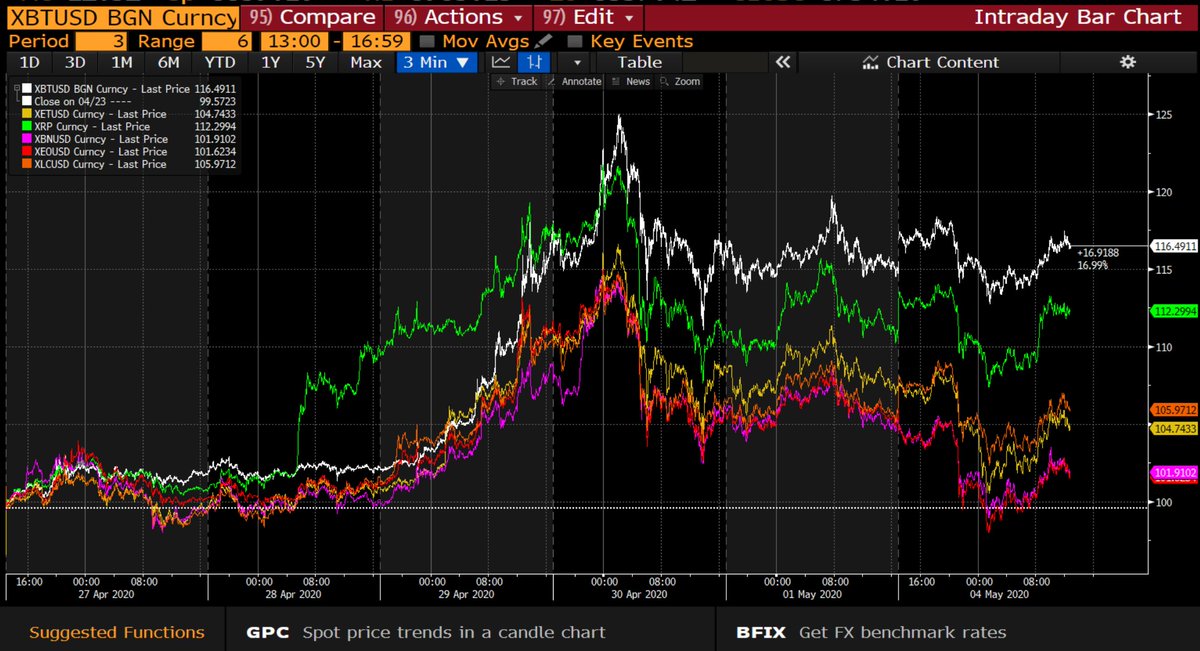 This relative outperformance, he explained, is a sign that fiat "pours into it and participants cycle out" of altcoins for BTC.
This is for good reason: the Blockfyre analyst that posted the chart above regarding XRP explained that chances are, once the halving is digested by the market, altcoins will dramatically outperform.
He continued in an analysis last month that from how he sees it, altcoins are always a "game of musical chairs" as the reasons they are rallying are all "red flags" as opposed to legitimate fundamentals:
"The reason the alt pumps are unconvincing is because they have followed the same patterns. IEO's, Interoperability, privacy coins moving together. It's coordinated as it has been the last 3 years instead of all ships rising together."
Featured Image from Unsplash