Leave it to the SEC to judge a case about a private jet token, just when the crypto markets are flying. 
---
For the first time ever, US regulators have found that a utility token is not considered a security. For those of you who are new, sorry we're not getting into all the details of what that means today but just know that this is a big deal.
A little known token called TKJ was designed by a private jet operator called TurnKey Jet as a sort of rewards program that allows their clients to pay for services with crypto. The SEC has now declared that this project has not violated any securities laws and may continue their offering without regulatory oversight.
Also, as if that wasn't enough, the SEC has also now put out a comprehensive guideline designed to clarify whether or not any specific crypto is to be considered a security token or not. There's a great summary of the above ruling and the framework in this tweet storm from Katherine Wu here. My favorite was this gem.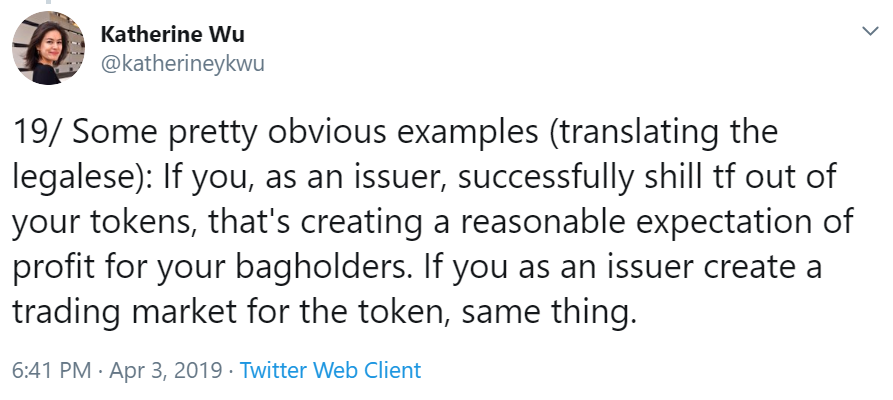 When we're talking about programmable money, the practical applications can be quite flexible. Each utility token is set up quite differently and the SEC has decided to treat each one according to its merits on a case by case basis.
This may take a while.
@MatiGreenspan
eToro, Senior Market Analyst
Today's Highlights
Hard Brexit Deadline
Ethereum Technical Setup
Bitcoin is Blockchain in Action
Please note: All data, figures & graphs are valid as of April 4th. All trading carries risk. Only risk capital you can afford to lose.
Traditional Markets
The President of the European Commission has now announced that the April 12th deadline is final and they will not be granting any additional short time extensions. Basically, it's either Parliament approves May's deal, or they seek a long extension or a hard Brexit.
Funny enough, these seem to be the same three options that have been on the table for a month, but it seems there'll be no kicking the can down the road this time.
Despite all the sentiment displayed above, looking at the global indices since the beginning of the month, things don't look all that bad.
Ethereum Technical Setup
It's great to see the excitement in the crypto market at the moment and even though we saw a pullback last night, the charts are still looking freakishly bullish.
After a surge like that, it's quite normal to see some profit-taking. The big question now is, how far back will the retracement take us?
If the prices completely retrace Tuesday morning's surge the entire thing could be discounted. If we managed to sustain here, though it would be incredible. Just take a look at this chart of Ethereum.
Notice strong break above the 200 day moving average (blue) and then coming back to test that level as support. This is a really bullish setup as far as charts go.
Bitcoin Blockchain in Action
Of course, with excitement in bitcoin, we do need to keep an eye out for network congestion. In December 2017, this was a major concern as there were far more transactions being sent on the network than miners were able to confirm.
The adoption of SegWit has helped a lot with this as we'll see below, but looking at the mempool, the number of unconfirmed bitcoin transactions is building up a bit over the last few days.
Looking at it historically though, we can see that we're not quite at dangerous levels just yet. This graph shows the mempool, which was twice flooded in 2017.
Still, with about 56,000 unconfirmed transactions at the moment and transaction rates nearing their all time highs this is something to keep an eye on.
The good news is that transaction times don't seem to have been affected at all. Anyone sending a bitcoin today, should get as speedy a confirmation as ever.
…and, perhaps more importantly, the fees have not been affected that much. There is a small noticeable spike but nothing that would prevent most people from sending a transaction today.
Overall, Bitcoin's blockchain is handling much better than it did in 2017. As we saw above, we're seeing nearly the same number of transactions per second, yet there have been no significant spikes in transaction times or fees.
This is in large part thanks to the adoption of SegWit, an upgrade that was installed into the blockchain in August 2017, that allows some of the transaction data to be stored in a separate place.
According to Woobull.com, about 40% of all Bitcoin transactions are now using the SegWit solution to lighten the load.
Let's have an awesome day ahead!!
Best regards,
Mati Greenspan
Senior Market Analyst
---
Your Social Investment Network – www.eToro.com
eToro (UK) Ltd is authorized and regulated by the Financial Conduct Authority. eToro (Europe) Ltd is authorized and regulated by the Cyprus Securities and Exchange Commission.
This is a marketing communication and should not be taken as investment advice, personal recommendation, or an offer of, or solicitation to buy or sell, any financial instruments. This material has been prepared without having regard to any particular investment objectives or financial situation and has not been prepared in accordance with the legal and regulatory requirements to promote independent research. Any references to past performance of a financial instrument, index or a packaged investment product are not, and should not be taken as, a reliable indicator of future results. eToro makes no representation and assumes no liability as to the accuracy or completeness of the content of this publication, which has been prepared to utilize publicly-available information.
eToro is a multi-asset platform which offers both investing in stocks and cryptoassets, as well as trading CFDs.
CFDs are complex instruments and come with a high risk of losing money rapidly due to leverage. 76% of retail investor accounts lose money when trading CFDs with this provider. You should consider whether you understand how CFDs work and whether you can afford to take the high risk of losing your money.
Cryptoassets are volatile instruments which can fluctuate widely in a very short timeframe and therefore are not appropriate for all investors. Other than via CFDs, trading cryptoassets is unregulated and therefore is not supervised by any EU regulatory framework. Your capital is at risk.