There was a short period last week during which altcoins outperformed Bitcoin. Yet XRP and the rest of the cryptocurrency market have begun to underperform the market leader yet again.
It's a trend that analysts expect to continue, especially as cryptocurrencies like XRP post harrowing technical signs indicative of impending downside.
Altcoins as a whole have printed bearish fundamental signs, further corroborating the expectations of a move lower in the coming weeks.
XRP Trades Under Two Crucial Support Levels
XRP's recent inability to keep up with Bitcoin has forced the cryptocurrency under key support levels, a top analyst has suggested.
Josh Olszewicz — a crypto analyst at Brave New Coin — recently shared the chart seen below. It indicates that XRP/BTC is trading below two key levels: the 200-day exponential moving average and a horizontal support zone that has held for the past year.
The analyst did not convey a prediction in reference to the tweet, though he did indicate that XRP could fall a lot lower from where it currently trades.
"XRP:DOGE sat parity soon?," Olszewicz joked in response to the chart, referencing the small chance risk the altcoin falls to the price in Bitcoin of one Dogecoin. That would result in a drop of well over 90% from current market levels.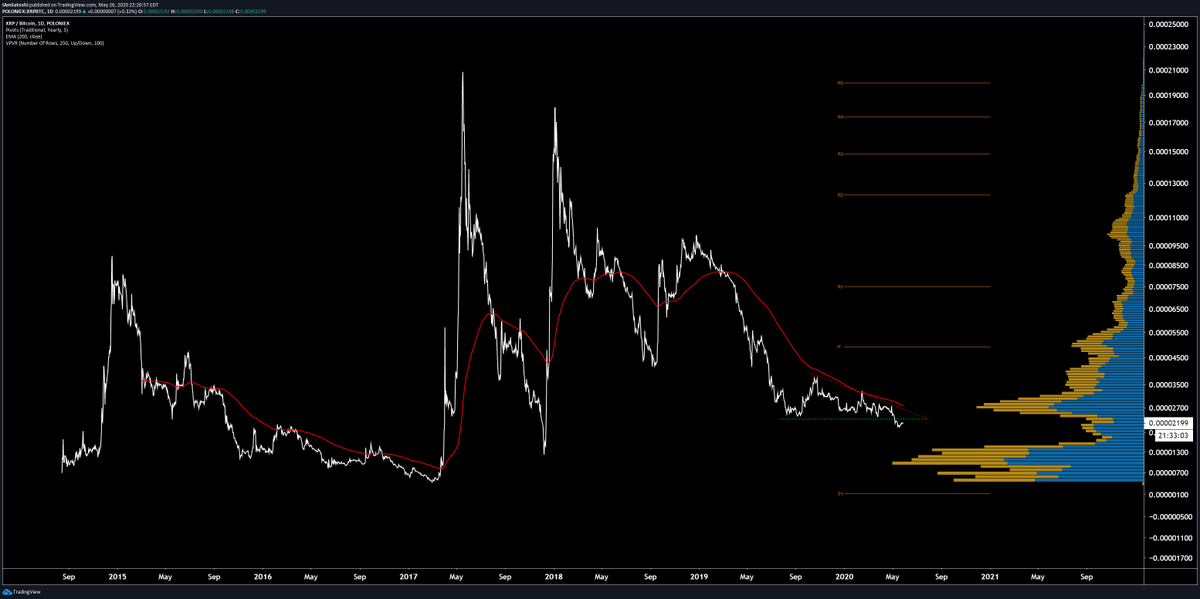 The skepticism on XRP's chart has been echoed by other market participants.
Mohit Sorout — a founding partner at crypto investment fund Bitazu Capital — indicated a similarly bearish position earlier this month, also pointing at the loss of the horizontal support.
"XRP broke down from a year long range. Short from 2200. Wouldn't be surprised to see this at 1500 before June ends," he explained.
All Altcoins Are Falling
XRP may be the topic of focus of this article, yet all altcoins, analysts say, are poised to drop in the coming weeks and months due to fundamental factors.
The lead technical analyst at crypto research firm Blockfyre recently shared that "altcoins (as a whole)  are really going to struggle" moving forward.
"ETH heading for levels not seen since 2016. LTC trading below 2014-2016 prices. XRP heading for levels from 2014, 2016, and 2017. The alt market looks like it could capitulate soon. Seems like the worst is yet to come but afterwards should provide huge opportunities," he said.
As to why this is the case, Jeff Dorman — CIO of crypto hedge fund Arca and an ex-trader at firms like Lehman Brothers and Merrill Lynch — explained that the fact all altcoins fell last week when Bitcoin did is a sign that many of them are not investable assets.
The fact that all large cap tokens fell too shows:

a) passive mkt-weighted indices are pointless

b) alpha comes from mid/small-caps that can differentiate, & catalyst-driven investments

c) Most digital assets are not necessary to own (particularly damaging for $ETH today).

— Jeff Dorman, CFA (@jdorman81) May 20, 2020
Featured Image from Shutterstock