Bitcoin sustained a strong 7% drop ($9,800 to $9,100) on Wednesday after trading in a holding pattern around $9,800 for multiple days in succession.
The leading crypto's drop coincided with news that one of the first few thousand BTC addresses just made its first transaction. The address involved is from February 2009 — and the 50 coins that were sent from the address were obtained by mining one BTC block.
Due to how close the address' "birthday" was to the launch of the Bitcoin network, many were quick to speculate that this transaction was "Satoshi dumping his coins." As the pseudonymous cryptocurrency creator owns over a million coins, the aforementioned drop ensued.
While the theory has since been disproven, a prominent cryptocurrency and blockchain investor says that the pretense of Bitcoin's drop exposes holes in the investment case for most altcoins, especially Ethereum.
Bitcoin's Wednesday Drop Hurts Altcoin Narrative
When Bitcoin dropped on Wednesday, so did the rest of the cryptocurrency market. Ethereum, XRP, and the rest of the usual suspects posted losses identical to the market leader.
Chief investment officer of crypto fund Arca, Jeff Dorman, postulated in the wake of the drop that the fact "that all large-cap tokens fell too" indicates "most digital assets are not necessary to own. Dorman added that it was "particularly damaging for ETH today."
The fact that all large cap tokens fell too (alongside Bitcoin) shows:

a) passive mkt-weighted indices are pointless

b) alpha comes from mid/small-caps that can differentiate, & catalyst-driven investments

c) Most digital assets are not necessary to own (particularly damaging for $ETH today).

— Jeff Dorman, CFA (@jdorman81) May 20, 2020
Ethereum Poised to Drop, Technicals Corroborate
Adding to the fundamental blow that Wednesday's Satoshi drop caused, Ethereum is showing technical signs it wants to retrace.
As reported by Bitcoinist previously, a leading market commentator remarked that the number of ETH that exchanges hold is "basically at all-time highs." The metric hit 18 million coins, according to data from Bitcoin analytics firm Glassnode.
The commentator postulated that this trend may be bearish, likely referencing a growing number of Ethereum deposits indicates an increased propensity by investors to sell the asset.
The bearish on-chain case is backed up by technical trends.
As shared by a leading Bitcoin trader, Ethereum recently lost a key support level that held on four separate occasions over the past month. The loss of this support purportedly increases the chances the asset sustains a "larger correction."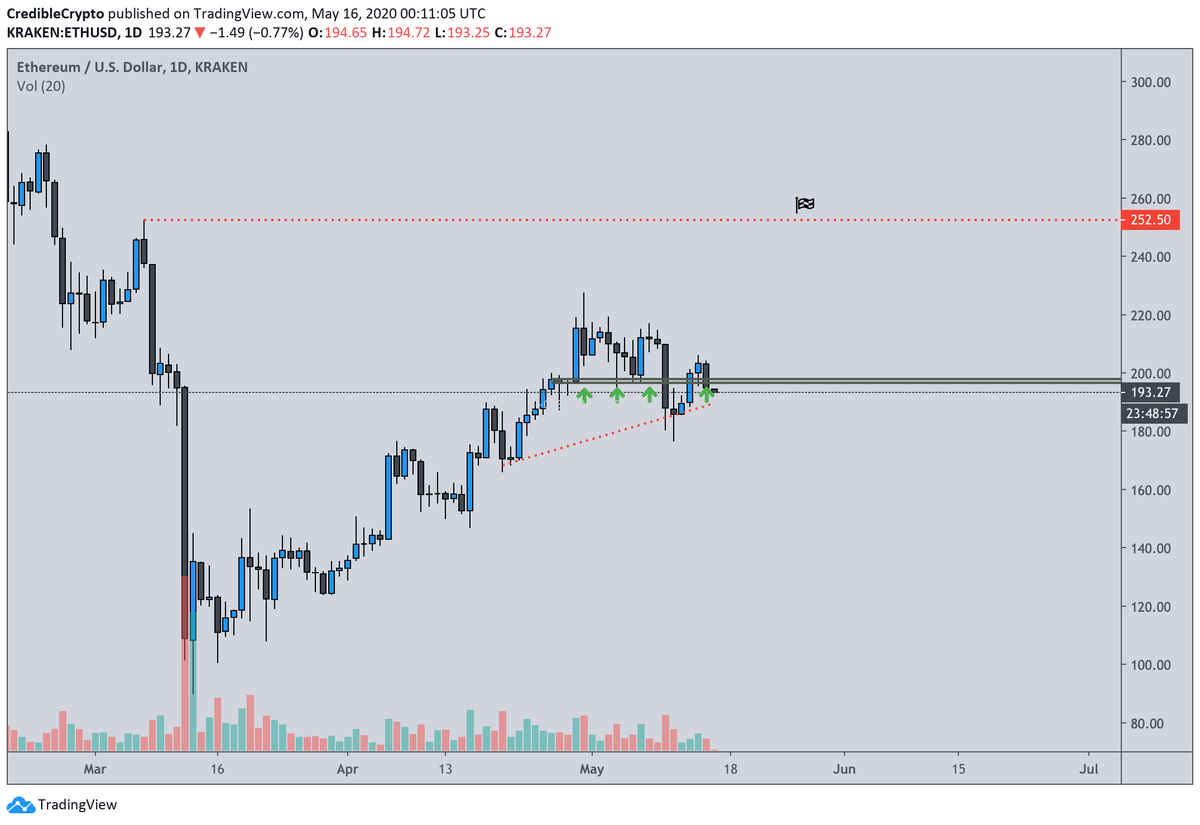 Featured Image from Shutterstock