It's been a quiet past few days for XRP and the rest of this nascent market. After the retracement this weekend, most cryptocurrencies have flatlined, with volatility dropping at a rapid clip.
This consolidation has allowed a number of bullish signs to form on the charts and in the markets of leading digital assets.
Derivatives data suggests that Bitcoin is primed to bounce after the drop from last week's highs. For XRP, a prominent trader shared the chart below, indicating the asset is "showing a hidden bullish div[ergence] with RSI reaching the apex of a [trendline] squeeze."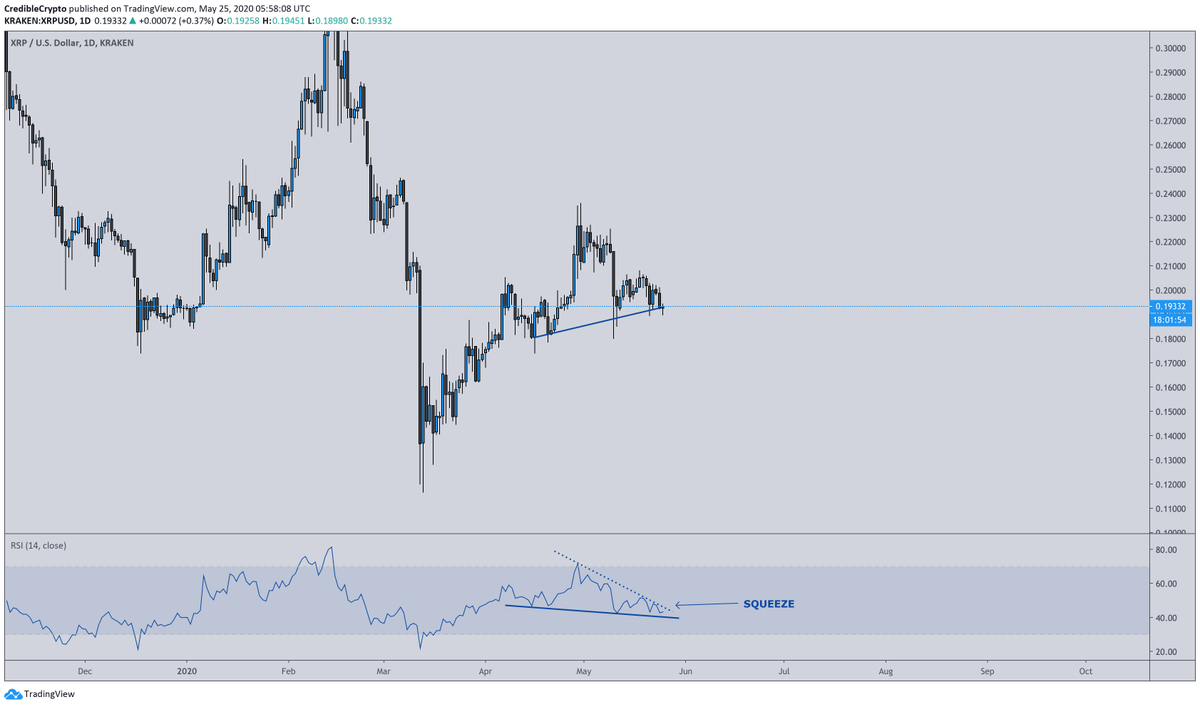 That's to say, XRP could be on the verge of exhibiting a bullish breakout higher, likely to rally back above $0.20 and beyond.
Despite this textbook bullish sign, there is a chance that it won't play out, with the market outlook for all altcoins worsening over recent days.
XRP Remains Macro Bearish
From a purely technical standpoint, analysts say XRP remains macro bearish — which means while there may be a chance for a rally in the short term, the long-term trend remains down.
As reported by Bitcoinist previously, one crypto trader remarked that XRP has been stuck in a downtrend for over 850 days, having just fallen below a crucial level of support on the monthly chart.
"Looking at it from an investor perspective, [fundamentals are] not an excuse to invest in an asset that has been down-trending for 851 days and lost key monthly support/resistance level," the trader explained in refernece to the chart below.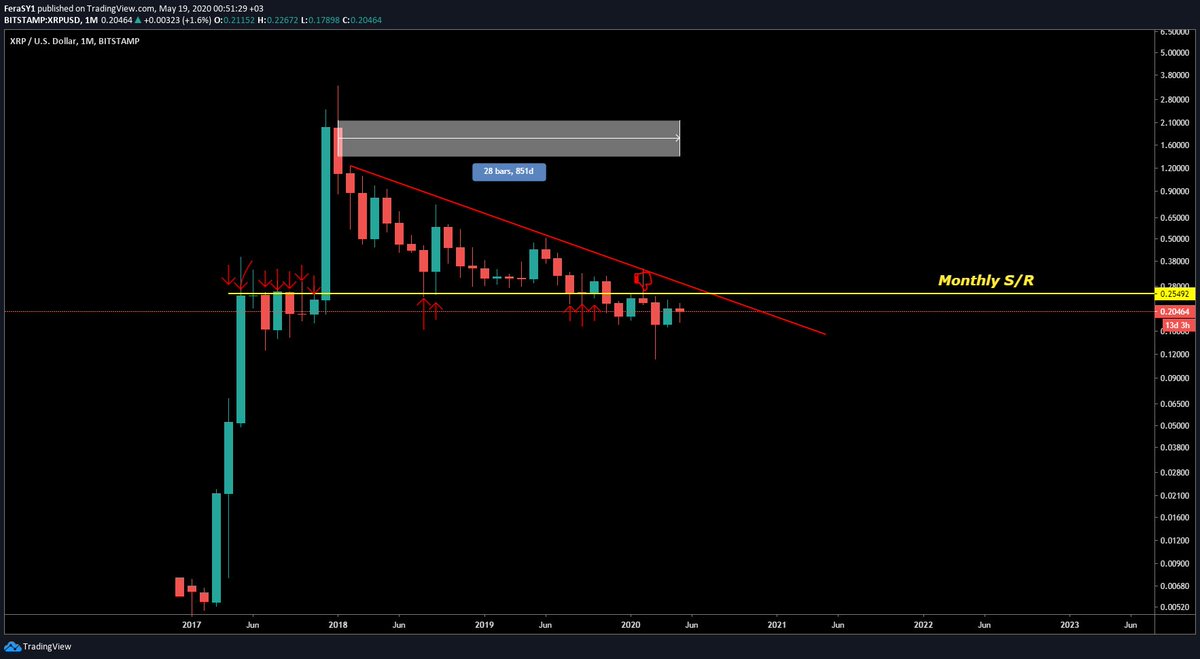 The skepticism of XRP's macro chart has been echoed by legendary commodities trader Peter Brandt.
He explained in March that the altcoin is bearish because there is only "white space below" its price, with little historical support or liquidity below ~$0.15.
I am breaking a promise.

I said I would never again post a chart of $XRP

But, I thought you all might be interested in what it means to have …

"While space below" pic.twitter.com/Pse2DkEXfp

— Peter Brandt (@PeterLBrandt) March 12, 2020
All Altcoins Signal Caution: Analysts
Altcoins as a whole remain risky investments, analysts say.
Brave New Coin's crypto analyst Josh Olszewicz remarked on May 15th that Bitcoin's dominance macro chart — the portion of the crypto market made up of BTC compared to altcoins — printed a textbook bullish signal: a golden cross.
A golden cross forms on a chart when a "relatively short-term moving average crosses above a long-term moving average," and is often followed by a "bullish breakout," according to Investopedia.
Previous golden crosses on the BTC dominance have preceded notable Bitcoin surges against altcoins.
Adding to this, Arca's Jeff Dorman postulated that the fact all altcoins fell alongside Bitcoin last week indicates "most digital assets are not necessary to own. Dorman added that it was "particularly damaging for ETH today."
Featured Image from Shutterstock