Travel much? Bitcoinist discovered that using Bitcoin instead of local currency gives you more Big Macs for your bits, particularly in places like Venezuela and Nigeria.
---
Attn: Travelers & Digital Nomads
It's common knowledge that buying Bitcoin might make a great investment. It can also save you money when you use it to buy products at Amazon via Purse.io. Less well known is that using Bitcoin can slash your travel costs as well particularly in places like Venezuela and Nigeria.
Both these countries have capital controls on their economies and black markets for hard currency, especially in USD and Euros.
For example, in Nigeria, if you withdraw money at the Bank ATM you get 320 Nigerian Naira per Dollar. But if you sell Dollars on the Black Market you get 500 Naira per Dollar. Getting the black market rate makes your traveling to those countries a lot cheaper.
Economist Big Mac Index for Bitcoiners
Here is how it affects the price of a Big Mac in Lagos, Nigeria: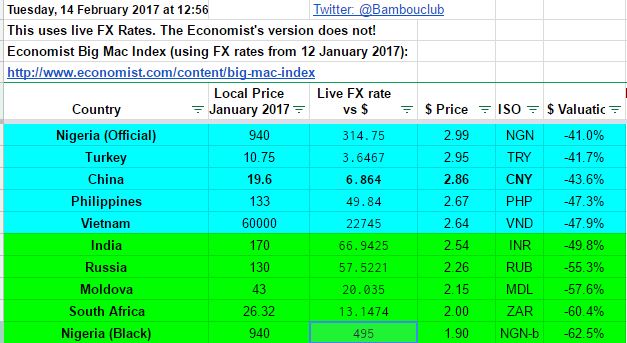 In other words, dummies pay $2.99 for a Big Mac in Lagos. Bitcoin users pay $1.90 per Big Mac.
Therefore, you have three choices:
Pay for everything with Naira from the bank ATM, which is paid out at the official FX rate. Pay $2.99 for a Big Mac.
Take a large stack of cash Dollars with you to Lagos. Good luck with that! And what are you going to do when (not if) that cash gets stolen from you, most likely on the taxi journey from the Airport to your Hotel in the city?
Buy Bitcoin before you travel and sell Bitcoin in small sums during your travels. Here's how you can do that on the LocalBitcoins OTC platform, which is active in Nigeria. Pay $1.90 for a Big Mac.
King Prawns in Lagos
The benefits of using Bitcoin when traveling to countries with distressed economies is not restricted to eating unhealthy food at McDonalds, however. (But great for a hangover.)
For example, Ocean Basket is a lovely seafood restaurant with branches all over Africa.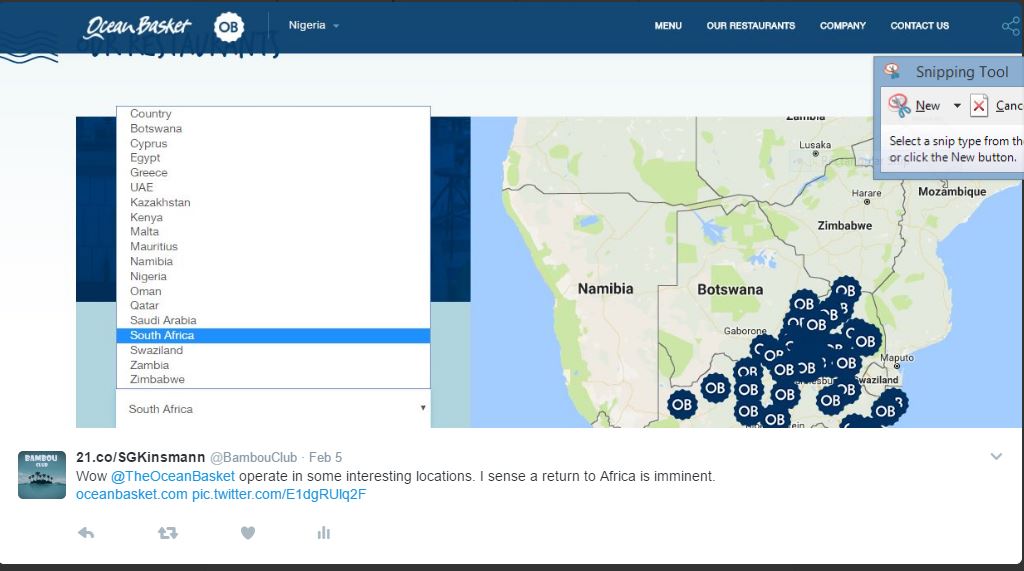 Order the whole menu, and Bitcoiners pay $112.46 USD; non-Bitcoiners pay $176.87 USD.
Many people might not wish to travel to Venezuela or Nigeria. (I would!) But bear in mind that the arguments laid out here apply to any economy with FX and capital controls. And as sure as night follows day, there will be more economies behaving that way in the future.
The canary in the coal mine is rapid depreciation of the local currency against the US Dollar. Black markets usually develop as the authorities impose artificial controls on the official FX rate to stem decline of public confidence in the national currency.
So here are the canaries (excl. UK) to look out for if you're looking to get more Big Macs for your bits:
Would you use Bitcoin to save money while traveling? Let us know in the comments below!
---
Images courtesy of Blocklink.io, Shutterstock, Mcdonalds.com