May saw a surge in traffic to some key cryptocurrency exchanges as Bitcoin trading volumes on Binance and Coinbase hit a 14-month high.
---
Coinbase Bitcoin Trading Volumes Spiked In May 2019
Most likely, U.S. President Donald Trump's trade wars, Brexit turmoil, and the specter of a looming world recession are propelling excitement in the cryptocurrency market. As a result, website traffic on major exchanges, such as Binance and Coinbase, soared in May 2019.
Bitcoin exchanges popularity continues to soar. For example, data from SimilarWeb shows that cryptocurrency exchange Binance, one of the top 1000 websites in the world, had over 42 million visits in May.
Similarly, Coinbase, the largest US-based Bitcoin exchange, received over 35 million visits.

Most importantly, money is flooding into the exchanges, as many of these visits were materialized in trades for about $5.9 billion USD in May 2019.
For example, on May 16, volume on Coinbase hit a 14-month high,  with over 47,400 BTC (roughly $376 million USD) traded, as the chart provided by Bitcoinity shows below.
Trading Volume Continues to Climb in Latin America
Economic woes are pushing Bitcoin trading volumes, particularly across Latin America. Countries such as Chile, Colombia, Peru, Brazil, and Argentina, show strong volume surges during the last few weeks, according to data provided by LocalBitcoins.
In April, when the U.S. threatened to cut remittances made by illegal Mexicans, Mexico saw Bitcoin volume record highs. Most recently, Mexico was under a U.S. trade war threat. Fortunately, these threats have now receded, after Mexico agreed to take action to stem the flow of Central American immigrants into the U.S.
Most notably, although Brazilian president Jair Bolsonaro admits his ignorance about the cryptocurrency, Brazil holds the record for most bitcoin trades executed on a single day in Latin America. According to CointraderMonitor, 100,000 bitcoins were traded on April 10, 2019.
Argentina, with whom the Brazilian cryptocurrency illiterate is reportedly mulling about establishing a single currency in the South American region, also continues to see steady increases in Bitcoin trading volumes.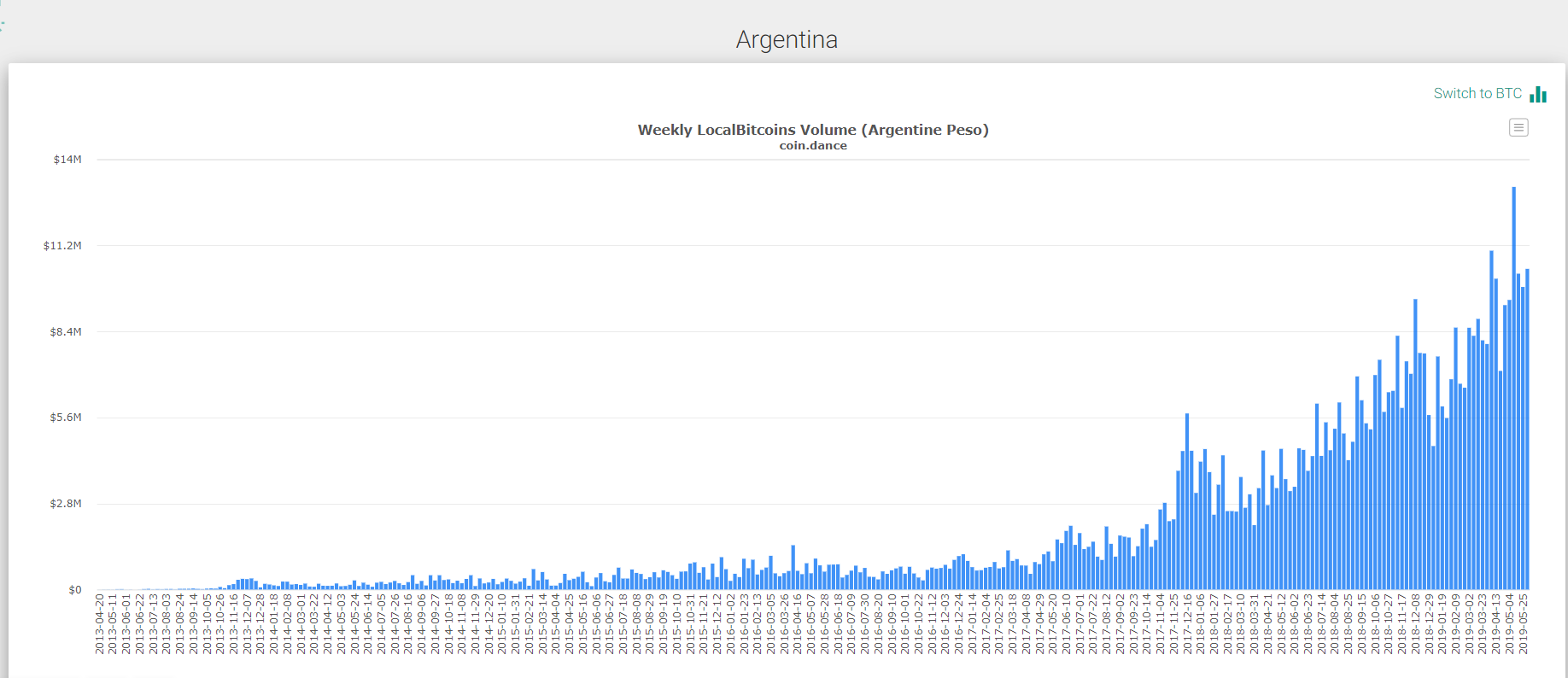 The month of May also saw Bitcoin derivatives exchange BitMEX set a new record of $10 billion USD traded in a single day.
But centralized crypto exchanges aren't the only one seeing a boom in traffic. Interest from institutional investors is also skyrocketing.
CME Bitcoin Futures, for examples, set a record high volume at the end of May with an open interest of 5,190 contracts (1 contract equals 5 BTC).
Do you think the uncertain global economy contributes to the recent upswing in Bitcoin's trading activity on Coinbase? Let us know in the comments below!
_____________________________________________________________________
Images courtesy of via LocalBitcoins/coin.dance, Bitcoinity, Shutterstock