UK-based Bitmagnet has just launched, offering management services of crypto-based investments. The company offers clients a new way earn to "increase their bitcoin."
[Note: This is a press release]
---

Bitmagnet Reduces Exposure to Price Volatility
Bitcoin's sudden price movements can scare new investors away, that is where Bitmagnet comes in. It offers a way to hedge against massive fluctuations in price such as a recent 20% sell off in one day. Bitmagnet helps people reduce their exposure to these massive price movements yet still earn on their investment. You can invest and sleep well at night knowing that your investment will not lose value as you sleep.
There are investment packages for all types of people with various amounts of funds. You can invest as little as 0.001 BTC to get started and still earn a nice return on your investment every day. There are other packages available for those with a bigger bankroll as well.
The starter packages earn 3.6% daily the next level is 4.08%, and if you want to go big and invest over 50 BTC you will earn 4.56% a day. That is 2 BTC per day for big investors, which allows you to break even in no time. Instead of watching bitcoin charts all day wondering where the price is going, you can relax knowing that you are going to get a nice return every day.
How Is BitMagnet Able to Pay These Huge Returns?
The company deals in the computer technologies market, including bitcoin mining, hardware development, and bitcoin algorithms. Being in these markets allows Bitmagnet to secure high-paying investments like no other.
When you are new to the crypto world, it can be confusing looking through all the investment opportunities. Instead of wasting time looking for legitimate crypto investments, Bitmagnet leverages its know-how and experience and takes care of that for you.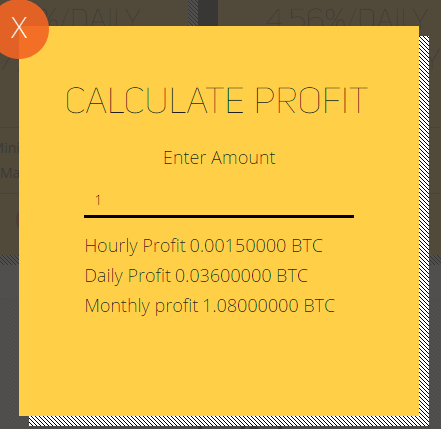 Earn 5% Commission Via the Partner Network
One way that Bitmagnet can grow so quickly is through their network of partners. You can also become part of the network and earn bitcoin this way. You can earn 5% commission on every deposit your referrals make. This allows you to earn from showing Bitmagnet to your friends and family, sharing on social media or your blog.
Of course, your referral earnings are paid in bitcoin and as the bitcoin price goes up so does the value of your affiliate commissions. If you do not have a lot to invest, then this is an excellent way to get started. You are not required to invest in Bitmagnet to get started as an affiliate.
[Disclaimer: Always do your homework on companies who guarantee 'safe investments', particularly using referrals and multi-level marketing tactics, prior to sending your funds. Use this service at your own risk.]
---
 Images courtesy of Bitmagnet, Shutterstock