Cointerra's last big action was the acquisition of the Hungarian bitcoin software company Bits of Proof . With this move they are trying to strengthen their back end support for their cloud hashing services.
CoinTerra provides large scale Bitcoin mining hash power through its multiple state-of-the-art datacenters installations employing the highly scalable TruePeta™ deployment architecture. However this is not why we write about this company today.
I had a chance to meet Cointerra CEO Ravi Iynegar and Dr. Timo Hanke CTO at the 40%4 Bitcoin conference in Amsterdam and they were kind enough to provide us a Terraminer IV for a review.
Interview
Here is our review video including the screen cast set up tutorial
Performance and Statistics
The long term mining is not located in a Data-Centre. We want to test it in a normal enviroment, so during the summertime the average daytime temperature is 25.8 C° and the night temperature was 23.61C°. Based on our own longterm mining period, you can see that the Cointerra Terraminer IV is showing the the numbers they promised. We tested the 1.4 Th/s version and our long term average speed is 1.454 Th/s on a one month basis. According to the system logs the system is not overheting all the 4 cores are functioning correctly and the water cooling is extremely efficient.
The Cool IT guys made and amazing job on the cooling of the 4 Goldstrike Asic, it is efficient quiet and silent.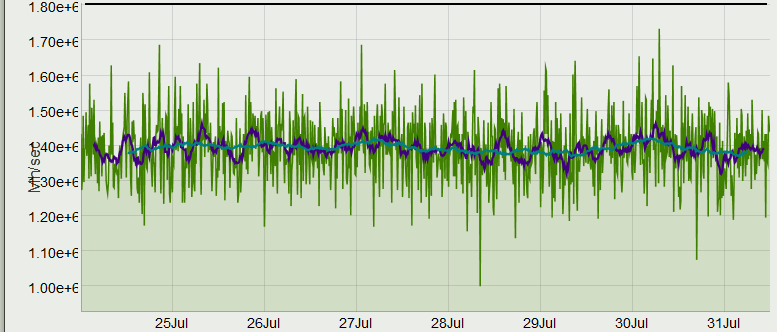 Setting up the miner
Plug in the power cables and a standard RJ45 UTP cable into the miner (please note the order of the power up process) and wait for the miner to boot up. If the miner led are turned into green, download a IP scanner application (As usual, I suggest Angry IP Scanner) and search your network. If you want to setup a fixed ip for the miner, choose network tab and Disable DHCP.
Mining
Choose the Configuration tab and set up your pool URL address (including port) and add your worker name and password. If you use Eligius you have to put in your bitcoin adress and a random password. If you changed the pool settings I suggest you to Restart cgminer from the menu below. Under the advanced tab you can find a lots of statistics about the miner and the whole mining process.
Shipping and packaging
Since i took home the Terraminer IV from Amsterdam myself i can't say anything about their shipping. I got the miner in its original box which was pretty big and had a huge foam in it so i assume it would not get damaged.
Product Description
Technical Specifications (download pdf)
Effective Hash Rate
~1.6 TH/s
GoldStrike I ASIC
4 x GoldStrike I 28nm ASIC @ ~400 GH/s (2 per board)
GoldStrike I Board
2
Controller Board
BeagleBone Black
Controller Board OS
Linux (embedded)
Mining Software
CGminer, with web-based management interface
Form Factor
Desktop or 4U rack mountable (rack slides required)
Network
RJ45 10/100 Ethernet port
Cooling
CoolIT Direct Contact Liquid Cooling system
Heat Exchanger
2
Fan
5 x 120mm (2 front, 3 rear)
Power Supply
2 x 1100W Power-One 80 PLUS Certified Platinum
Input Rating
110-240 VAC
Nominal Power Consumption
~2100W
Ambient Operating Temperature
10° to 35°C (50° to 95°F)
Emissions Compliance
FCC / CE
Safety Certification
TUV / CE
Overall impression
In General, I really like the boxing and the cooling of the device, really data-centre ready efficient and silent (I mean, according to the 5 140mm fans). Trustable device, not too much bouncing in the hashrate great deal.
Review
[wp-review]