In an official blog post published today, decentralized ad exchange platform AdEx has announced that it will be holding a token sale, which is scheduled to begin June 30th, 2017. The project seeks to raise 40 000 ETH over the course of the crowdsale.
---
About the AdEx Project
Current advertising networks like Google AdSense, Adsterra, ShareASale, and others are fraught with problems, not the least of which are ad fraud and lack of consumer privacy.
AdEx aims to change all of that by developing a decentralized blockchain-based ad exchange that will benefit all parties – advertisers, publishers, and consumers – while bringing data security, fraud protection, clear and accurate reporting, and numerous other advantages of blockchain technology to the online ad market.
Co-founder and CEO of AdEx Ivo Georgiev explains:
The solution offered by AdEx seeks to benefit all parties involved in the online advertising ecosystem, which means end users as well as advertisers and publishers, while removing unnecessary and downright risky elements currently associated with centralized infrastructure.
Once launched, the AdEx Network will enable transparency for advertisers, better ad serving control for publishers, and more control over privacy and ad preferences for consumers.
The Technology Behind the AdEx Platform
Developed on the Ethereum blockchain, one of the core strengths of the AdEx platform will be its use of smart contracts. A smart contract is a piece of software, executed on the Ethereum blockchain, that contains all of the terms, rules, and regulations for negotiating the terms of a contract. It automatically verifies the contract and then executes the agreed upon terms.
In the case of AdEx, these smart contracts will ensure the removal of third party intermediaries and ensure complete transparency of the entire system, from ad selection and tracking to bidding and payment.  The complexities of choosing and tracking ads and facilitating bidding and payment will be defined in these smart contracts, simplifying and securing the entire process.
To mitigate the high costs associated with storage on the blockchain, AdEx will be utilizing IPFS (InterPlanetary File System) to host advertising related media such as images, videos, and larger data. Developed in 2014 by Protocol Labs, IPFS is described as a peer-to-peer hypermedia distribution protocol that allows for fast, secure storage and retrieval of data.
The AdEx team is also working on prototypes that incorporate several second layer solutions that will operate on top of Ethereum. These solutions will enable advertisers and publishers to easily interact while avoiding any potential blockchain limitations regarding speed and transaction fees. AdEx plans to implement IOTA as a future second layer to further improve the platform's scalability.
Because AdEx is designed to be compatible with most of the existing ad tech industry, the process of adoption and integration by publishers and advertisers is easy. AdEx can be used in websites, mobile and desktop applications, and even embedded devices.
ADX Tokens and the Token Sale
The crowdsale, which begins on June 30, 2017, and runs through July 30, 2017, will fund the initial development and adoption of the AdEx advertising network. AdEx tokens (ADX) will use ERC20, a standard protocol for smart contract systems powered by native tokens. This will ensure the platform's compatibility with other Ethereum-powered solutions.
In order to estimate and optimize the perfect supply of native tokens for the token sale, AdEx has partnered with WINGS Foundation, the developer of WINGS DAO. The project also engages the social graph of the WINGS DAO crypto-experts to maximize potential project backers who can serve as product champions and evangelists, allowing AdEx to quickly go to market.
The terms of the ADX token sale are as follows:
Crowdsale duration: 1 month
Start date: June 30, 2017
End date: July 30, 2017
Total number of ADX tokens: 100,000,000
Number of ADX tokens available for sale: 80,000,000
Currencies accepted: ETH
Token price: 1 ETH = 900 ADX
Campaign cap: 40,000 ETH
Over the course of the token crowdsale, 80% of all ADX tokens will be available for distribution among the supporters. Of the remaining twenty percent, 16% will be reserved for developers and advisors, which will be vested for a year to ensure the smooth development of the platform. The remaining 4% will be distributed between WINGS DAO community and the bounty campaign participants, as shown in the picture below.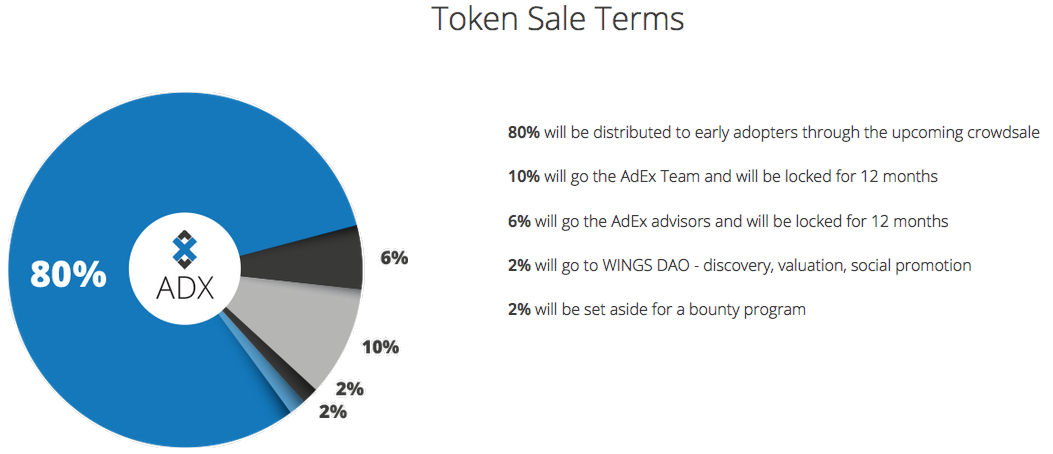 During the campaign, only ETH transactions will be accepted. The address for contributions will be published at tokens.adex.network once the token sale has begun.
Future Plans
The first AdEx advertising platform prototype is scheduled for release as early as February 2018. It will include basic core features such as an ad bidding system, a front-end for advertisers publishers, and an SDK for publishers. The prototype will primarily focus on native and display advertising.
To ensure transparency, the prototype will undergo a stringent audit by an independent third party prior to release and its code will be completely open-source.
In the year following the successful release of its prototype, AdEx will focus heavily on business development as determined by both market needs and community feedback. During this time, AdEx plans to roll out major improvements to the platform, including user targeting and reporting, full integration of SDK, and video advertising.
By January 2019, AdEx plans to release AdEx v.2, which seeks to accommodate the needs of the increasing number of publishers and advertisers using the platform. The v.2 solution will essentially be a complete technological revamp, scaling the entire solution upward and possibly extending to other blockchains such as Aeternity or RSK.
Do you think the AdEx advertising platform will adequately address the shortcomings and failures of the current online advertising industry? What do you think is the most exciting aspect of this project? Let us know in the comments below.
---
Images courtesy of AdEx, AdobeStock