After an extremely strong rally of over 100% from the March lows, Bitcoin Cash and the rest of the crypto market have started to reverse over the past few days. BCH in and of itself has shed approximately 15% from its highs, crushed as sellers take over the market.
Most analysts assert that this drop is temporary, but one eerily accurate trader is calling for a brutal more than 50% drop for Bitcoin Cash, citing an eerie fractal.
Top Analyst: Bitcoin Cash on Verge of Crash
In the middle of February, when the cryptocurrency market was at a multi-month high, a majority of investors were calling for new highs.
So when a prominent crypto trader predicted that XRP, then at $0.27, was on the verge of falling by 50% towards a "potential long-term bottom" between $0.13 and $0.15, many shunned the sentiment.
Now the same trader is arguing that Bitcoin Cash could be on its way to fall under $100, pointing to the chart below.
The chart shows that BCH's chart from mid-2018 to today is looking eerily similar to the long-term chart of the British pound against the U.S. dollar. Should Bitcoin Cash's price action play out as it has with the pound, the analyst suggests, the altcoin could trade all the way under $100 by the end of the year.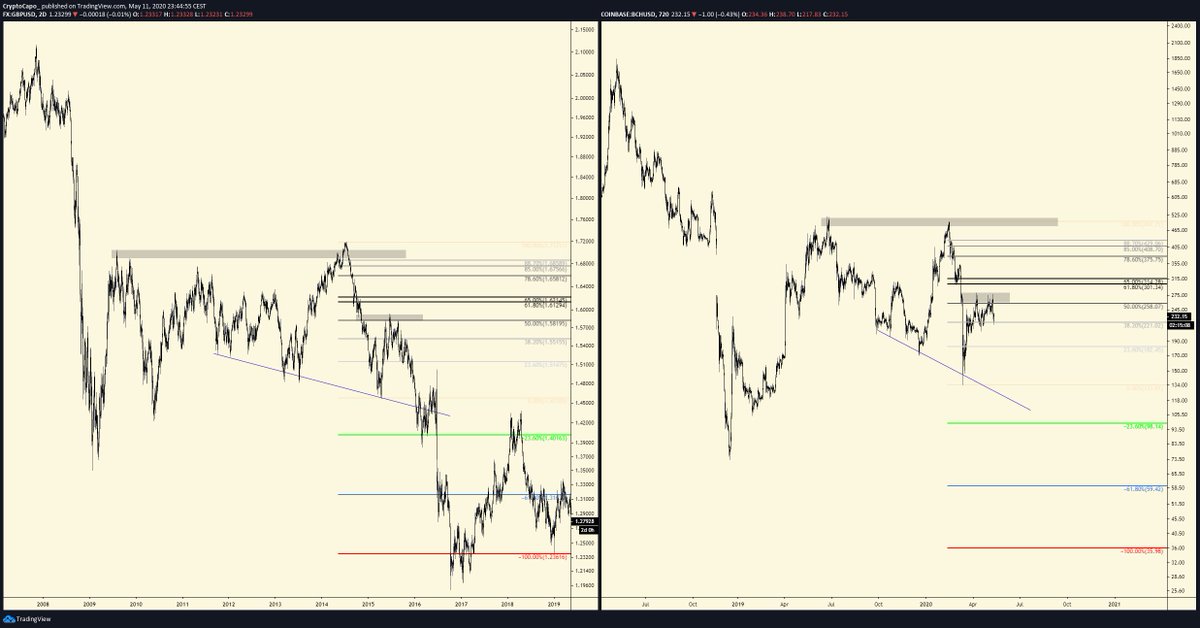 This comes shortly after the same trader remarked that Ethereum's chart looks like a textbook "corrective pattern" by Elliot Wave standards. He also indicated that XRP could drop towards $0.05 over time, pointing to yet another fractal analysis signaling an impending crash for the top altcoin.
All Eyes On BTC
And fortunately for the holders of the leading cryptocurrency, Bitcoin's trajectory is purportedly both fundamentally and technically bullish.
Per previous reports from Bitcoinist, Galaxy Digital chief executive officer Mike Novogratz held his long-standing bullish tone on the leading cryptocurrency.
He asserted that with all of the stimulus by governments, along with the record amount of liquidity operations by central banks, Bitcoin could climb towards $20,000 by the end of the year.
There's also the simple fact that the Bitcoin halving just passed, which will mean that there is less supply of the coin being sold on the market every day. Assuming consistent demand from prior to the halving and now, prices should increase towards a new supply-demand equilibrium over time.
Should BTC rally, so too should BCH, though it isn't clear if one will outperform the other.
Photo by SAUVIK BOSE on Unsplash