Exclusive Interview with Beepi's CEO and Co – Founder Alejandro Resnik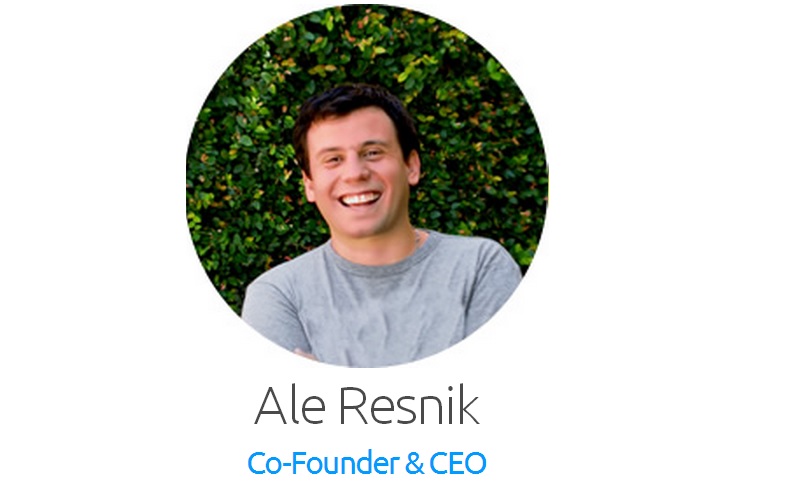 Bitcoin is increasingly becoming of mainstream knowledge and to prove this
we can see several businesses starting to integrate Bitcoin and other crypto
currencies as another method of payment. In fact, recently we have been
seeing a growing and generalized Bitcoin acceptance. Beepi, a known web
business platform to buy and sell pre-owned vehicles was the latest renowned
company to accept Bitcoin has a valid method of payment. Lately, this
continuous entrance and acceptance of Bitcoin by many businesses has
contributed for a wider expansion of the digital currency.
We contacted Alejandro Resnik, Co – Founder and actual Beepi's CEO in order
to get an inside view of the recent Bitcoin integration announcement.
About Beepi:
Founded by Ale Resnik, CEO, and Owen Savir, COO, Beepi is a new way to buy
or sell a great car. For too long, buying and selling a car has been a
complex and sometimes even terrifying process — whether it be because of
poor experiences at dealerships, spending too much time haggling over prices
or ending up with a vehicle that falls way below expectations. Beepi is
changing that experience by giving consumers an end-to-end experience when
buying or selling a car; one that's also fast, simple and fun. In addition,
the company added a QR code option for buyers to purchase a car through
their mobile devices. With these initiatives, buyers will be able to pay
for any car in the Beepi marketplace with the crypto currency, a bank
transfer, cashier's check or up to six different credit cards at once.
The interview:
1.Where did you hear about Bitcoin? Are you an investor?
We heard about Bitcoin as we are technology entrepreneurs. I also use
bitcoin personally as my own investment. However the decision to start
accepting bitcoin as form of payment came directly from listening to the
demands of our customers.
2.What made you accept Bitcoin Payments in your business?
Beepi is 21st Century car buying, so it only makes sense for us to use a
21st Century currency. We always said we wanted it to be easy, and whatever
way you wanted to pay, we were going to accept it. We've spoken with
multiple buyers to find out what they would prefer and it was only natural
that we accept bitcoin in addition to the generous amount of other payment
types that we accept.
3.What are your expectations with the integration of Bitcoin as a
payment method?
We think our customer base will be very pleased with having another option
to purchase a car. By offering our customers a variety, we are further
streamlining the process of buying a car. Bitcoin continues to be
incorporated with a variety of different businesses, and while we are the
first peer-to-peer market place to accomplish this, we think this will set a
great example for businesses to come.
4.What impacts do you think that it will have in this industry?
This integration has been seen as an innovation in the car selling industry; do
you think that this method of payment can bring you and the industry some
benefits?
The used car marketplace is a $300 billion industry that has experienced
little to no innovation in decades. Much like Tesla Motors, Beepi, is
continuing to reshape the antiquated process of buying a car by removing
complex barriers, including payment options. Our goal is to eliminate
friction at every step of the buying and selling process; since bitcoin has
becoming increasingly popular, accepting it as a payment option was the next
logical step for our business.
By opening up car buying to alternate currencies, we believe the industry
will see great benefit. Through our partnership with BitPay, a buyer can
complete their purchase using bitcoin while the seller still receives cash.
Therefore, we are opening the car market to even more buyers than before. As
noted before, the car buying process hasn't seen innovation in decades.
However we think that adapting to meet the demands of technologically
advanced consumers will ultimately keep the industry up-to-speed with the
times.
5.Do you think that others will follow this model of innovation?
We believe that other businesses, not necessarily in the car business, will
follow a similar model of innovation in regards to bitcoin. There has been a
growing demand to purchase items with bitcoin as commerce companies like
Overstock.com and Expedia are now accepting bitcoin as a form of payment.
With California lawmakers recently signing a bill approving the usage of
alternative currencies, including bitcoin, we expect that more consumers
will have the desire for bitcoin transactions. So, you can expect bitcoin to
become a standard form of payment across businesses in the coming years
To get more information about Beepi please visit:
https://www.beepi.com/
Special thanks to Alejandro Rejnik and the Beepi team.
Article and interview conducted by Nuno Menezes