Polygon (MATIC) was one of the best presale investment opportunities that our analysts picked out. It results in astronomical gains of well over 20,000%, and they've picked The Hideaways (HDWY) to emulate the same trajectory.
Wrapped Bitcoin (WBTC) has been causing a stir again as people question the validity of the 1:! Backing.
Our analysts break down what's happening in the news this week and why The Hideaways (HDWY) is an opportunity not worth missing.
Polygon (MATIC) Stands Better Than the Last Four Months, But Still Trading at a Low Value.
The 2-layer solution Ethereum-based coin is the second largest cryptocurrency in terms of market cap and was created to improve the Polygon platform. 2021 is the best year for Polygon (MATIC), and it was traded at $2.87 in December. This was its all-time high price, and the graph started going down right after the start of 2022.
It shows a good recovery after mid-June but is still trading at a lower value. The current price of Polygon (MATIC) is $0.739.
The slow progress of Polygon (MATIC) has compelled its holders to look for a fast-paced investment platform.
And if you haven't heard, The Hideaways ($HDWY) is grabbing many crypto holders' attention as it looks like a high-potential investment platform to get beneficial returns.
Wrapped Bitcoin is Trading on Less Than 20,000; the Investors are Tense
It is an ERC-20 token that enables users to use Bitcoin in the DeFi ecosystem. It maintains its value with Bitcoin, which is why its prices constantly change with the cost of Bitcoin.
It has shown a remarkable performance since its birth, and the last year was magnificent for the investors of Wrapped Bitcoin. It reaches a record $67,549 which is its best price ever. But then it started falling, and many investors lost much of their money. It is currently trading at $19,311, and its holders are not satisfied with its performance.
Polygon (MATIC) and Wrapped Bitcoin holders are now looking closely at The Hideaways. The reason for this developing interest is The Hideaways Flash Sale happening this weekend.
The Hideaways (HDWY) Destined For Top 30 Crypto Market Cap, Claims Top Analyst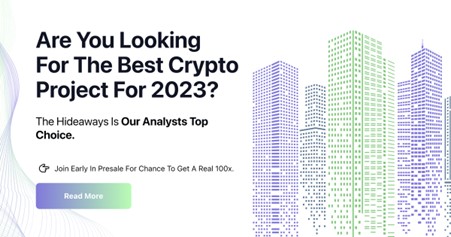 The same analyst that picked $MATIC in presale is shouting from rooftops about buying The Hideaways (HDWY). Now we've got your attention, $HDWY may hit the top 100 market cap by the end of 2023 and the top 30 by the end of 2024.
Why are our analysts so hyped over this new presale?
Invest in luxury property around the world, get 20% passive income AND capital appreciation
Invest from your own home and own fractions that you can trade at any time on a next-generation marketplace
Be confident in your investment with their smart contracts already audited by leading firms. No bugs, no harmful code, just significant development.
Think about it? Do you really want to miss the chance of a massive win next bull run? A chance to finally get that 100x you've always wanted – well, this is it!
The Hideaways (HDWY) will beat $ MATIC's price returns from presale to peak!
Website: https://www.thehideaways.io
Presale: https://ticket.thehideaways.io/register
Telegram: https://t.me/thehideawayscrypto
Twitter: https://twitter.com/hdwycrypto
Disclaimer: This is a paid release. The statements, views and opinions expressed in this column are solely those of the content provider and do not necessarily represent those of Bitcoinist. Bitcoinist does not guarantee the accuracy or timeliness of information available in such content. Do your research and invest at your own risk.