The development team behind Status, a leading decentralized mobile messaging browser for Ethereum, has created a tool to promote community-driven software development.
[Note: This is a press release]
---
Status announced the first alpha release of CommitETH in a recent press release describing the tool as a GitHub bounty bot that enables token holders to incentivize "pull request" submissions by securing ETH or any ERC20-compatible token to open issues in GitHub. CommitETH will aim to incentivize developer involvement while increasing token-holder control and offering a greater utility to app tokens.
CommitETH seeks to play a pivotal role in the evolution of governance protocols and decision-making processes of blockchain powered decentralized business models. Commit ETH will enable the holders of ETH and later ERC-20 tokens, to directly invest their holdings into the development of new features, the priority of bug fixes and the implementation of integrations with other decentralized applications.
CommitETH is a bot that scans for issues within any open source project, regardless of the type of blockchain used. Once the issue has been identified a multi-signature wallet is deployed to the specific network assigning CommitETH and the project maintainer as signatories.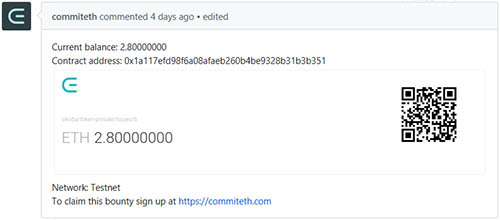 Status Co-founder, Jarrad Hope, said:
For us, CommitETH is a path not only towards community driven development of Status itself, but also a way we can help foster the movement for open source in general – both of these things are really exciting for us. It's also important to us that CommitETH becomes fully decentralized, and we'll be working towards this in the coming months.
At present CommitETH only supports Ether but incoming implementational changes to support ERC 20 friendly tokens will allow holders the freedom of staking their preferred tokens to issues of any project they choose. Status CommitETH release represents for them the first step towards a decentralized organizational structure that will democratize further development models that will contribute to the evolution of Ethereum based platforms and DAPPS.
---
Images Courtesy of Status, CommitETH, AdobeStock