Talk show television has never really been my thing so when I read the headline…
---
… it didn't even occur to me to actually watch the recording of this groundbreaking moment until a week later.
For reference, here are the glorious 6 minutes on YouTube:   https://youtu.be/a7JQzSn8Ptg
What I found most interesting was the way he introduced this amazing startup and only once he got into the technical details did he use the word "cryptocurrency." Though the segment seems completely off the cuff, the way he brushed over the word was likely strategized and rehearsed well in advance.
Outside the hundreds of thousands of crypto advocates, the term "crypto" still carries a negative connotation to many people. This association is no doubt something that old school finance has spent a lot of time an energy asserting.
In a beautiful way, Ashton Kutcher was able to break that barrier for millions of people in a single sentence, followed by a $4 million donation. Even though it was a clear PR stunt, the delivery was perfect and even though Ripple's CEO recently made this statement…

…the moment they've created here is a positive one for the entire crypto-community, especially for Bitcoin.
Today's Highlights
NFP Day!
Time to Buck the Buck?
Watch out for Spain
Please note: All data, figures & graphs are valid as of June 1st. All trading carries risk. Only risk capital you can afford to lose.
Traditional Markets
Before the 2017 crypto-craze, the US Non-farm Payroll was always the number one market event of every month, but lately, it just doesn't seem as prominent in the eToro social network feeds.
This might be in part because the volatility of the crypto-markets is such that the traditional currency market just doesn't seem as exciting to many day-traders but even among traditional traders who have not yet moved to cryptotrading, the NFP event just doesn't seem as impactful.
When the economy was in "recovery mode" each data point was considered critical and the addition/subtraction of 100 or 200 thousand jobs in the USA indeed seemed significant. However, now that the job market is tight it just doesn't matter as much.
Even the forecasting of this event seems unexciting. For today's announcement, economists are expecting that approximately 189,000 jobs have been added in May, that the unemployment rate is steady at 3.9%, and that wages have increased by 0.2%.
These figures are almost exactly the same as last month's forecast and the forecast from the month before wasn't much different either.
Still, out of force of habit and responsible due diligence, it will be hands on deck on every trading floor across the globe just in case there are any surprises. So the potential for huge moves in markets still exists and we should be ready for it.
King Dollar?
The Greenback has been rallying hard over the last month and a half but some analysts feel it has now reached a point of inflection.
Here we can see the US Dollar Index since Trump's election in November 2016 (purple circle). Notice the strong push off the lows, which has come to a head this week.
This morning, the following report crossed my desk…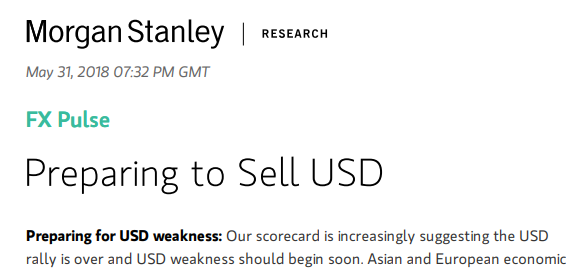 The next 22 pages are filled with economic data and a pretty serious case to short several Dollar pairs, including USDJPY, USDCHF, and even USDTRY.
In the last few minutes, while I'm writing, we have received the result of the Spanish vote to oust Prime Minister Mariano Rajoy.
The PSOE socialist party will now have the option to form a coalition. From what it seems, the new government will likely include many fringe parties, each with their own list of demands. Here's a picture that illustrates just how big a minefield this is. For your convenience, we've circled the Catalonian independence parties in red, and the Basque in blue, both of which are extremely contentious and controversial parties.
Unlike what we just witnessed, this event has the potential to swing the entire pendulum of power in Spain from right to left. The new government could include several anti-monarchical players.
In short, developments over the next few days may have a resounding impact on all asset classes, so please be cautious going into the weekend.
Wishing you and yours a very pleasant weekend.
This content is provided for information and educational purposes only and should not be considered to be investment advice or recommendation. 
The outlook presented is a personal opinion of the analyst and does not represent an official position of eToro.
Past performance is not an indication of future results. All trading involves risk; only risk capital you are prepared to lose.
Cryptocurrencies can widely fluctuate in prices and are not appropriate for all investors. Trading cryptocurrencies is not supervised by any EU regulatory framework.
---
Images courtesy of eToro and PublicDomainPictures