Chainspotting.co is a new web app that focuses on real-time blockchain data. The site features a number of modules that allow non-programmers to have access to in-depth information regarding their portfolios (collections of addresses). Chainspotting allows users to track the balances of their addresses, track unconfirmed transactions, and run queries on a specific set of addresses, all in real time. The power of this tool comes with the versatility of the software. Before Chainspotting, anyone looking for in-depth information regarding a specific portfolio would need programming experience. Chainspotting users only need to know how to operate a spreadsheet. The website allows users to manipulate the data through the spreadsheets. The spreadsheets can then be saved locally or exported for offline use.
Also read: GBTC: Bitcoin Investment Fund Goes Live
I got a chance to interview Colin Cohen, founder of Chainspotting to find out more about the web app:
---
What is Chainspotting?
Chainspotting is a web app that provides real-time data visualization of the blockchain. It currently consists of the following modules:
Queries: Allows you to access and process account-specific real-time bitcoin data, including balances, transactions, and OP-RETURNs, using a familiar spreadsheet interface. You can even watch the latest transactions (and OP-RETURNs) for a given address.
Balances: Charts the balances of a set of bitcoin addresses in real-time, for an array of currencies using live exchange rates.
Transactions: Tracks transactions for a set of bitcoin addresses. As new transactions occur on the blockchain, they instantly appear on the graph, and drop off when confirmations reach a user-defined level.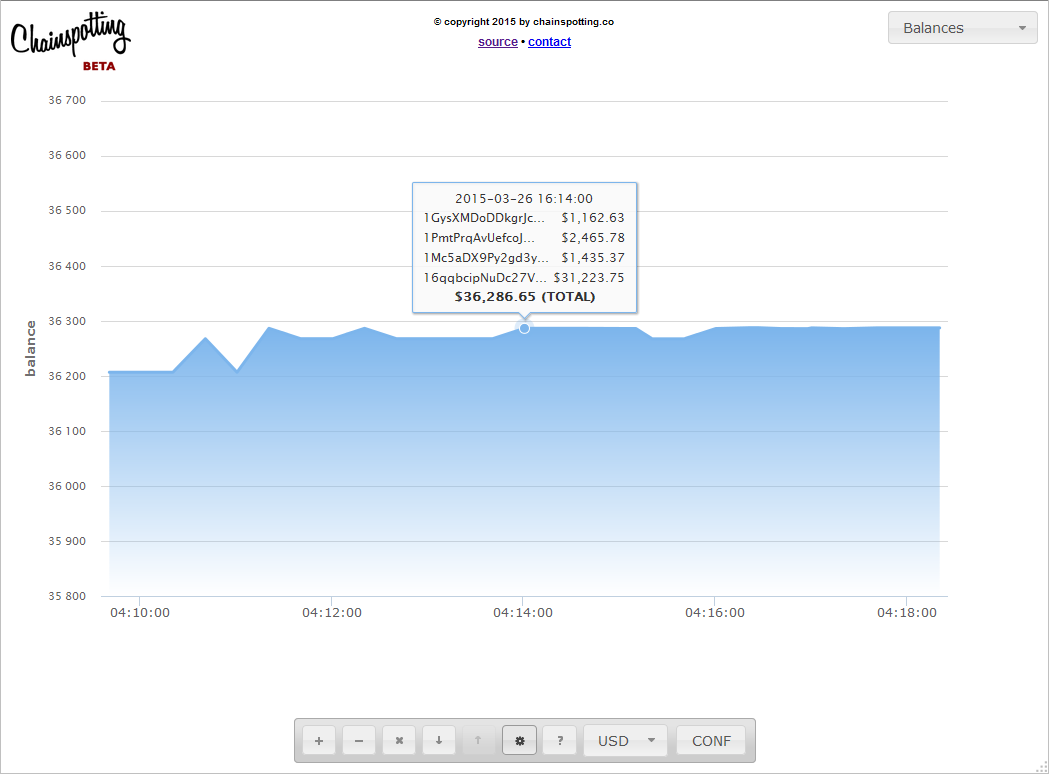 What is your name and position with Chainspotting?

My name is Colin Cohen and I'm the founder, with a background in both software development and finance.

What kinds of analytics can be accessed with Chainspotting?

The entire blockchain is exposed, in terms of account-specific data such as balances, transaction confirmations, and OP-RETURNs—in conjunction with live bitcoin exchange rates. It's not a general tool like blockchain.info; it's for those watching and analyzing a portfolio(s). That is, a collection of bitcoin addresses.
How can Chainspotting be a useful tool for non-programmers?

Before you needed programming talent to do any serious analysis of your blockchain data. Now anyone who can use a spreadsheet or can read a chart can do it. Just input your portfolio(s) and you're off.
What future plans do you have for Chainspotting?

In addition to developing more modules, I would like to make it something that could be easily integrated into any pipeline a company may have. I'm also very open to any ideas users may have. I have a feeling I've only scratched the surface of what is possible.
---
As you can see, Chainspotting.co is an app with a lot of potential and usefulness for the average user. The site has applications for individuals, businesses that deal with Bitcoin, as well as for people looking to explore the information the blockchain has to offer. For more information and to try out the tool for yourself, please visit Chainspotting.co
What do you think about Chainspotting? Comment below!
Image: Chainspotting.co