Despite the fact that Ethereum has been underperforming Bitcoin over the past few weeks, investors are highly optimistic about the asset. Data from leading exchange Bitfinex, in fact, indicates that traders have a record number of long positions open for the cryptocurrency.
Analysts fear that this optimism may end badly as a bearish technical case mounts for the leading cryptocurrency.
Ethereum Investors Are Extremely Optimistic
According to Bitfinex data shared by Brave New Coin's Josh Olszewicz, traders on the site are more optimistic than ever before on Ethereum.
He noted that the number of ETH long positions on Bitfinex just hit a new all-time high, rocketing to 1,619,876 contracts.
This 1,619,876 number is over triple what the count of long positions was at the start of 2020, and more than nine times the number of long positions seen at the peak of the 2018 parabolic bull market.
new ATH for $ETH longs on BFX

notional nearing another ATH as well, currently around $308m pic.twitter.com/OLzu81Op7a

— Josh Olszewicz (@CarpeNoctom) May 13, 2020
The notional value of Ethereum longs has reached a new high as well, Olszewicz observed, with the metric reaching a total sum of $308 million. Assuming no leverage, that means that the value of approximately 1.4% of all ETH is being longed on Bitfinex.
Analysts Say Ethereum's Chart Looks Bearish
These statistics reaching new highs indicate that investors are highly optimistic about Ethereum's price outlook. Yet top analysts have begged to differ, arguing that the cryptocurrency is primed for a correction.
One top cryptocurrency trader shared the image below, showing that a probable scenario he expects is for ETH to rally to $210 to a historical uptrend, then crash back towards $150 after a rejection.
Others have been even more skeptical on ETH, remarking that a drop even lower than the levels indicated above is possible.
Per previous reports from Bitcoinist, the same trader that predicted XRP would fall to $0.13 months in advance recently said that Ethereum is in a textbook "corrective pattern" that could bring it towards $50.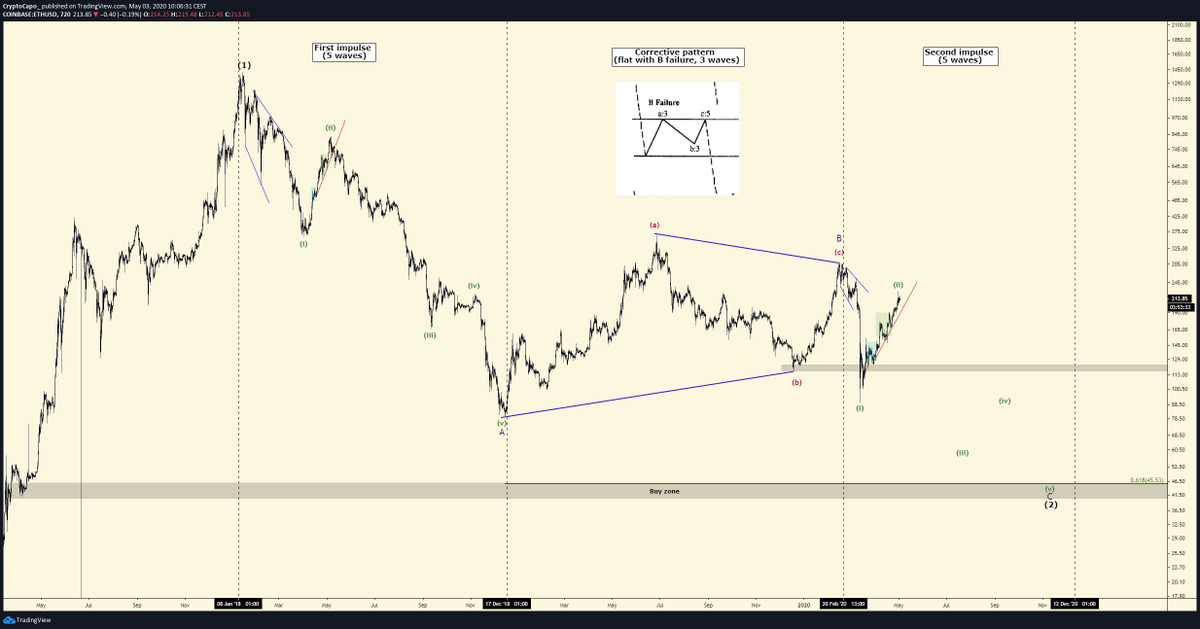 Such a drop, whether it's to $150 or $50, could liquidate many of the ETH long holders mentioned in the first segment of this article.
Not All Hope Is Lost
Just this week it was announced that Ethereum is getting its first set of U.S.-regulated futures in the form of derivatives from ErisX, an exchange backed by massive Wall Street players like TD Ameritrade.
A prominent crypto trader expects this launch, along with similar products from other exchanges, to help catalyze a surge in the price of ETH.
Furthermore, developers still believe that the Ethereum 2.0 upgrade is still on track to be released this year, boding well for the adoption of the chain.
Photo by Allie on Unsplash