If there's one lesson we can learn from the Italian bond meltdown this week, it's don't panic.
---
This is also the advice that is printed in "large friendly letters" on the cover of The Hitchhiker's Guide to the Galaxy. A friendly reminder that no matter how complicated things may seem and how there might be, we should always remain calm.
In financial markets, cooler heads almost always prevail. A long-term, well-diversified portfolio will almost always beat the activities of those who attempt to get rich quick off the short-term movements of the market.
Today's Highlights
Already Reversed
Odds 4 hikes
EOS Fixed
Please note: All data, figures & graphs are valid as of May 31st. All trading carries risk. Only risk capital you can afford to lose.
Traditional Markets
As far as the Euro is concerned, the combination of news from Italy and Spin that was pricing in so heavily earlier this week has now been completely reversed.
This graph shows each candlestick as an entire week. As you can see, the current candle for this week shows a long wick down but has already turned green. This formation is commonly known as a "bullish hammer."
IF we do see the respective situations in Italy and Spain coming to a quick resolution, the focus could shift rather quickly to Mario Draghi and the ECB's monetary tightening. Their next interest rate decision is coming in just two weeks on June 14th.
How About Across the Pond?
Not quite a full recovery here. This chart of the Dow Jones shows Tuesday's ~400 point plunge (purple circle below). Though traders were buying the dip yesterday, we're still not out of the woods.
Of course, traders in the US are also trying to digest other bits of news like the renewed trade war with China, Europe, Canada, and Mexico.
At the same time, we can see that the Italian situation has also affected American investor's perception of their own Fed. The big question since the beginning of the year has been how many times will the Fed hike rates by the end of 2018?
This graph from Bloomberg shows the probability of three hikes (orange) and four hikes (purple) respectively.

Check out how the purple line dipped as low as 15% during Tuesday's madness but is still far below the 40% that investors were tracking consistently at the beginning of the month.
EOS Fixed
Responding to the report from Qihoo 360, EOS founder Dan Larimer says that the reports of EOS being buggy were actually an attempt to smear the launch of the main-net, which is scheduled for this weekend.
The source of this message is unconfirmed, but it looks authentic to me.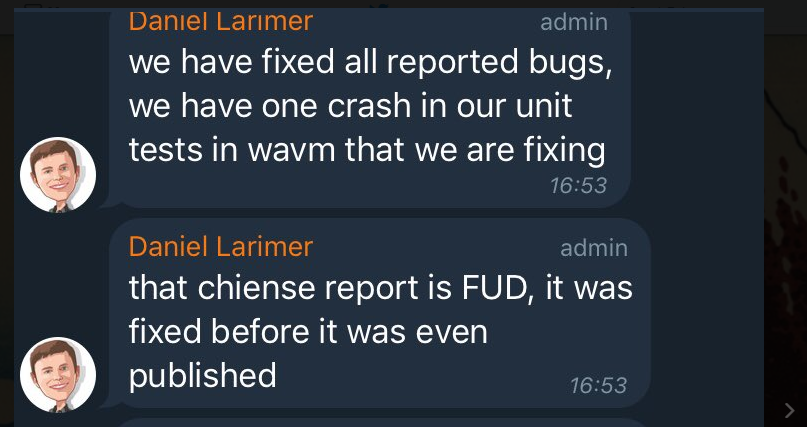 As there has been no official word from the EOS team regarding any delay, we can now assume that the launch will go forward without delay.
Especially in this market, we need to be extra careful with all the information coming through. There are always rumors flying around, so it's important to always check with several sources before considering something as a fact.
Now, what they're going to do with the 7 million ETH they've raised is an entirely different story. There are many websites that try to track these tokens, and it has been verified that some of them have moved to exchanges already.
If they're trying to get the best possible price for the large amount they're holding, then the best strategy would be to sell off the tokens as gradually as possible, allowing the market to fully absorb each sell order before placing another.
However, if their goal really is to be the "Ethereum Killer" as some people claim, then they may also choose to dump the entire stash across several exchanges all at once.
The daily trading volume of Ethereum has remained steady since March between $800 million and $1.6 billion. So such a dump could potentially have a significant impact on prices in the short term.
Will be interesting to see how this plays out. So make sure to bring your towel. ;)
This content is provided for information and educational purposes only and should not be considered to be investment advice or recommendation. 
The outlook presented is a personal opinion of the analyst and does not represent an official position of eToro.
Past performance is not an indication of future results. All trading involves risk; only risk capital you are prepared to lose.
Cryptocurrencies can widely fluctuate in prices and are not appropriate for all investors. Trading cryptocurrencies is not supervised by any EU regulatory framework.
---
Images courtesy of eToro, Pixabay