Fake news – this cliché is everywhere in the political space, but the cryptocurrency industry seems to be the real fertile soil for this infamous phenomenon.
---
Is Social Media to Blame for Fake News?
Any financial market that relies partially or integrally on speculators is vulnerable to the psychological factor. Traders are often exaggerating the driving force of a particular news or event. This is what causes the fear of missing out (FOMO) or the fear of losing it all.
In the old days of stock exchanges that had physical locations, speculators often overreacted on verbal or newspaper rumors. This funny cartoon published on The Economist is quite representative:
In modern times, the fake news resides on the Internet. The latter has inspired hope for more transparency and less manipulation, as opposed to the TV content. However, the cryptocurrency market demonstrates that rumors can spread much faster online, and have a global reach.
According to a recent study by Pew Research Center, about 60% of US adults who read news via social media admitted that they had shared false information. The percentage drops to 51% when it comes to conventional media like TV and newspapers.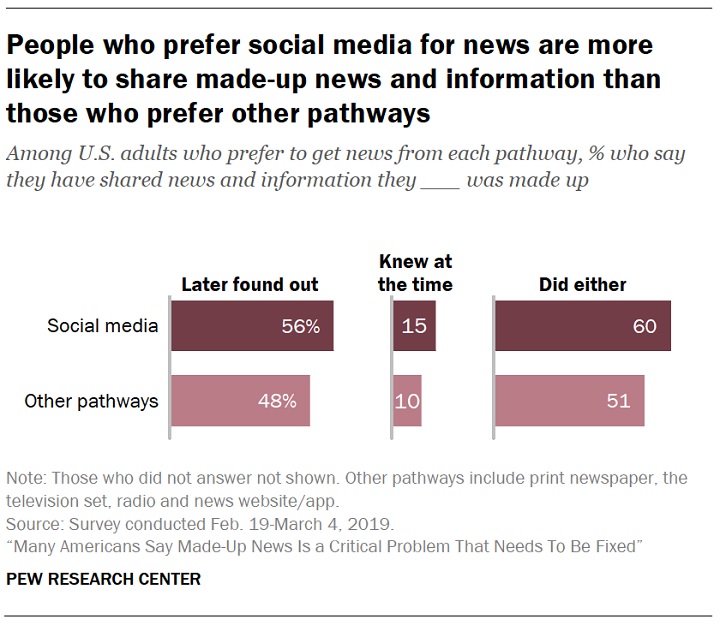 The problem with social media is that it can magnify the effect of any public event or news in a distorted manner, even when it's genuine. This is why social media giants like Facebook and Twitter started a war against fake news.
From Pump and Dumps to Large Scandals
Fake news is everywhere, given that social media is at the epicenter of the crypto industry. Scammers regard it as a great tool. We have probably seen hundreds of pump and dump schemes in which whales spread misinformation online to profit at the expense of naive investors.
Things become more worrying when fake news cause bigger scandals. Last week, we reported how Tron was a victim of fake news. Twitter user @haydenotto_ shared footage showing how Chinese officers "where raiding Tron's headquarters," hinting that the crypto project was a scam.
Police raids at #Tron offices in Beijing? Additionally, there's many angry people gathered there who are saying things like "Tron is a scam". $trx #trx @justinsuntron pic.twitter.com/qFykQErQu6

— Hayden Otto (@haydenotto_) July 8, 2019
Tron CEO Justin Sun clarified the situation, saying that it was about a ponzi scheme that claimed association with the project.
Sun considers fake news to have a big impact indeed. He even believes that US President Donald Trump is misled by fake news when he says that Bitcoin isn't money.
Mr. President, you are misled by fake news. #Bitcoin & #Blockchain happens to be the best chance for US! I'd love to invite you to have lunch with crypto leaders along with @WarrenBuffett on July 25. I guarantee you after this lunch, nobody will know crypto more than you! https://t.co/ZpRFEbninv

— Justin Sun (@justinsuntron) July 12, 2019
Fake news is a terrible phenomenon, but social media companies inadequately obsessed with it might end up imposing a form of censorship. Thus, it is our duty to avoid confusing the free speech with misinformation.
While the crypto market evolves, it's imperative to protect your investment decisions from the impact fake news by doing your due diligence.
Have you ever been a victim to online misinformation? If yes, how did it affect your investment decisions? Share your experience in the comments section! 
---
Images via Shutterstock, The Economist, Pew Research Center, Twitter: @haydenotto_