Crypto markets are holding steady for another day following a slight pullback from their recent rally. Ethereum is still looking strong but can it finally pull out of its two-year bear market?
---
Ethereum Bulls Building
Since the beginning of 2020 Ethereum has outperformed bitcoin. In just three weeks the world's second most popular crypto asset has surged 33% while its big brother has made just over 20%.
Since the weekend's minor pullback ETH prices have been building slowly higher, reaching $170 a few hours ago and holding there.
The next major resistance point is just above $180 where the 200-day moving average sits, and beyond that is the psychological $200 barrier.
If current momentum continues a golden cross between the 50 and 200 day moving averages could occur by the end of January. The last time this happened was in early April 2019 and a 133% surge followed over the next two months.
Longer-term technical signals are also turning bullish. The weekly MACD has crossed for the fourth time in history as noticed by this ETH trader.
"Watching for weekly close to confirm and maybe retest in coming couple weeks, but super bullish!"
ETHUSD Weekly MACD has crossed up for the 4th time in history. Watching for weekly close to confirm and maybe retest in coming couple weeks, but super bullish! #ethereum #cryptocurrency #bitcoin pic.twitter.com/JQx1yALZ8L

— Alex.eth (@AlexanderFisher) January 21, 2020
Others have echoed the sentiment with popular twitter trader 'Galaxy' noting that Ethereum is very close to a breakout from its two-year bear market.
"$ETH is weeks away from breaking out its 2-year downtrend. Possible Bull signal incoming next week. February is take-off month."
As reported by Bitcoinist yesterday, other Ethereum analysts also have their eyes on further gains with one targeting $335. First things first though and that is the $200 barrier which, when broken, would result in a four-month high.
DeFi Doesn't Care
Ethereum's primary use case a couple of years ago was to fund ICOs. Following a global regulatory crackdown and their epic collapse during 2018, millions of ETH was sold off flooding markets.
The result was a two-year bear market in which Ethereum is still in the depths of at 87% below the all-time high.
Today one of the fastest-growing use cases for ETH is collateral in decentralized finance markets. According to defipulse.com there is currently a record 3.2 million ETH locked away in DeFi protocols, this is almost 3% of the entire supply.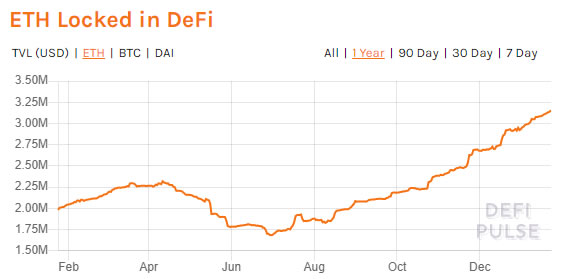 Ethereum is being increasingly used to fuel decentralized borrowing and lending markets that can yield far greater returns than any high street bank.
As this industry grows, the demand for Ether will follow and this, coupled with bitcoin momentum, may finally drag the digital asset out of its own crypto winter.
Will Ethereum recover in 2020? Add your comments below.
---
Images via Shutterstock, Twitter: @AlexanderFisher, Defipulse