In the free democracy of the United States of America, almost anyone can run for president. Winning a presidential election, on the other hand, is an entirely different matter.
---
If you're deep inside the crypto-space, you probably won't be surprised to hear that John McAfee has announced his candidacy for the White House in the 2020 elections on a unique "crypto advocate" ticket.
The man who created the McAfee Antivirus in 1987 has become somewhat of an unwanted figurehead in the crypto community. Although many admire his passion and vision of what freedom should look like, his sometimes radical actions are a pain point for those trying to defend the stigma that cryptocurrencies are widely used for illicit activities.
Moments after announcing his intention to run for public office, McAfee also stated that he has very little chance of actually being elected. I'm not so sure though. Nobody really thought that Donald Trump had any real chance of winning the White House until he did.
I suppose if John does manage to make any headway in this endeavor it could have a positive impact on the pricing of digital assets, as well as gun stocks.
Today's Highlights
RBS to the Taxpayer
ECB Searching for Safety
Crypto Twitch
Please note: All data, figures & graphs are valid as of June 5th. All trading carries risk. Only risk capital you can afford to lose.
Traditional Markets
The morning's shocker headlines today are coming out of the UK as…
Just look at this chart of RBS stock since the Government bought those shares in October of 2008…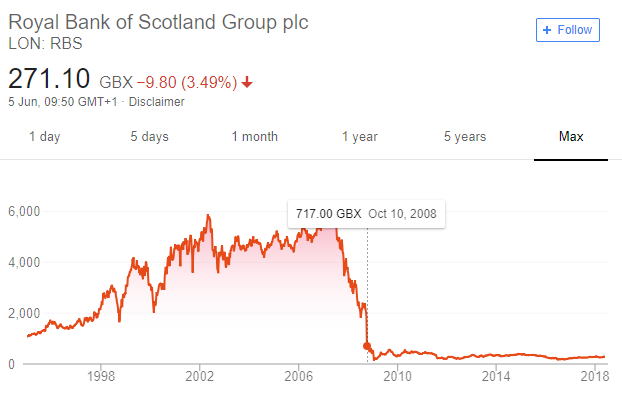 At least they didn't buy the top, right?
Governments aren't like businesses. With different political parties and divides between branches, it must be very difficult to come to any sort of decisions. Of course, in the event of a crisis, it's probably a lot easier to pull the trigger.
Still, if they've been holding on to the shares for this long, it's perplexing to try and understand why they would sell now and realize this massive loss for the taxpayer? Or, why they would dump 7.7% of a bank's outstanding shares?
The UK Chancellor, Phillip Hammond, argued that public ownership was a drag on the bank. In this chart here, we can see the drag that this massive sell order had on the price of RBS. Buy the dip?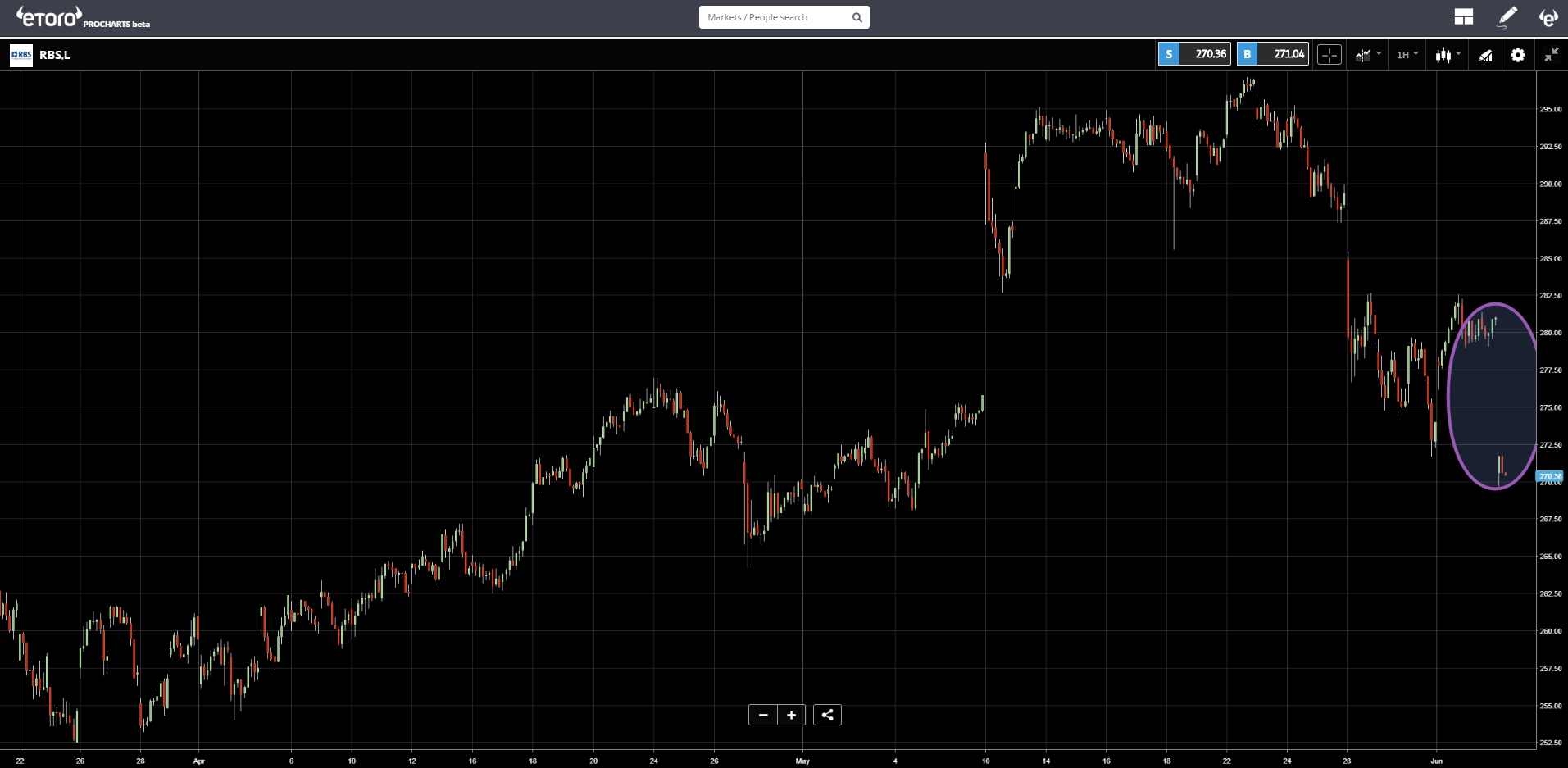 What about Banks?
Banks, on the other hand, are very good at making money and central banks are no exception.
The ECB is now printing approximately €30 billion per month in order to buy bonds and other assets as part of their Quantitative Easing program.
A quick analysis of the asset purchases of the European Central Bank (ECB) in May has a rather stunning revelation. Here's a graph that shows, how they are reducing their exposure to Italy and Spain and increasing their German holdings.
Of course, they say that this has nothing to do with the current political situation or the recent Italian bond market blowout….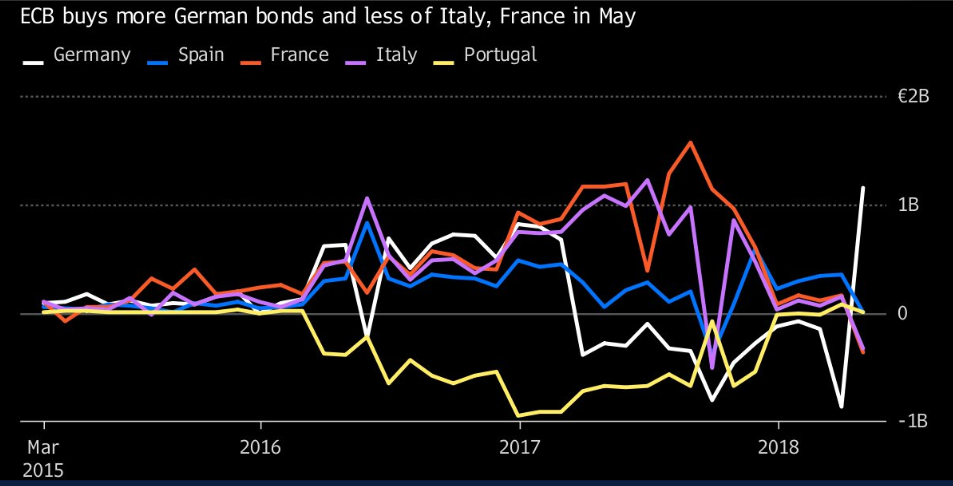 If you notice that there's one major country that's missing here, you might be Greek. Funnily enough, the Quantitative Easing never really covered the country that needs the most support.
Crypto Twitch
Just in case you ever felt like sending someone money for playing a video game, you can now do it with cryptocurrency.
Kidding aside, Twitch.tv is ranked by Alexa to be the 33rd biggest website in the world and it has more than 800 million visitors per month.
Even eToro has a Twitch channel, where we frequently host talks with the top investors on our platform and do live social trading.
The news that they've now opened up their ecosystem to be more crypto-friendly is yet another use case for "internet money" and for digital assets across the board. The fact that Twitch is owned by Amazon only sweetens the deal.
Thanks, Twitch!!
Let's have an awesome day!
This content is provided for information and educational purposes only and should not be considered to be investment advice or recommendation. 
The outlook presented is a personal opinion of the analyst and does not represent an official position of eToro.
Past performance is not an indication of future results. All trading involves risk; only risk capital you are prepared to lose.
Cryptocurrencies can widely fluctuate in prices and are not appropriate for all investors. Trading cryptocurrencies is not supervised by any EU regulatory framework.
---
Images courtesy of eToro