When it comes to cryptocurrency, one of the ways it is used for is gambling. It allows for more privacy than if you used fiat, and little fees allow companies to accept lower amounts of cryptocurrency, lowering the barrier of entry. Here I'm with Wheel of Doge, a Dogecoin exclusive gambling site.
1. What is Wheel of Doge?
Wheel of Doge is the funnest dogecoin game in the world
2. Why did you develop Wheel of Doge?
We looked at the Dogecoin betting games available. We saw nothing particularly good. There was no attention to aesthetics and no respect for the Dogecoin brand.
We love games and we love design.
We wanted to represent Dogecoin with something elegant and simple; a game the community would enjoy and be proud of.
3. What makes Wheel of Doge different from other gambling sites?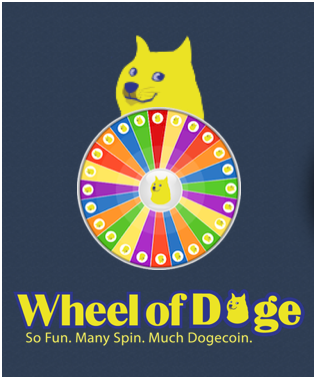 Developers, designers and crypto-lovers.
4. Will Wheel of Doge expand to other currencies in the future?
It's not about the currencies for us, it's about the DOGE. We love Dogecoin and its community first and foremost. We're committed to developing the best game possible for the community that we love.
5.With Dogecoin earned, where does revenue go toward?
We allow our players to benefit from the success of the game.We've built a really easy to use affiliate program and a 'Be The Bank' feature. So earnings go back to players mainly.
Anything left over goes to further development, according to the feedback we get from our community of players.
6. What can we expect in the future?
We're coming out of beta and we're busy adding features the community asked for.Specifically, for functionality, we have added an auto-spin. A lot of people asked for that, so we built it.
We'll also be increasing the maximum payouts, adding more features and developing further the features we already have.
For more information: Wheel of Doge Website
Photo Source: Wheel of Doge