The world's economy is abuzz, but no story in the past year rivals the explosive emergence of digital currencies as the most talked-about financial phenomenon in recent history.  It was not always the case. 
[Note: This is a sponsored article.]
---
Marcus Andrade – Digital Currency Visionary
A year ago, Bitcoin was barely discussed in financial circles, and a few years before that, only technology enthusiasts paid any attention.  Back then, those few involved in digital currency were touting its anonymity and the potential of the blockchain ledger system upon which it was based.
Almost no one predicted that Bitcoin's price would soar, as it has in recent weeks.  And very few of the tech crowd were focused on the inherent problem of Bitcoin's anonymity – and its consequent use by terrorists and criminals.  One man, however, did see this problem and commenced designing a product that will soon enable digital currency to enter mainstream commerce and governmental usage.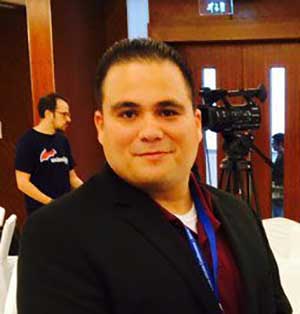 Marcus Andrade, an early digital currency entrepreneur, saw the Bitcoin phenomenon as having immense potential but knew that the anonymity of the digital currency would eventually limit its reach.  So, with his team of software engineers, Andrade created the world's first digital currency that is compliant with the anti-money laundering and 'know-your-customer' (AML/KYC) laws that control most of the world's financial systems.
Andrade's new system would eventually combine biometric digital identification protocols with the use of the blockchain and compliant digital currency wallets.   But he did more than create this innovative system: he filed a patent.  For the entire planet.
Andrade's patents will cover "personal/client identification and verification for transactions involving cryptography-based electronic money."  Simply put, his methodology offers a way to verify the real identities of senders and receivers in all blockchain-based monetary transactions while maintaining the pseudonymous property of conventional cryptocurrencies.
Historically, one of the key barriers to the everyday use of digital and cryptocurrencies has been the public perception that they are semi-legal monetary instruments which could be used in questionable activities precisely because the blockchain is inherently anonymous. Indeed, while each transaction is contained in the blockchain, the identity of parties to the transaction remains unavailable, which puts virtually every cryptocurrency outside of anti-money laundering (AML) and Know Your Customer (KYC) laws and regulations.
To remedy this dilemma, in 2014 Andrade established the NAC Foundation, with the goal of developing a blockchain-based identity verification protocol and designing cryptocurrencies with AML, KYC, anti-terrorism and anti-theft features.  Digital currencies developed on NAC Foundation's proprietary platform would be fully compliant with anti-money laundering and financial crime laws – including the USA Patriot Act and the Bank Secrecy Act of 1970 – which makes them safe for participating in the global financial sector.
Introducing AML BitCoin
NAC Foundation's just launched a dynamic digital currency, the AML BitCoin, which is the only cryptocurrency running on a privately regulated public blockchain and using biometric identification protocols, including voice recognition, to verify the owners of AML BitCoin cryptowallets.  The system is secure and, therefore, compatible with global financial systems, because all users must first complete digital personal identity certification, and only then will be able to hold and use AML BitCoins.
NAC's pending patent covers AML/KYC verification of digital currency and its associated payment system that verifies personal identities of senders and receivers in all money transactions, while still maintaining the pseudonymous property of conventional digital currencies.
Andrade's innovation also enables central banks and other financial institutions to issue their own digital currencies, which would be based on the compliant patent pending AML BitCoin platform, would be regulated by their central governing body and would be supported by a distributed ledger payment system.
The breakthrough digital currency and blockchain innovations covered in their pending patent has the NAC legal affairs department hopping, as at least a dozen proposed digital currencies are touting capacities that replicate their patent pending inventions.  NAC Foundation is presently monitoring these violations of their intellectual property, and expect their attorneys will contact offending parties next year.
NAC Foundation's Marcus Andrade says:
We are extremely proud of this compliant digital currency technology. We believe that it offers the market an unprecedented solution to a persistent problem and opens the door for cryptocurrencies' march across the globe and their eventual entry into the mainstream economy, right alongside fiat payments.
He concludes:
Naturally, we wanted to protect the intellectual property we worked so hard to develop and feel we are well positioned as the industry leader with first in line pending patents.
AML BitCoin meeting with Member of the Parliament of the United Kingdom and key leaders at the London Stock Exchange.https://t.co/TPCq8a4eFZ#Primary #Markets #digital #currencies #innovation #FinTech #RegTech #aml #kyc #compliance #btc #eth pic.twitter.com/DjetV1z4PZ

— AML Blockchain (@AMLBitcoin) November 14, 2017
Revolutionizing the Crypto Industry
With its groundbreaking innovation NAC Foundation is planning to revolutionize the industry and advance the general acceptance of cryptocurrencies all over the globe by providing a simple, straightforward financial mechanism that offers unparalleled security features and makes operations in cryptocurrency completely above the board.
The governments of numerous countries in Europe and the Americas have expressed their enthusiasm about working with AML BitCoin and incorporating it into their financial systems. With the global awareness of cryptocurrencies and the heightened focus on security, the company is striving to launch a unique solution the bridges the long-standing gap.
AML BitCoin is currently conducting its initial coin offering (ICO), and will soon release its innovative biometric digital identity systems publicly. To find out more, please go to https://amltoken.com/.
Do you think that AML BitCoin will advance the acceptance of cryptocurrency into mainstream businesses? Let us know in the comments below.
---
Images courtesy of AML BitCoin