It's been an explosive past 24 hours for Bitcoin and the cryptocurrency market.
After building bullish momentum for the past seven weeks, BTC finally broke past $10,000 today, posting a more than 170% gain since the $3,700 lows of March. While this move was smaller than BTC's 20% performance in two days seen last week, analysts say it is technically important.
One top macro analyst, in fact, said that the chances Bitcoin sees "vastly higher prices" has just "risen dramatically." And in saying "vastly higher prices," this analyst is talking about hundreds of thousands of dollars per coin.
BTC Could Soon Go Parabolic… Again: Top Analyst
Referencing the chart below, Raoul Pal — CEO of Real Vision and a former Goldman Sachs executive — said that Bitcoin's move today was a "KEY technical break" which means the "probability of vastly higher prices has risen dramatically."
The investor's chart below illustrates this point well:  the symmetrical triangle pattern that Bitcoin was trading in since early-2017 has finally broken to the upside, creating a perfect breakout pattern. The chart predicts a $40,000 Bitcoin price, according to Pal.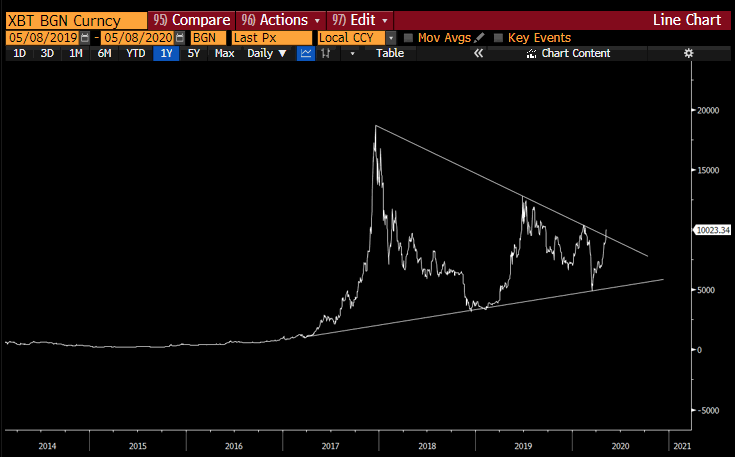 Add to this a confluence of bullish fundamentals, namely the impending halving and central bank money-printing, and you have a recipe for success, the investor explained. Concluding his thoughts, Pal wrote:
"This is the one of the best set ups in any asset class I've ever witnessed…technical, fundamental, flow of funds and plumbing. All. Now. Again, to be clear, even if it has 90% odds, doesn't mean its definitely going to work…I can and will be wrong…often and dramatically."
Wall Street Veteran Throws Weight Behind Bitcoin
It isn't only Pal who has been signaling support for Bitcoin among the Wall Street veteran class.
As reported by Bitcoinist, billionaire macro investor Paul Tudor Jones just threw his weight behind the top cryptocurrency. Jones is a long-time macro investor that is worth over $5 billion, having made prominent calls over the course of his multi-decade career.
In a market research note called "The Great Monetary Inflation," the hedge fund manager said that he is allocating some of his fund's capital to Bitcoin futures.
As to why, he first remarked that the ongoing price action in Bitcoin and the macro backdrop reminds him of the mid-1970s, prior to a massive surge in the value of gold. After bottoming out in 1976-97, the price of gold more than quadrupled in the next three years, beating its previous high. The same happening to BTC could result in a new all-time high.
Bitcoin is also attractive to Jones because he sees it as a potential store of value in a world where central banks are debasing fiat money. He, in fact, called it the "fastest horse in the race," referencing how it has the ability to outpace other asset classes in the years ahead:
"At the end of the day, the best profit-maximizing strategy is to own the fastest horse. Just own the best performer and not get wed to an intellectual side […]. If I am forced to forecast, my bet is it will be Bitcoin."
Featured Image from Unsplash