One of the trickiest questions I've ever been asked by a journalist was: Aren't cryptocurrencies just an easy way for rogue governments to skirt international sanctions?
---
I was stumped. Certainly, we can all see the value in a currency that operates independently of governments and banks, but does that mean that adherence to globally recognized standards is history?
For the ICO market, we've seen that many of the more obvious scams were called out rather quickly by the community. Unfortunately, some may have fallen foul of these scams, not nearly as much money has been lost as it has in other types of scams.
After some consideration, the above argument bears similarities to that around free speech. Should we allow people to voice harmful opinions? The classic answer to that is "yes." For fear of repressing the oppressed, we should allow all to speak and let the validity of their arguments carry, or drown.
Today's Highlights
Higher Yields
Italian Exposure
Unhinged Crypto
Please note: All data, figures & graphs are valid as of May 17th. All trading carries risk. Only risk capital you can afford to lose.
Traditional Markets
Bond Yields are tracking higher today, which does seem to be weighing down on the stock market at the moment.
Here's a snapshot of the 10-year yield…
…and here are the stock markets over the last two weeks…
As you can see, the rally is having a difficult time climbing higher in the face of higher borrowing costs. Of course, the bond moves in the US are rather small compared to what's happening in Italy right now.
The Italian 10-year has gone from 1.71 to 2.11 in the last month. For crypto traders, this may not seem like much but for the bond market that currently houses much of the world's investments, this is a massive movement.
Within Italy itself, the situation is potentially explosive. Here we can see overall exposure that various banks have to Italian bonds. Notice the overwhelming presence of triple digit numbers here?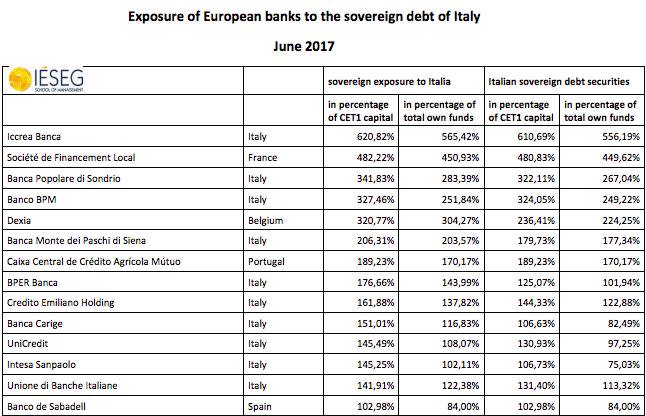 The silver lining here is that the fear of contagion is now far less than it was a few years back as it seems that most of the debt is confined to domestic banks.
Many thanks to one of our Italian traders on eToro for tagging me in this post…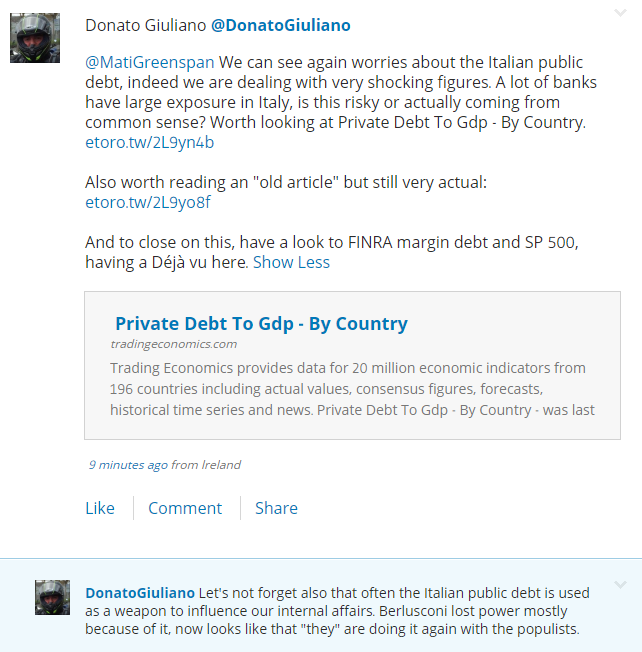 We've also recently highlighted the Turkish Lira, so here's a current look at that. As you can see, it's still falling sharply.
(Reminder: Inverted graph)
Crypto Unhinged
Though the possibility of the US Dollar losing its status as the global reserve currency is extremely low, over the course of history these types of things have happened before.
In the crypto market, however, anomalies are far more commonplace. Stable coins are designed to allow people to transact using cryptocurrencies while reducing the risk that lies in the extreme volatility prevalent in this particular market.
Sometimes, things don't exactly go according to plan though. Even though the TrueUSD coin seems to be more decentralized and transparent than previous versions of this concept, market forces can sometimes be stronger than economic theories.
In this case, the coin was introduced to a new platform, one of the largest in the industry, rather suddenly. This surge in volume caused the price to spike by 35% in the span of three hours, and it took the market an additional 10 hours to bring it back it's intended level and even out.
The moral of the story is that though we can't ever tell the future, we can make decisions on our investments to take advantage of both short term and long term shifts in valuation.
If your risk is all in one place than you're either going to have a very good or a very bad time, probably both depending on the day. However, the more you diversify your portfolio into many different types of investments, the more you reduce your risk and in the end, you'll likely be able to sleep a lot better at night.
As always, please continue sending me your excellent questions and comments. Let's have an amazing day!
This content is provided for information and educational purposes only and should not be considered to be investment advice or recommendation. 
The outlook presented is a personal opinion of the analyst and does not represent an official position of eToro.
Past performance is not an indication of future results. All trading involves risk; only risk capital you are prepared to lose.
Cryptocurrencies can widely fluctuate in prices and are not appropriate for all investors. Trading cryptocurrencies is not supervised by any EU regulatory framework.
---
Images courtesy of eToro and Pixabay