With countries across Asia making moves to regulate and clamp down, few remain as beacons of freedom when it comes to cryptocurrencies. India, Russia, China, South Korea, Vietnam, and Indonesia have all issued restrictions on exchanges, but one unlikely country in Asia remains open: Thailand.
---
Thailand is a surprise as it is in the grips of a military dictatorship that does not look like it wants to return the country to democracy at any time in the future. With sweeping clampdowns on everything else across the nation, the military seems open towards crypto and are even planning on starting to educate the public about it.
Coin School
It was reported in the Bangkok Post that the Finance Ministry will join with other authorities to educate people about Bitcoin following the digital asset's wild ride this month. The concern is that people need to be made aware of the risks of what it describes as 'Ponzi scheme' types of trading before pouring their money into unregulated cryptos.
The Bank of Thailand, the Securities and Exchange Commission (SEC), and the Anti-Money Laundering Office (AMLO) also took part in the meeting, which came after junta leader Prayut Chan-o-cha expressed concern about rapidly rising prices.
No Regulation
The Bank of Thailand governor raised a warning flag on cryptocurrencies last week, stating they are not legal tender. More importantly, the central bank has declined to regulate cryptocurrencies as their usage is not so widespread that they could cause systematic risks for Thailand, according to the report.
The bank's governor went on to state that:
There is no central bank in the world that accepts Bitcoin, and central banks in the US and Japan are open to opportunities for virtual currencies to be used for payments if recipients are ready to accept them.
Warnings from central banks in Singapore and Japan have been issued in recent weeks, but there has been no new legislation there either. South Korea, on the other hand, has issued tighter regulations for exchanges that helped spark a short-lived crypto selloff yesterday.
Cryptocurrencies in Thailand are traded on the country's only exchange, BX.in.th, which offers a number of digital currencies that can be bought directly with fiat. These digital currencies include Bitcoin, Ethereum, Bitcoin Cash, Litecoin, Ripple, Dash, and OmiseGO. According to Coinmarketcap, BX Thailand is the 56th most popular exchange globally, with $18 million traded in the past 24 hours.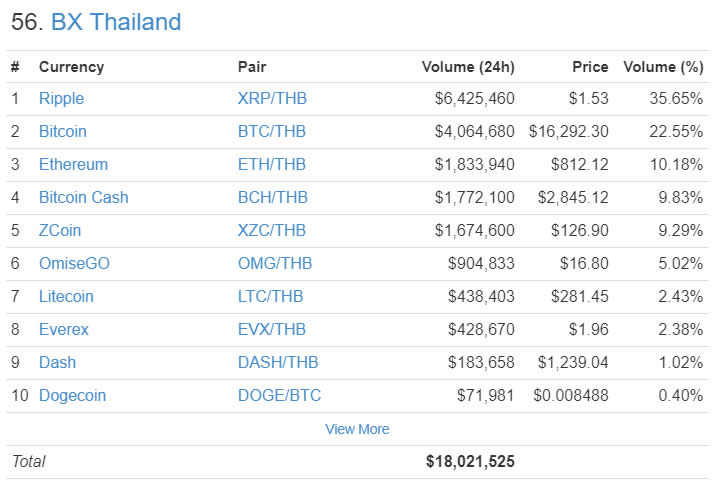 Will Asian nations remain open to crypto like Thailand, or are they all likely to clamp down? Add your views in the comments below.
---
Images courtesy of BX Thailand, Pexels, Pixabay, and Bitcoinist archives.