E-coin specializes in bridging the gap between the traditional financial institutions and Bitcoin by allowing Bitcoin users to store Bitcoin safely with its multi-sig wallet service, as well as allowing users to load Bitcoin onto debit cards that can be used at any POS terminal that accepts VISA cards — in USD, EUR, and GBP.
Also read: Litecoin Halving: Impact on Exchange Rate, Mining Profitability
"Inspired by blockchain decentralized technology, the company dedicates a great part of its efforts in growing the popularity and usability of cryptocurrency while trying to make transactions simple, safe, and hassle-free."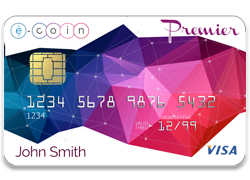 The E-coin debit cards work like their traditional counterparts; simply load funds into an account that can be managed on the web and the E-coin mobile app. To date, 1,800 Bitcoin debit cards have been shipped and are readily available to order and use. E-coin ships to 173 countries, and the cards can be used in any country. Since the E-coin debit card works like a VISA card, support for it has already been built in, with over 30 million ATMs and 25 million merchants accepting VISA worldwide.
"For a currency to gain adoption it needs to circulate. Although already quite popular, bitcoin is still not very easy to get and spend for an average Joe. Our bitcoin debit card does not solve the whole problem, but it does solve half of it – it makes spending bitcoin as easy as spending dollars or euros, or any other traditional currency. This is one step towards wider adoption of the cryptocurrency."
E-coin strives to make its product stand out from the sea of bitcoin debit cards currently on the market. While E-coin is already a preferred Bitcoin debit card service, the company still wants to take it a step further:
"We offer instant loading, good exchange rate, multi-signature protection of users' wallets and quick and responsive customer service. Based on what we hear from clients, forums, etc. that is the combination of these factors makes our service stand out."
E-coin Affiliate Program Launched
E-coin is now introducing an affiliate program to all card holders. The program is structured where affiliates will earn 10% of gross fees on their referrals in the first year, and 5% for every year after that; the referrer will be able to earn bitcoins from every card load transaction made forever.
Consumers who sign up from a personalized link will also benefit from a 25% discount when ordering their cards, making the rewards a two-way street.  All referrals and commissions are earned in real time and can be seen from your account page to quickly track who you are earning Bitcoin from.
Do you use Bitcoin debit cards? Does the E-coin affiliate program entice you enough to swap cards? Let us know in the comments below!
---
Photo Sources: E-coin
For more information: E-coin's Website