With multiple companies offering bitcoin-to-debit card services these days, there's a race to see who can make it easiest. Shakepay this week took it a step further by launching Shakepay Instant — one-off VISA debit cards created in seconds, using a Chrome browser extension.
Also read: Crypto-Education: Universities Starting to Accept Bitcoin Payment for Degrees
The Chrome extension creates a one-off card number with a pre-set amount. The idea is to be fast and simple — there is no sign-up or identification procedure. That makes the service handy for anyone who either doesn't have a VISA card for electronic payments, or (b) values privacy and doesn't like all their purchases being tracked and recorded.
Anyone with the browser extension can create and fund a card, there's no need to have a Shakepay account. This makes Shakepay more accessible to highly-regulated markets like the United States.
Once the Chrome extension creates a card number, users have 60 minutes to spend its value. If for some reason that time expires without a purchase, they'll need to contact Shake for a refund.
The cards are denominated in USD but issued from Europe, so it might be a good idea to check beforehand if the retailer accepts non-U.S. cards as well.
Extending Shakepay's Virtual VISA Service
Canada-based Shake introduced its bitcoin-to-VISA debit card service in September. Customers simply create a virtual card and send BTC to it, then use like any regular card. Smartphone users with NFC chips can use the virtual card to tap-and-pay, and the company will send physical plastic cards to those who still need them.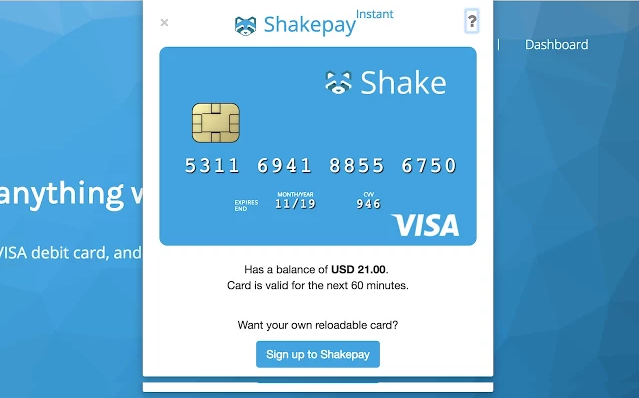 Shake CEO Jean Amiouny said he is happy with the firm's growing popularity, with monthly transaction volumes tripling since the September launch. There's a steady stream of new customers and existing customers using Shakepay more and more.
"Things are going really well on our side and we're experimenting with new features, like this Shakepay Instant, merging the current banking infrastructure with crypto in products that could not be built at that intersection. We plan to build more products in that direction."
The video below demonstrates how Shakepay Instant works:
Bitcoiners Will Be Extra Thankful This Year
Shakepay is launching the new service just in time for the annual post-Thanksgiving online sales. Bitcoiners will be especially thankful this year for the current high BTC price. The digital currency's purchasing power is roughly 130% higher than it was in November 2015.
The advent of virtual debit cards has been a boon to bitcoin spenders, reducing steps between bitcoin wallets and purchases for almost any good or service. There are now multiple services available for consumers, each with varying fee and exchange rates.
Shakepay Instant is available on the Google Chrome Web Store here.
Have you tried a bitcoin-to-debit card for spending? How was the experience? Let us know in the comments.
---
Images via Shake, Shutterstock