This Sunday will see the nail-biting climax of the English Premier League, and likely another complete whitewash by Mercedes in the Spanish Grand Prix. But who has time for sport, when we have a whole week's worth of Bitcoin news to catch up on?
---
Bitcoin Price Goes Parabolic
It was all about $6000 at the start of the week. The target seemed eminently achievable, with even the little wobble following the Binance hack quickly shaken off.
By Thursday, Bitcoin reclaimed $6000 for the first time in 6 months… but the story didn't end there.
On Friday, $6400 fell, prompting Max Keiser to comment that $10,000 was just a chip-shot away. Although at the time, that seemed like a pretty gnarly chip across a water hazard.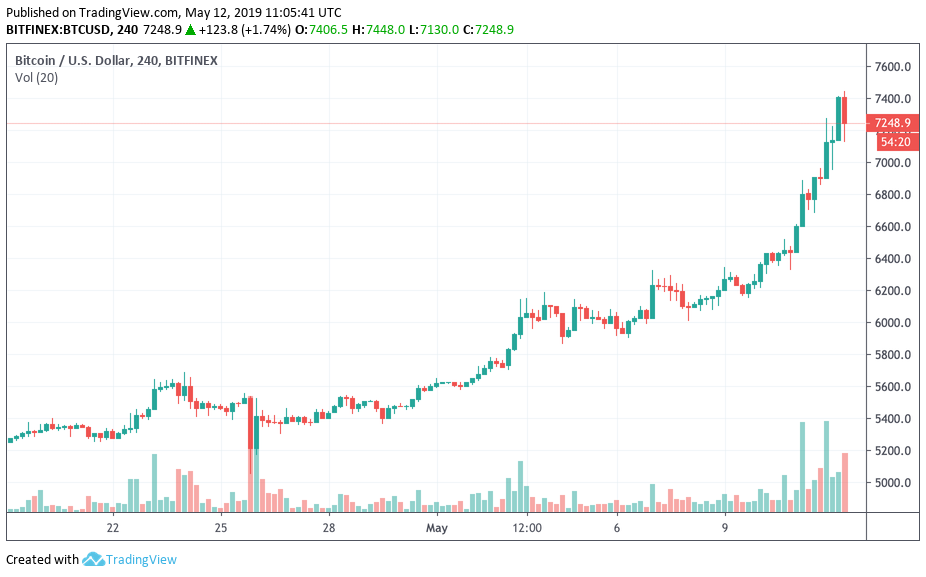 By Saturday, BTC price had gone full parabolic, topping a $7000 point that wasn't even being considered as the week began. This morning has already seen $7500, on the back of record volumes at BitMex, causing interest to finally pick up in Google trends.
With a recent report concluding that Twitter and Google trends interest 'precedes' price rises, that $10,000 chip-shot could be mere days (or even hours) away.
Binance Gets Hacked
The world's largest cryptocurrency exchange, Binance, was hacked on Monday, losing 7000 BTC worth $41 million (at the time). In terms of dollar value stolen, this made it the 6th biggest exchange heist in history.
There was even some rather contentious discussion of a reorg, taking the stolen BTC out of the hackers control (and wiping a day's worth of other users transactions into the bargain. Binance CEO, CZ, later apologized for considering the possibility, stating that Bitcoin was the most immutable blockchain in the world.
What would previously have caused quite an upset in the market, passed with barely a blip, indicating a growing maturity.
Factors Pushing Price Upwards
So if the Binance hack did little to push the market down, which factors contributed to price's upward-trajectory?
Even before this week's parabolic gains, mainstream press were brandishing Bitcoin as the 'best investment of 2019'. And we know what has happened historically when the mainstream press gets on board.
News that $2.4 trillion Fidelity Investments is imminently launching BTC trading for institutional clients, will also have helped.
But the 'icing on the cake', at least according to our own senior market analyst, fil₿fil₿, was US Congressman, Brad Sherman. In calling for Bitcoin to be banned, he admitted that it was because the cryptocurrency posed a threat to US dollar hegemony.
Well that's gonna make the whole world and their dog go out and buy some.
And Finally…
Two stories from the lighter side of the weeks crypto news.
Firstly, there was an article in which Nouriel Roubini wasn't the most Bitcoin-clueless participant. That honor went to the New York Post journalist who wrote it.
Secondly, we were teased that Satoshi Nakamoto is going to reveal himself at 15:50 GMT on 14th May. Will it happen? Unlikely. But only two days to wait and find out.
---
Images via Shutterstock, Tradingview.com